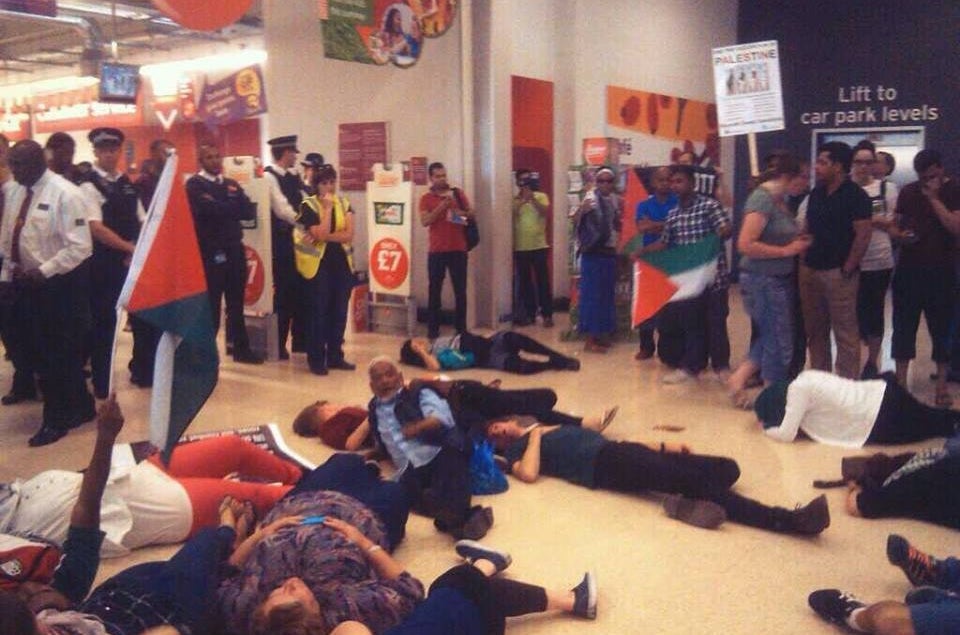 "We're not planning on stopping our actions, because the siege of Gaza still goes on," Clare Essex, a spokeswoman for London Palestine Action (LPA), said. "People can't have medicine. The one power plant in the city has been destroyed. More than ever, we need to keep pushing that into people's consciousness."
In the last few weeks, hundreds of thousands of people have been protesting in the streets of London, Manchester, and Edinburgh against the government's stance on the conflict in Gaza. Alongside larger actions, there have been protests inside supermarkets such as Sainsbury's, and shopkeepers have claimed to have faced intimidation on the high streets of Manchester.
But despite a short-term end to hostilities in Gaza, the campaign shows no signs of winding down. The Palestine Solidarity Campaign's (PSC) chair, Hugh Lanning, said the organisation plans to build on the momentum it has gained. There will be another national day of action next Saturday, when activists will target high street stores that sell the products of SodaStream, a manufacturer of DIY carbonated-drink machines that has its headquarters in an Israeli settlement.
The PSC is also planning a mass lobby of parliament on 9 September, the day MPs return to Westminster after the summer recess. "It's not just Baroness Warsi who cares," Lanning said, referring to the Foreign Office minister who recently resigned over the government's lack of criticism of Israel. "There's been a sea shift in opinion."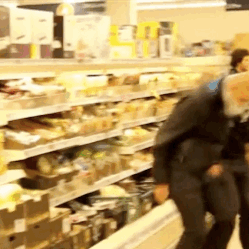 But there's also been a wave of smaller protests, organised by twentysomethings who want to contribute to the movement. LPA has carried out a number of demonstrations. When the latest conflict began, 15 members walked into the reception of the Cabinet Office and demanded to speak to Nick Clegg. When they couldn't get through, a number of them locked their necks to poles inside the office using D-locks, normally used for bicycles. The others put up signs demanding an arms embargo against Israel – and now they're claiming partial victory for the deputy prime minister's recent statement demanding a suspension of the government's arms exports to the country.
Later, towards the end of July, the group dropped a banner over Westminster Bridge – visible to tourists and passersby on the South Bank – with the words: "UK: Stop arming Israel." The group, which launched a year ago, has seen a tremendous spike in interest.
"Our Facebook page is being visited in the hundreds of thousands per week," Essex said. "Normally it's in the hundreds."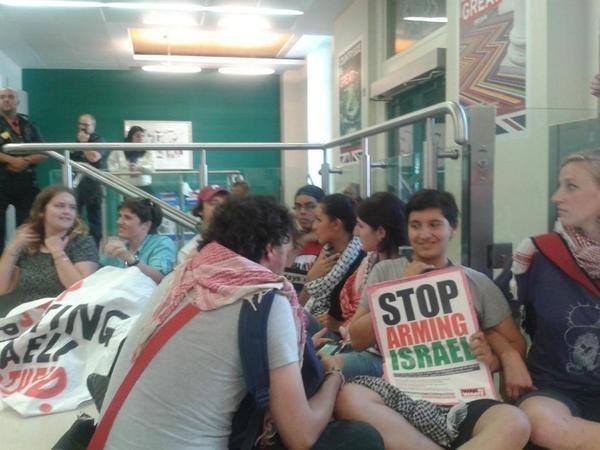 This is perhaps the most significant impact of the conflict on the pro-Palestinian movement in the UK. As TV screens and social networks have been flooded with images and evocative videos of Gaza, ordinary people have been seeking out information on what they can do to help, and have been forwarded links about companies to boycott because they sell goods produced in Israel.
This is all part of the Boycott, Divestment, and Sanctions (BDS) movement, launched in July 2005 by 170 Palestinian groups as a means of putting economic pressure on Israel. The three-pronged approach, which attempts to incorporate lessons of the past, states one main aim: to build international solidarity for the Palestinian people by fostering a powerful non-violent movement. The movement's pro-Israel critics have warned that one of its central demands — the Palestinian right of return — would effectively put an end to Israel as a Jewish state, but the movement has gradually built increasingly mainstream traction.
The reason the movement has become so effective, according to Nicola Pratt, a Warwick University professor who focuses on Middle Eastern politics and is a longtime critic of Israel, is because it gives regular citizens an opportunity to influence international politics. "It's a different way of saying that people of conscience have a role to play," she said. "The BDS movement is saying you should get involved because international politicians have clearly failed to bring peace to Israel and Palestine." Each time there's a major conflict, she adds, "the number of people who become aware of the boycott widens." And indeed, a Google Trends result for "Israel boycott" shows a remarkable spike in interest during the most recent conflict.
Lower-profile personal boycotts are also bubbling below the surface. BuzzFeed was given permission, on the condition of anonymity, to publish instant messaging conversations by a group of Muslim mothers discussing the boycott against Israeli products.
The conversation ranges from a simple discussion about which companies they believe should be avoided to a debate over the ethics of buying Pampers nappies – owned by Procter & Gamble, which heavily invests in Israel – when other nappies give their infants nappy rash. At one point members of the group express concern about companies with individual shareholders who contribute to Israel's military campaign. "But as you said, if more of the Tesco shareholders send money to fund the IDF it's [probably] best to avoid that [store] as much as possible," one message reads.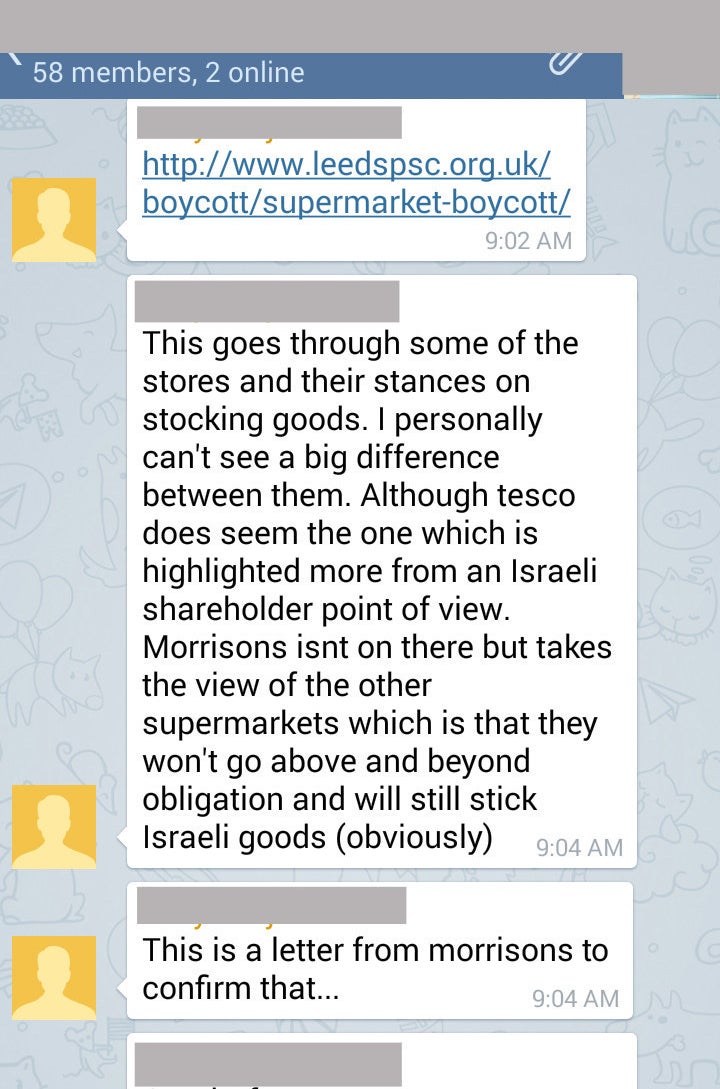 And companies are now beginning to feel the impact of the BDS movement; security company G4S, for example, has said it will not renew contracts with Israeli prisons and checkpoints, and expects it will no longer hold any contracts with the country's government within the next three years. The PSC claims this action would not have taken place had it not infiltrated and protested at the company's annual general meeting last year.
SodaStream, meanwhile, found that when it hired a well-known celebrity, Scarlett Johansson, to endorse its product, the product immediately moved to the center of a controversy for its operations in the occupied West Bank. Omar Barghouti, a co-founder of BDS, told Abu Dhabi newspaper The National that Soros Fund Management sold its stake in SodaStream earlier this week because of pressure from the movement, although the fund refused to give any specific reasons for the sale.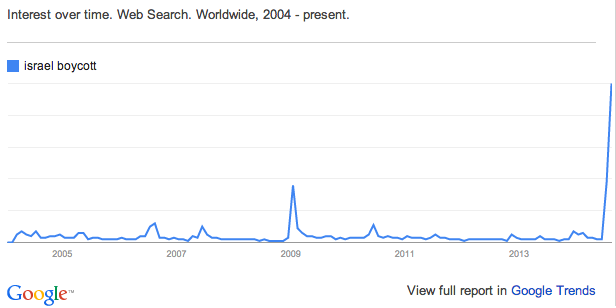 The impact of the movement in the UK is only growing. An Israeli arts company was forced to cancel every one of its shows at the Edinburgh Fringe on Wednesday after 150 pro-Palestinian protesters demanded that they be boycotted.
There have also been incidents of open anti-Semitism and rising fears in Britain's Jewish community, though pro-Gaza organizers have been at paints to tamp it down and the incidents remain far more isolated than in France or Germany.
In one controversial move, the Tricycle Theatre refused to allow the UK Jewish Film Festival, which had been held at the venue for eight years, to take place there again unless the organisers returned £1,400-worth of sponsorship from the Israeli embassy. The theatre said the organisers should not take money "from any party to the current conflict" in Gaza so the Tricycle could remain politically neutral, and offered to provide the lost sponsorship itself.
The group rejected the offer, and the head of of Britain's Jewish Leadership Council, Simon Johnson, called the move "a discriminatory boycott ... of a Jewish cultural event."
Since Saturday, hundreds of protesters have been causing chaos in Sainsbury's supermarkets in Whitechapel, Brixton, Belfast, and Birmingham.
In Whitechapel, staff asked the protesters to leave immediately. In response, a number carried out a "die-in", lying down on the floor to symbolise the casualties in Gaza; many others held up signs accusing the British retailer of being complicit in the death of civilians by selling goods produced in Israel. Two Birmingham stores were forced to close; at one of them, local Labour MP Shabana Mahmood showed her support for the cause – and took a protest selfie – at the event.
Even more recently, shopkeepers and retail assistants in Manchester have complained about intimidation from protesters who are targeting their stores because they sell Israeli products. H&M, Marks & Spencer, and even a small Israeli beauty shop have all found themselves the focus of protests, with some claiming that activists have shouted anti-Semitic remarks. Manchester council is attempting to find a solution, although officers say the protesters are peaceful and that they have not heard any anti-Semitism.
For their part, activists have no plan to stop. "We'll keep taking action on the UK government arming Israel," says Essex, "and we'll keep taking action based on the BDS movement."