Angela Eagle Says Corbyn Must "Get Control" Of His Supporters After Attack On Her Office
"It is bullying," the Labour leadership challenger said as she called for an urgent stop to the behaviour.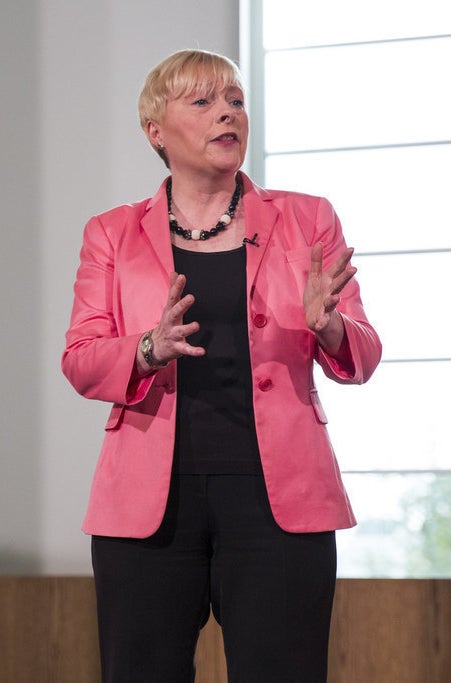 Jeremy Corbyn must "get control" of his supporters, Angela Eagle has said after her constituency office was attacked on Monday night.
"This isn't the kinder or better politics that we were promised and I think Jeremy Corbyn needs to condemn these acts, and he also needs to ensure that people who are supporting him don't continue to behave this way in the future," said Eagle, who formally launched a challenge against the Labour leader yesterday.

Her comments came after Corbyn condemned the attacks, saying "violence or threats undermine the democracy within our party and have no place in our politics".
Corbyn added that he too had received death threats this week and asked "Labour party members and supporters to act with calm and treat each other with respect and dignity, even where there is disagreement".
But Eagle said the Labour leader needed to take further action against the attacks, telling the BBC: "They are being done in his name, and he needs to get control of the people who are supporting him and make certain that this behaviour stops and stops now. It is bullying. It has absolutely no place in politics in the UK and it needs to end."
The row emerged after a brick was thrown through Angela Eagle's constituency office in Wallasey on Monday, just hours after she formally launched a leadership challenge against Jeremy Corbyn.
BuzzFeed News also understands that staff in her Merseyside constituency office have stopped picking up the phone after receiving high levels of abuse following her announcement.
Eagle has also received abusive voicemail messages and was called a "fucking bitch" in a message left on her Westminster office voicemail on Monday.
The leadership challenger was also forced to change the venue for a meeting in Luton today because the manager received threats overnight.

The incidents come less than a month after Labour MP Jo Cox was shot dead as she arrived at a constituency surgery.

Merseyside police have confirmed to BuzzFeed News that they are investigating the smashed window.

Helen Osgood, a senior case worker in Eagle's constituency office, has pleaded with those intimidating staff to "please leave us alone".
Osgood told the Liverpool Echo that Eagle cancelled an event at a Luton hotel after the manager was threatened last night. The event will now take place at Luton central library.
The case worker added: "I think all this violence needs to stop. We can't live in a society that's divided by hatred like this. I'm calling for people to stop this violence and bad behaviour and let's just get behind whatever leader you choose."
Some of Eagle's fellow Labour MPs have condemned the attack. Catherine McKinnell said the incident was "horrific", and former shadow education secretary Lucy Powell said it was "awful, disgusting".
Another MP, Tom Blenkinsop, complained on Twitter about intimidation tactics that he characterised as "Labour under Corbyn".
Following Eagle's leadership challenge, the party's national executive committee (NEC) will meet today to decide whether Corbyn needs to get nominations from 51 Labour MPs and MEPs to appear on the party's' ballot.
Chris Bryant, who served as shadow leader of the house under Corbyn before resigning two weeks ago, said on Monday he had received "yet another death threat" and would be giving a statement to the police.