Top Tories Pick Sides As The Prime Minister Announces 23 June EU Referendum
Six cabinet ministers and Mayor of London Boris Johnson have snubbed David Cameron's deal and come out in favour of the campaign to leave Europe.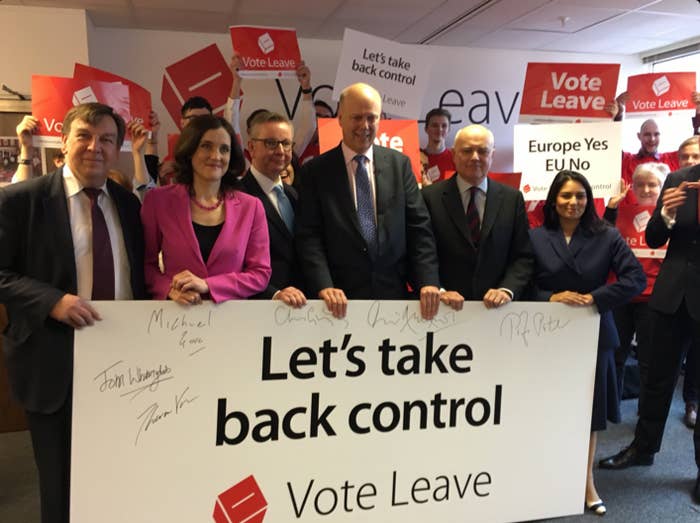 At least six cabinet ministers, including David Cameron's close ally Michael Gove, have snubbed the prime minister's renegotiation with EU leaders and will support the campaign for Britain to leave the European Union.
The announcements came after the prime minister confirmed on Saturday morning that the UK will hold a referendum on Britain's relationship with the EU on 23 June.
Justice Secretary Michael Gove, Welfare Secretary Ian Duncan Smith, Employment Minister Priti Patel, Culture Secretary John Whittingdale and Leader of the House Chris Grayling all slipped out of the backdoor of Number 10 after a cabinet meeting and went to the headquarters of anti-EU campaign Vote Leave.

Gove, a longtime eurosceptic, issued a lengthy 1500-word statement on Saturday defending his choice and said "our membership of the European Union prevents us being able to change huge swathes of law".
Energy minister Andrea Leadsom has also backed the Brexit campaign and published a letter to her constituents with her reasons to back the Brexit campaign, and said that she made her decision as a parent.
She said: "I want our children to grow up in a country that knows it always pays to work, where employers cannot take advance of the unlimited cheap European workforce to suppress pay for UK workers and where we ourselves decide who can or cannot come and live in our country."
After growing speculation that Boris Johnson would join the Leave campaign, the Mayor of London confirmed that he would indeed support Britain leaving the EU.
"The last thing I wanted was to go against David Cameron or the government, but after a great deal of heartache, I don't think there's anything else I can do," Johnson told press outside his London home on Sunday evening.
"I will be advocating Vote Leave."
Boris's backing is considered to be a major coup for the Leave campaign due to his popularity with members of the public.
Ahead of Saturday morning's Cabinet meeting, ministers were gagged by collective responsibility, which meant that they were forbidden from campaigning against the deal until until the negotiations came to and end.
But they were able to publicly state their views after a cabinet meeting on Saturday morning, where they discussed the new deal agreed by EU leaders last night, which would give Britain "special status" within the EU.
An "in out" referendum on Britain's membership of the European Union will be held on 23 June, Prime Minister David Cameron announced on Saturday.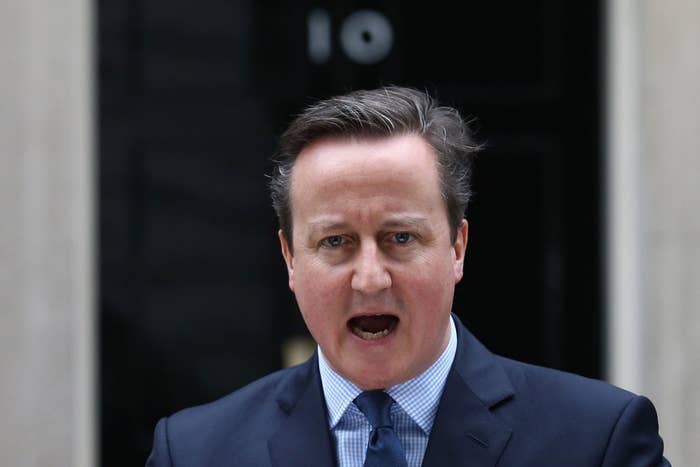 While a late June referendum had been widely speculated throughout lengthy negotiations between Cameron and EU leaders, it is only now that the prime minister has confirmed the date.

The prime minister warned that British jobs would be at risk if Britain left the EU.
"Leaving Europe would threaten our economic and national security," Cameron said, taking the rare decision to speak from a podium outside Number 10.

"Leaving Europe would threaten our economic and our national security. Those who want to leave Europe cannot tell you if British businesses would be able to access Europe's free trade single market or if working people's jobs are safe or how much prices would rise.
"All they are offering is risk at a time of uncertainty - a leap in the dark."

He concluded by saying that Britain would be "safer, stronger and better off by remaining in a reformed European Union."
The SNP has warned that an EU campaign will clash with the Holyrood elections in Scotland – as well as elections for the Welsh national assembly and local elections around the UK – on 5 May.
However the prime minister has previously insisted that it is right to have a five-week delay, as recommended by former Scottish first minister Alex Salmond.
A 23 June referendum means it will take place six weeks after the 5 May elections.
The elections will also clash with a number of other major events, such as Glastonbury, which takes places from 22 to 26 June and the European football championships, which will be in full swing.
23 June will be after the group stages and no games are set to take place on that date.
Although he faced some resistance, others ministers came out in favour of the prime minister's deal on Saturday morning. Home Secretary Theresa May said the UK would be better off in the EU for security reasons.

"The EU is far from perfect, and no one should be in any doubt that this deal must be part of an ongoing process of change and reform – crucial if it is to succeed in a changing world," she said.
"But in my view - for reasons of security, protection against crime and terrorism, trade with Europe, and access to markets around the world - it is in the national interest to remain a member of the European Union."
In another blow to the Brexit campaign, Business Secretary Sajid Javid – who has previously said that leaving the EU would "open up opportunities" for the UK – has now decided to back the prime minister.
Questions still remain around other key players, such as Boris Johnson, who held a private meeting with the prime minister this week, and Defence Secretary Michael Fallon.