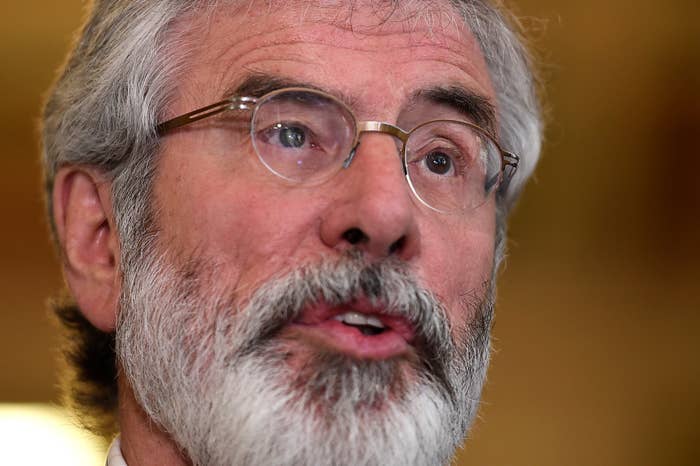 Sinn Féin is planning to substantially increase its presence in the Westminster parliament in order to campaign against Brexit, lobby the government for a united Ireland, and build stronger links with the Labour party and the SNP – but will definitely not take its seats, according to one of the party's MPs.
The newly elected Sinn Féin representative for South Down, Chris Hazzard, told BuzzFeed News it was "pure fantasy" that he and his colleagues have considered ending their abstentionist stance and taking their seats in the House of Commons.

Although Sinn Féin stands candidates in general elections, its MPs have a long-held policy of refusing to take any seats they subsequently win. The Irish republican party does not accept that Westminster has authority to legislate on matters relating to Northern Ireland and its members also object to swearing an oath to the Queen in order to take their seats.

Despite this, the party won a record seven seats in the House of Commons in last week's snap general election, prompting speculation that its MPs could be tempted to break a century-old old policy, take up their seats, and form a partnership with Labour.
Earlier this week a Sinn Féin source suggested to The Sun that the party would potentially agree to such an arrangement on the condition that Jeremy Corbyn would grant them a referendum on a united Ireland in return. If this were to occur, the Conservatives' majority would drop to just four seats, making the proposed coalition with Northern Ireland's Democratic Unionist Party – Sinn Féin's main unionist rival – considerably less stable.
However, Hazzard insisted this is not the case. Instead, he revealed the party is drawing up a rota to ensure two or three Sinn Féin MPs will be in Westminster for every week that parliament sits. Their role will be to lobby British politicians for Irish reunification, as the party has escalated calls for a border poll since the Northern Ireland Assembly elections in March, which saw unionists lose their majority in Stormont for the first time in history.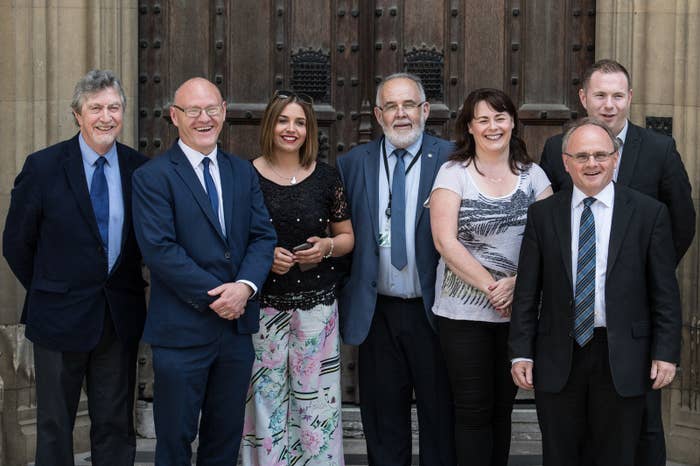 "We'll be there every week that parliament sits," said Hazzard. "We'll be drawing up a rota so that there will be two or three of us [in Westminster] every week. We'll be doing a range of things, it's bigger than just Irish unity. We'll be meeting with and engaging with the British government and British ministers and a whole host of others, representing our campaign for Irish unity and our anti-Brexit stance."

He said that of all the parties, Sinn Féin had been having most productive talks with other left-wing parties in parliament: "We're constantly engaging with the SNP and Labour."

"We'll be representing our constituencies as well, meeting investors about foreign direct investment for our areas. It will be very useful to use our London base for that."
Hazzard added that the party's MPs will also be touring Britain, talking to the Irish communities based in England in order to engage with them about the prospect of Irish unity, ahead of a possible border poll.

The MPs began the first such meeting at the London Irish Centre in Camden on Thursday evening, hosting an open "town hall" event for local Irish people to meet them and discuss issues including how campaigning for a border poll can be best achieved. The MPs are also due to hold similar events in other areas of England with large Irish communities, including Manchester and Liverpool.
The party's seven MPs flew to London on Monday and have taken office space in Westminster. In a further unprecedented engagement with the London government, Sinn Féin president Gerry Adams also met with Theresa May in Downing Street on Thursday, fuelling further speculation that the party could enter parliament.
Hazzard also speculated on what Adams hoped to gain from his meeting with the prime minister: "They'll be talking honestly about the ongoing political situation, the need to restore devolution locally, and Brexit."
After May failed to secure a majority in the snap general election, she announced she would attempt to form a government with the help of the DUP, Sinn Féin's rivals in Northern Ireland's devolved assembly – which is currently suspended in the absence of a power-sharing deal between the DUP and Sinn Féin.
The DUP has 10 MPs, meaning their support will enable to May to continue to govern if she can strike a deal. Sinn Féin has criticised the arrangement, with Adams issuing a statement in which he accused the Conservatives of violating the Good Friday Agreement, which is the basis of devolved government in Northern Ireland, by asking the unionist party to prop up the Tory government.