A DUP MP Has Been Accused Of Allowing Paramilitaries To Intimidate Locals With Illegal Flags
Emma Little Pengelly's stance on the flags has been described by local politicians as "outrageous" and "almost beyond belief".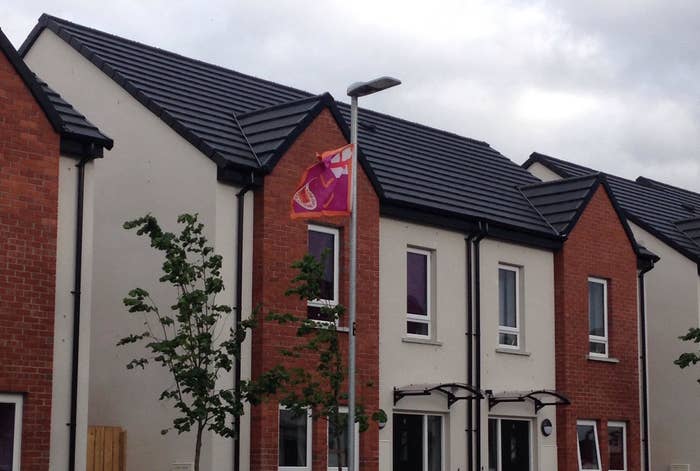 A Democratic Unionist Party MP has been accused of allowing loyalist paramilitaries to intimidate her constituents by flying illegal flags, weeks after a loyalist paramilitary group endorsed her candidacy in the general election.
Residents say flags baring the insignia of loyalist paramilitaries were erected in the South Belfast constituency last week, in the Global Crescent and Cantrell Close areas, after a group of men reportedly arrived with ladders and installed them. Such flags are deeply divisive in Northern Ireland, where many perceive them to be an act of intimidation as the terror groups use them to claim an area as "theirs".
Local politicians have criticised South Belfast MP Emma Little Pengelly's apparent attempts to defend the flags, describing her stance as "outrageous" and "almost beyond belief".

Little Pengelly said that since the flags appeared she has spoken to more than a hundred local residents in the area, the majority of whom are content for the flags to remain. She said: "There were some people who were very supportive of the flags, people who felt very much it was part of the tradition of the local area and the wider area. There were some who had concerns around this, who would prefer for the flags not to be there.
"The majority of people said to me: 'We understand that the flags have gone up, but we also understand that they will come back down again.' Really they didn't want a public fuss around this matter."

Litlle Pengelly was elected MP for South Belfast on 8 June and is one of the 10 DUP MPs the Conservatives are courting for support after Theresa May failed to secure a majority government. The Northern Irish party is expected to agree to prop up the Conservatives through a "supply and demand" arrangement, the details of which are expected to be revealed in the coming days.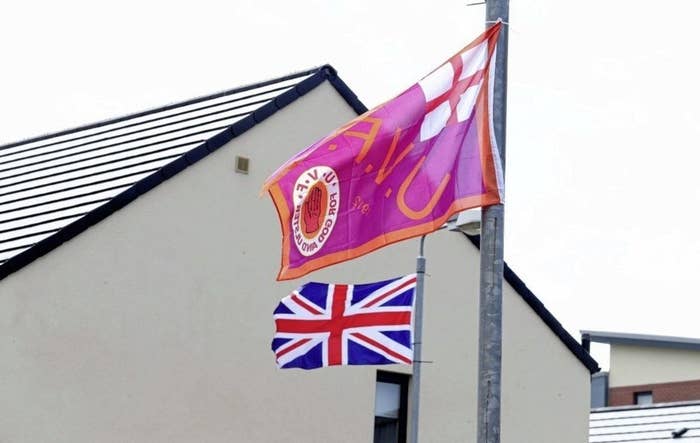 During the election campaign, a loyalist paramilitary group issued a statement announcing that it would be backing her candidacy and called on its supporters to back her. The DUP was accused of further links to loyalist paramilitary groups when the party's leader Arlene Foster subsequently met a chief of the same paramilitary group during the election campaign, days after the group shot a man dead in a supermarket car park in front of his toddler.
Following a public backlash, the DUP has since said it did not seek endorsement from the loyalist paramilitary group and categorically rejected any association with paramilitary or terrorist groups.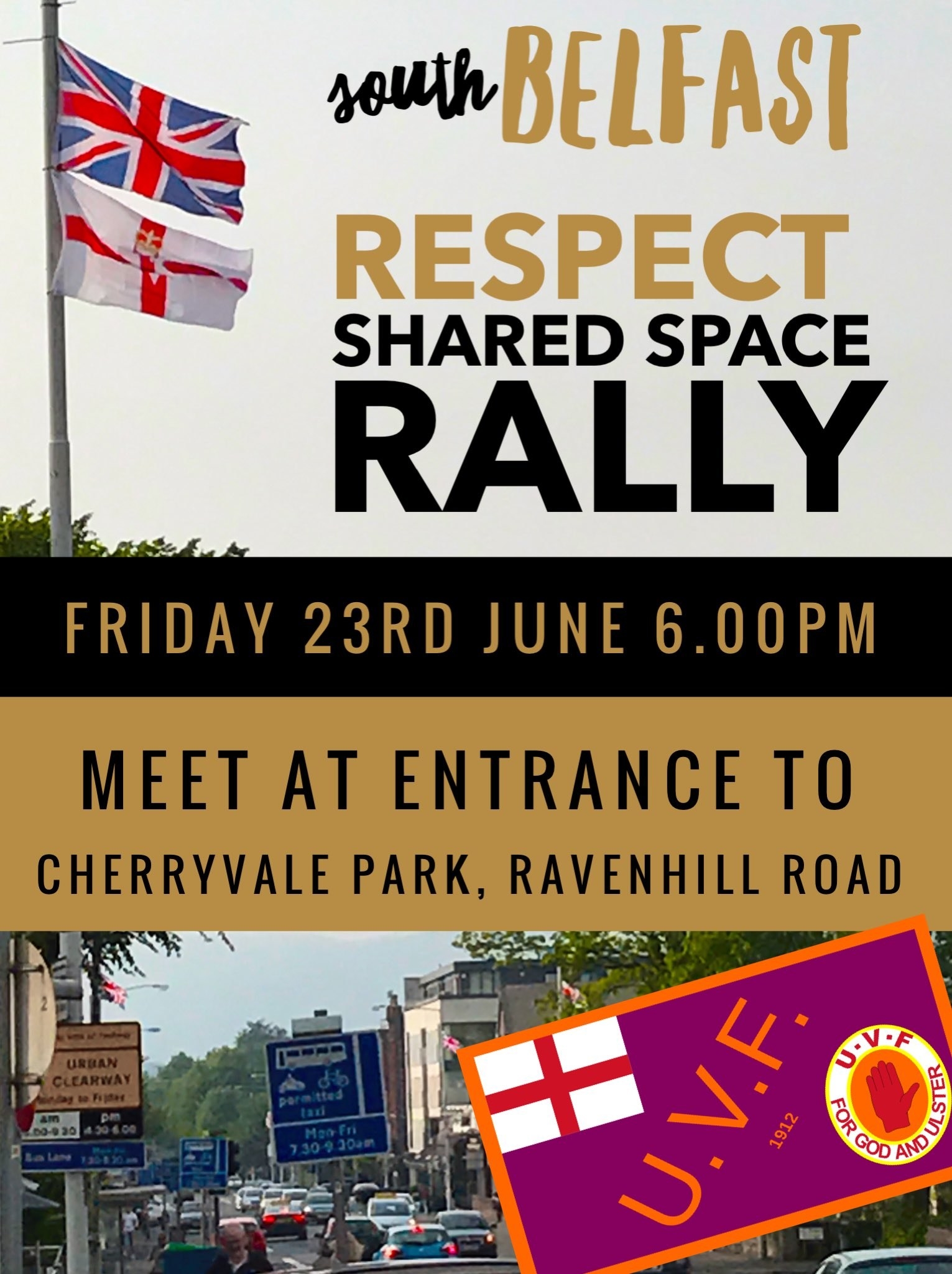 South Belfast MLA Paula Bradshaw, who represents the constituency at Stormont for the anti-sectarianism Alliance party, said in a statement that Pengelly's defence of the flags did not reflect local opinion. She said: "It is almost beyond belief we have an MP essentially saying it is not a problem paramilitaries are marking out territory in this way. When Ms Little Pengelly won the Westminster seat, she pledged to be an MP for all. It appears she has fallen at the first hurdle."
She said constituents in the area who objected to the flags felt unable to raise their concerns with Little Pengelly due to the politician's endorsement by loyalist paramilitaries raising concerns about her neutrality. Bradshaw said: "I would be surprised if many residents would feel comfortable telling an MP who was publicly endorsed by paramilitaries only a few weeks ago they were intimidated by a flag glorifying one of those same groups. Instead they come to Alliance and others, often confidentially, as we realise people want to see positive community relations and good neighbourliness."
Claire Hanna, who represents the South Belfast constituency at Stormont for the nationalist Social Democratic and Labour Party, echoed the concerns, saying: "For the South Belfast MP Emma Pengelly to dismiss fears saying no one wants to make a fuss is outrageous. These flags are designed to intimidate and divide. In the face of intimidation by paramilitary organisations, it's no surprise that people are frightened of going public with their concerns on the issue."
Although paramilitary flags are illegal, few have been removed once they have been erected in Northern Ireland. In 2014, the Police Service of Northern Ireland issued a statement saying any flags in mixed religion areas of Belfast would be removed. However, it has said it will only send officers to remove flags if they are deemed to represent "a substantial risk to public safety" through amounting to a "breach of the peace". The PSNI instead urged local politicians and residents to resolve the issue of paramilitary flags "at a community level".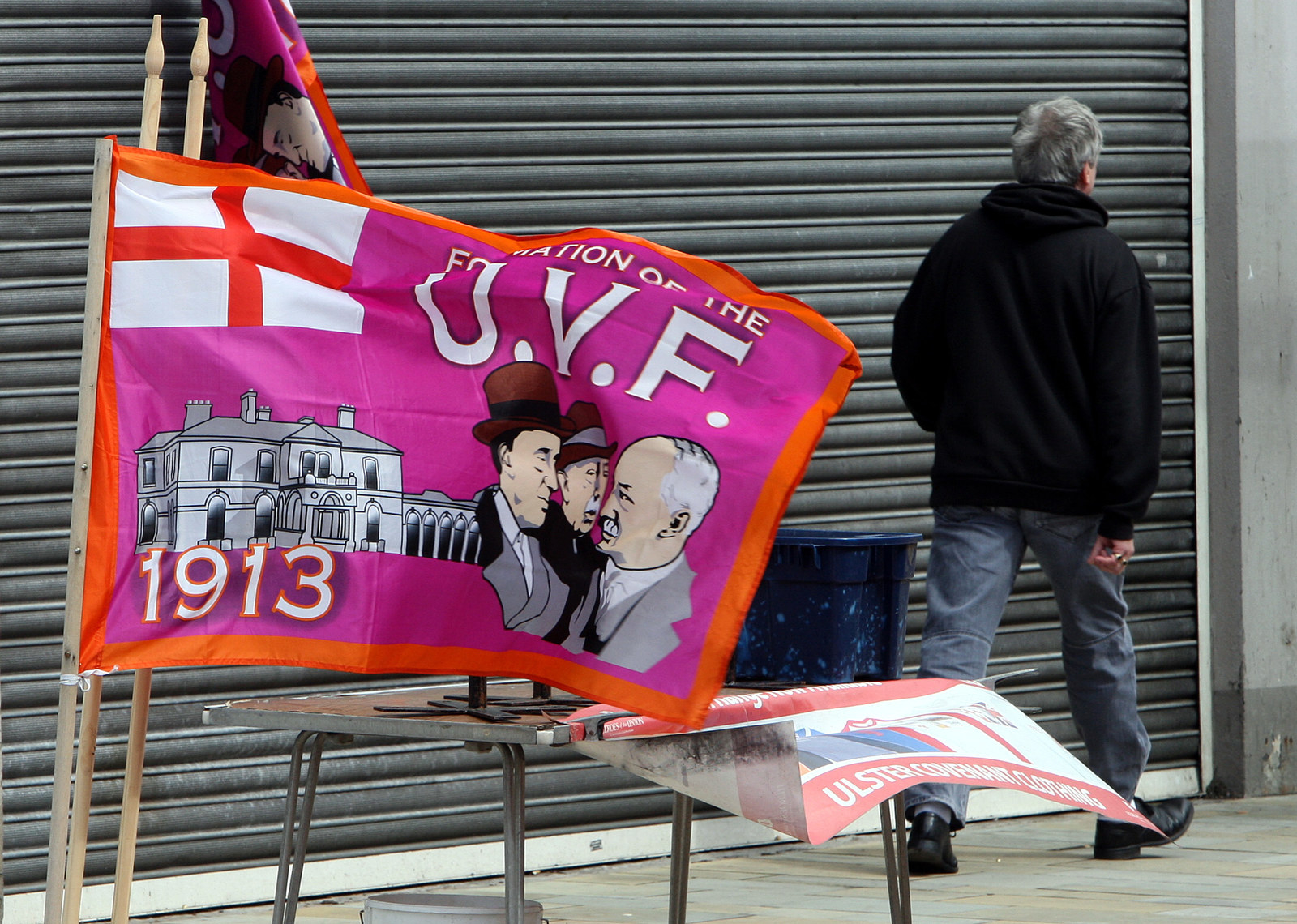 An online petition, posted by a woman who describes herself as a local resident, has insisted Little Pengelly's claims that most residents do not wish for the flags to be removed are inaccurate and instead calls for police to intervene and remove the flags. Addressing the PSNI, the petition states: "Many will be aware of South Belfast MP, Emma Little Pengelly's recent assertion that she sees 'no demand' from the residents of shared neighbourhoods such as Global Crescent and Cantrell Close to remove UVF or Union flags and that residents 'do not want a fuss'. Many of us believe this is not the case and that the majority of residents in mixed South Belfast and beyond would prefer to keep their neighbourhoods neutral.
"The PSNI needs to remove the flags and enforce the position they took at that time. Inaction in dealing with these divisive displays in mixed areas is a failure to safeguard our right to live in a neutral space, free from sectarianism and harassment, as is contained in the Good Friday Agreement. This peaceful co-existence is what the majority of residents wants."
At the time of writing the petition has gathered 1,600 signatures.
Local residents are also organising a rally to take place in the area this evening, calling for police to intervene and remove the flags. Flyers for the event distributed on social media call the event a "respect rally" in support of "shared space" between Protestant and Catholic communities.
Following news of the pact, the Conservatives have been criticised for their partnership with the DUP, due to concerns about the party's controversial views on a number of social issues, as well as alleged links to paramilitary groups. The party supports Northern Ireland's abortion ban which sees women face life in prison for having a termination and have also vetoed marriage being legalised for same-sex couples in the region. A petition calling on Theresa May to drop the pact has received more than a million signatures and multiple protests have been held outside parliament in opposition to the pact.

When approached by BuzzFeed News, a spokesperson for Little Pengelly did not respond to requests for comment.