Post-Brexit Economic Blues Are Greater Than The 2008 Financial Crisis
Finance chiefs say they are less optimistic now than they were following the collapse of Lehman Brothers at the height of the biggest financial crash in living memory.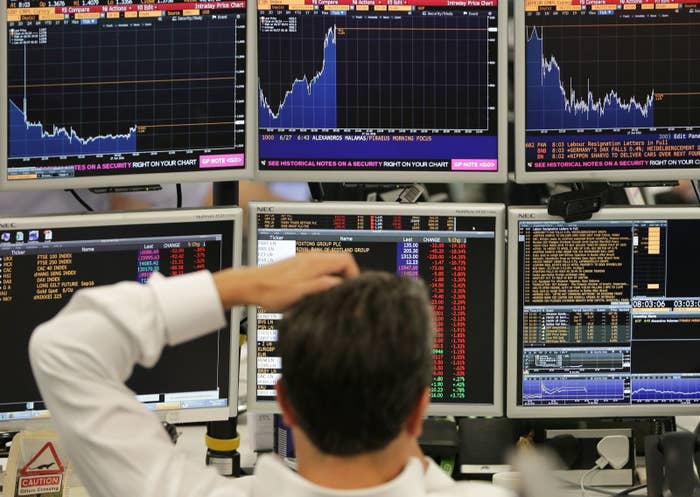 There is less optimism in the boardrooms of UK companies today than there was at the height of the 2008 financial crisis following the collapse of Lehman Brothers, according to a new survey.

Finance bosses believe sales will fall, hiring will slow, and investment will shrink thanks to the uncertainty caused by the UK's decision to leave the EU.
Accountant giant Deloitte interviewed 132 finance chiefs from leading companies worth more than a combined £365 billion, and found that nearly 3 out of 4 said they were less optimistic since the Brexit referendum.
Respondents were asked how optimistic they were back in 2008 shortly after Lehman fell and triggered the biggest recession in living memory, and the results show they are less optimistic now.
Businesses are still waiting to see exactly what the impact of the fallout from Brexit will be for the City, but the vast majority are in agreement that they are facing unprecedented levels of uncertainty.
Fewer than 1 in 10 finance chiefs said now is a good time to take risks with their businesses, and 63% expect sales and revenues to fall next year – the highest level since the survey began in 2007.
David Sproul, senior partner and chief executive of Deloitte, said: "The outcome of the EU referendum has triggered a sharp, negative response from the corporate sector.

"This survey was conducted immediately after the referendum, against a backdrop of historical political upheaval and financial uncertainty. The faster-than-expected appointment of a new prime minister removes one source of uncertainty, now the government must set out its vision for the UK's future relationship with the EU to provide further stability and reassurance."
The finance chiefs were interviewed between 28 June and 11 July – before it became clear that the Conservative party's leadership election was over and Theresa May became the new prime minister.
The biggest priority for the finance chiefs over Brexit is for the government to make it clear what ministers' demands will be in EU negotiations, while 88% said keeping the banking system working properly was important.
However, fewer than 1 in 10 said it was important for the government to introduce tax cuts to help economic activity – in a clear vote against former chancellor George Osborne's suggestion that he would cut corporation tax to 15%.
His successor, Philip Hammond, has not indicated whether he would follow through on Osborne's plans, but has said he will not hold an emergency Budget.