Attempts by Marks & Spencer to end a long-running dispute with nearly 7,000 workers who are set to see their pay drop over the next few years appeared to have failed on Friday.
The high street chain wants to end premiums for some of its most loyal employees and raise the pay for its remaining workforce, but has faced a major backlash.
On Friday the company said staff who were previously getting double pay or 1.5 times pay on Sundays would still lose the benefit in three years time, but bosses would now make up 50% of the difference.
Those staff can also boost their pay further by working extra shifts but it still means around 2,700 staff will see their pay cut by around £500 a year if they do not take up the extra shifts. By 2020 they will lose out by around £1,000 a year when the subsidy ends.
Labour MP Siobhain McDonagh, who has led a campaign against the paycuts and handed in a petition to M&S on Thursday with nearly 100,000 signatures, said the new deal did not go far enough.
"While we are obviously glad that the new offer is better with regard to pay compensation packages, it still falls short of the offer that longstanding and loyal staff from Britain's premier retailer really deserve," she said.
"What M&S is telling them is that even if they work longer hours to make up the difference, they will earn no more money in three years' time than they do today. How is that fair?
"M&S is saying that no employee will be worse off as a result of these changes. Who thinks their gas bills, electricity bills and their rent, and travel fares will be the same in 2019/2020 as they are today?"
The politician, who has met with M&S management to raise concerns, also questioned whether chief executive Steve Rowe – who has been with M&S for more than 25 years – will also be willing to see his pay frozen for three years. His basic salary, before bonuses, is currently £810,000.
BuzzFeed News has previously revealed that dozens of staff who are set to lose out feel "betrayed" by the chain.
M&S is planning to raise the hourly wage for customer assistants from £7.41 to £8.50 outside London and £9.65 in Greater London. Section coordinators and section managers will also get a pay rise.
Staff who joined prior to 2010 currently enjoy time-and-a-half for working on Sundays and workers who have been with M&S since before 2003 get double time for Sundays.

One worker said previously: "I work every other Sunday and have worked on my own for the last five years, so calling it a worry is an understatement.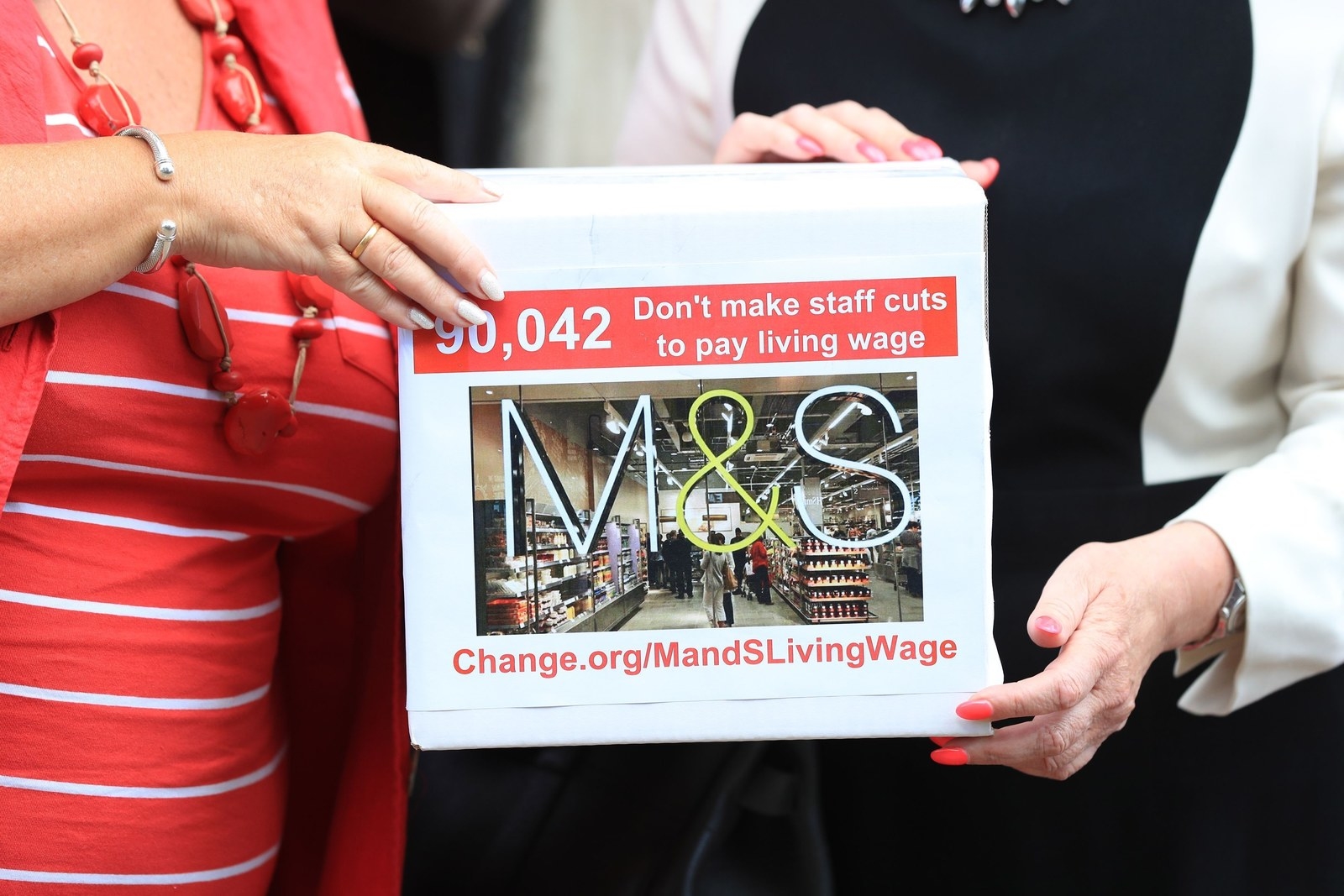 "I start at 4am every day and work a 13-hour shift on Sundays. And when all this [the premium payments] goes I'm going to be really badly affected – it's probably going to be the equivalent of my mortgage."
Sacha Berendji, Marks & Spencer retail director said: "We've listened to our colleagues, acted on their feedback and are pleased that we've reached an outcome that gives enhanced support for our colleagues as well as making necessary changes to our business.
"From April 2017 our people will be amongst the highest paid in UK retail and receive one of the best benefits packages. The changes will reward our people in a fair and consistent way, simplify and modernise our business and help us attract and retain the best talent so we can continue to provide great service for our customers."
The company, which has struggled in recent years is going to give an update on how it wants to win back long-lost customers, when Rowe, who took the top job last year, unveils his vision after admitting to several problems with the iconic retailer.