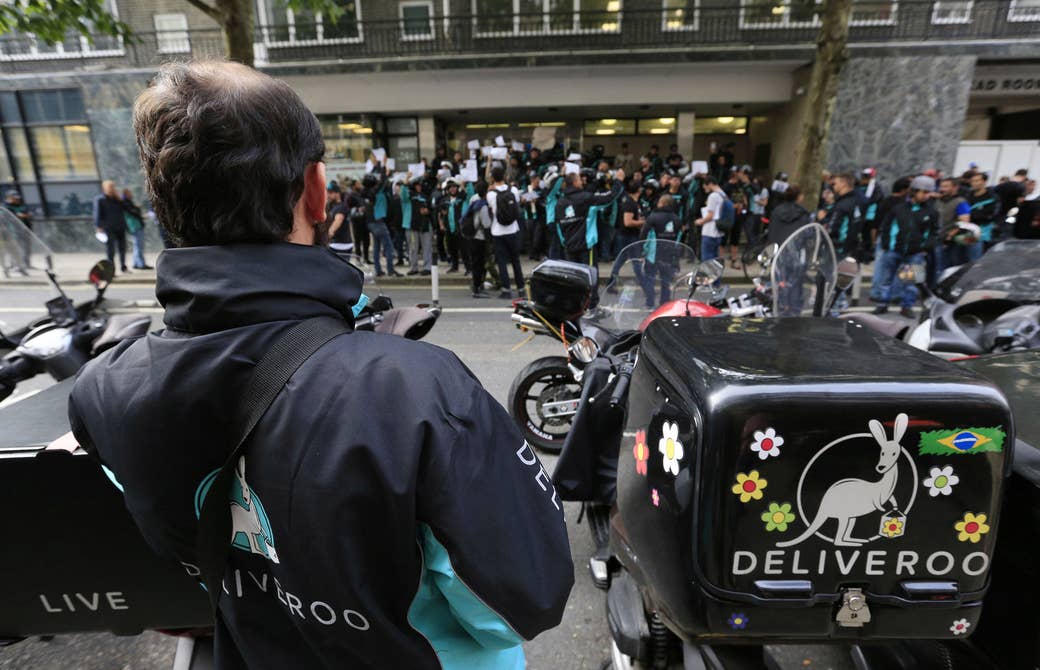 When Bhone Kyaw, a motorbike rider for online food delivery business Deliveroo, was forced to stay at home to look after his partner, a fellow Deliveroo rider who had been seriously injured when a car crashed into her scooter, he hoped the company would be sympathetic.
Deliveroo's founder William Shu, who many riders speak of highly, is said to have visited injured workers in hospital in the early days of the company, even dipping into his own pocket to help them get back on their feet.
Kyaw, who has been with Deliveroo for a year, knew any work missed would mean a cut in the couple's salary because they are classed as "self-employed" and not entitled to any sick leave.
But the last thing he expected was for both of them to be threatened with the sack for missing shifts to look after his partner.
"After the accident she couldn't walk and got headaches and I had to take her to hospital," the Burmese national, who has lived in the UK for a decade, told BuzzFeed News. "In January, I could not work properly because I needed to look after her. I sent a message to the zone manager, saying I wouldn't be able to take every shift. The zone manager said it would be fine, but a month later they cut off my hours.
"Normally, we were working 60 hours each, but afterwards we were changed to 39 hours for three months. After three months they wanted to terminate the contract, claiming we didn't turn up for our shifts."
Deliveroo told him he had failed to inform the company that he would have to miss shifts to look after his injured wife, forcing Kyaw to produce emails to prove he had contacted management.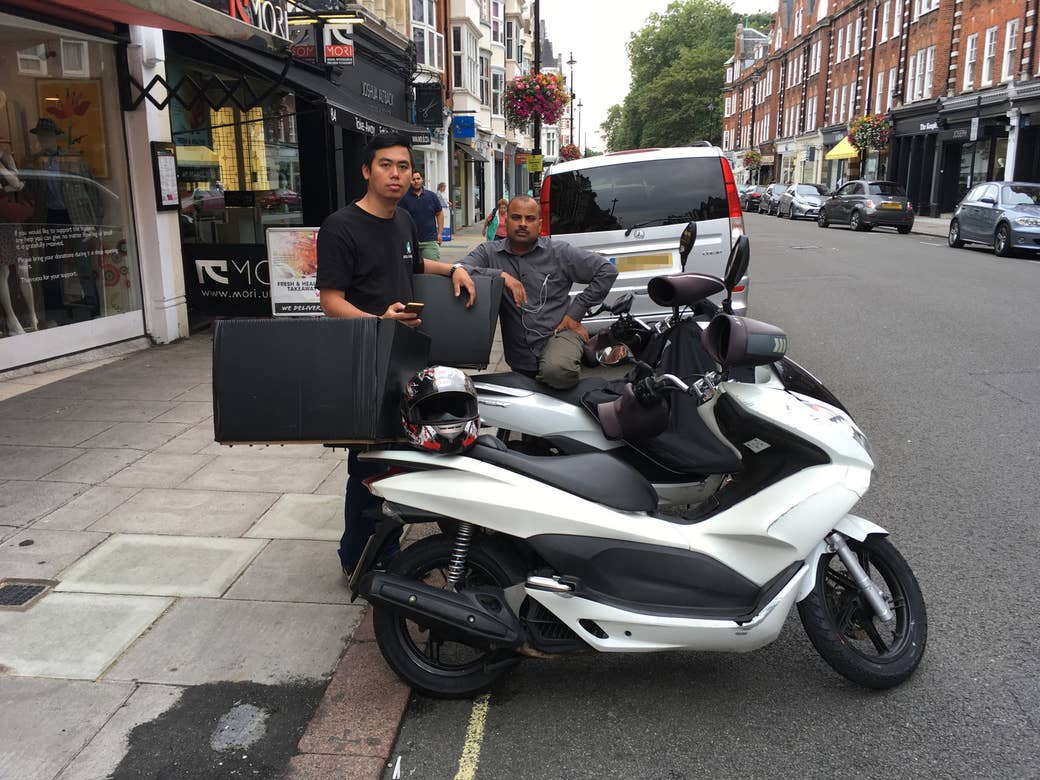 The company said they couldn't comment on individual riders but told BuzzFeed News it is flexible when riders are unable to work their shifts. "We request riders let us know in advance if they are unable to work at the agreed time."
Deliveroo remains one of the big success stories of the "gig economy", a sector packed with companies who have thrived using a combination of smart technology and a casual workforce.
Launched in London three years ago, Deliveroo has rapidly grown and now covers 65 cities worldwide, including 12 in the UK, making it worth $600 million (£450 million).
Sales are expected to hit £130 million this year – a tenfold rise in just 12 months.
But with the company expanding and investors demanding a return on their cash, the business appears to be suffering severe growing pains, and it is the delivery riders who say they are being hit the hardest.
BuzzFeed News interviewed 10 scooter and bicycle riders, all of whom recounted similar complaints about how the company had treated them or their colleagues. Some were willing to talk on the record, while others wished to remain anonymous for fear of losing work, especially because their employment status means Deliveroo can refuse to offer any future shifts at a moment's notice.
All of them said they do not feel self-employed – an arrangement bosses insist creates flexibility among its workforce.
They told us how supposed "flexibility" was regularly abused, revealed fears that a new trial contract could leave some earning less than the minimum wage during quiet periods, and said many feel ignored by management.
The Deliveroo drivers' testimony will add to growing calls for a parliamentary inquiry into the gig economy following a series of controversies over the use of self-employment contracts.
Courier firm Hermes has faced strong criticism for its treatment of drivers – who are also deemed self-employed – after BuzzFeed News revealed a catalogue of exploitation allegations. Labour MP Frank Field has called on the government and HMRC to investigate the company's working practices further.
Minicab app Uber has been taken to court by its drivers, who claim they should be considered as employees. The outcome of the case is due later this year.

Here are the issues Deliveroo riders said they were unhappy about.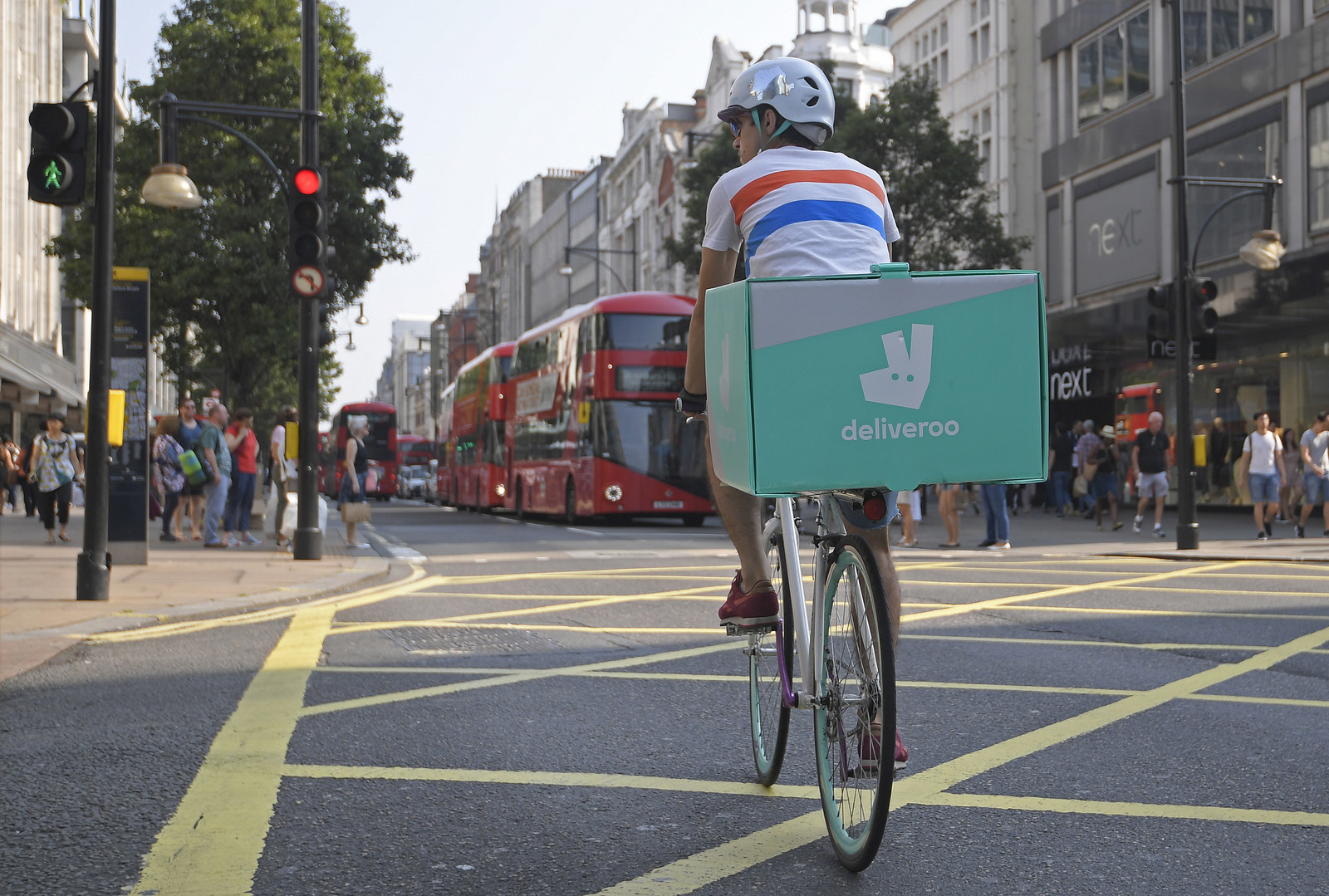 Flexibility and Self-Employment
One scooter rider who wished to remain anonymous revealed how the company's so-called flexible contracts worked against him when he was called one day by his pregnant wife, who was complaining of stomach pains.
After informing his manager, he rushed home to take her to hospital – losing out on the cash for that day's shift. Instead of giving him sympathy, he said, the company stripped a shift from him the following week.
The rider said: "You cannot run away from the schedule. On this occasion I couldn't come on a Saturday evening and they took my Tuesday shift off me.
"Why would you do that? I felt horrible. I was in mental stress already – I had to carry her to the hospital – and they then added financial stress too."
Shift changes were one of the biggest fears for all the Deliveroo drivers BuzzFeed News spoke to, because being "self-employed" means they can be sacked by the company without a moment's notice and have no rights to holiday or sick pay.
Even senior riders who have been with the company since the very beginning are fearful.
One scooter rider who has been with at Deliveroo since it started and knows senior management personally said: "I've been working [at the company] for three and a half years. I know my job is secure but I'm still scared because for any stupid reason they can sack you."
The Deliveroo contract makes it very clear to riders that they are self-employed and not the firm's responsibility.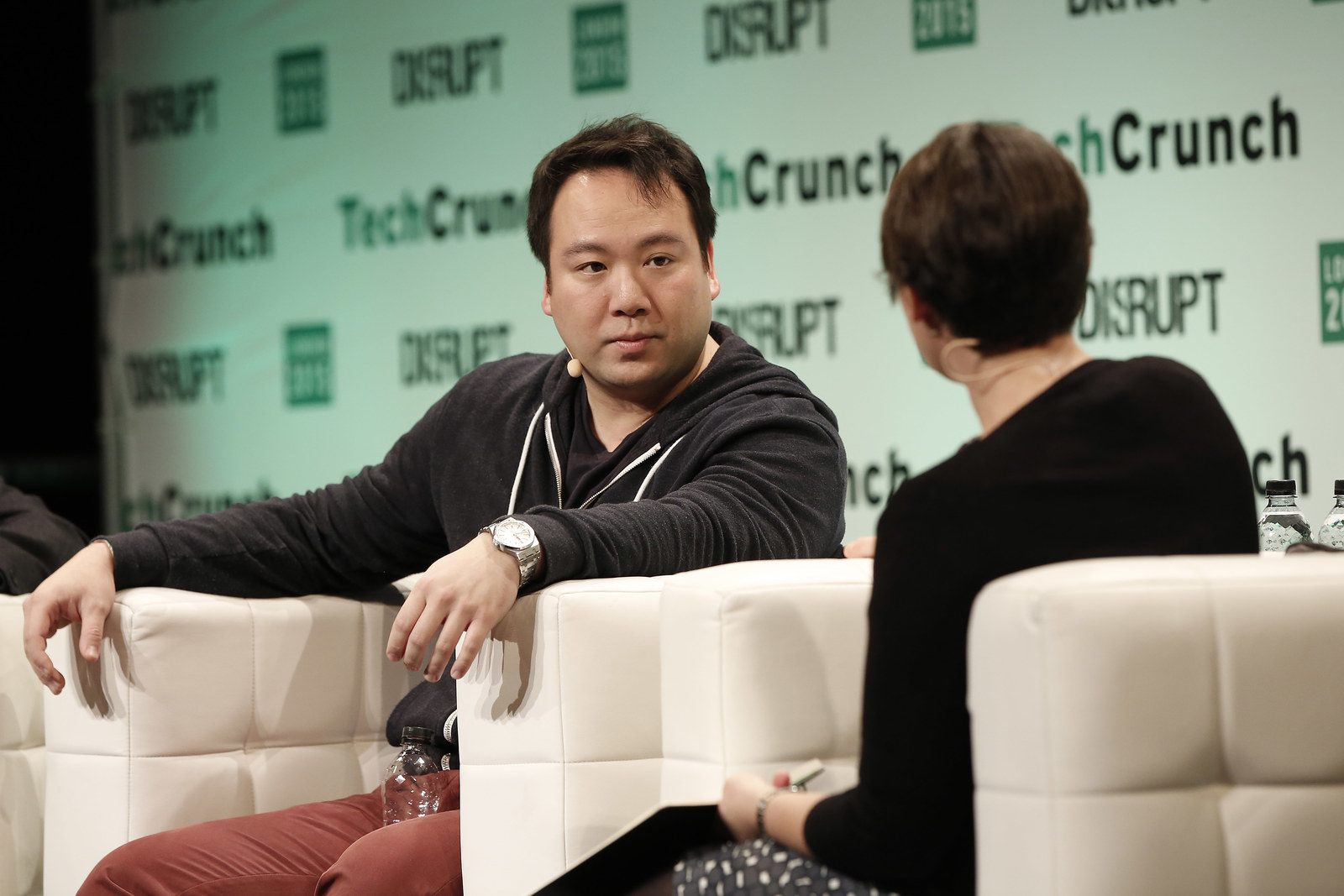 A copy seen by BuzzFeed News states: "You are a self-employed supplier and therefore acknowledge that you are neither an employee of Deliveroo, nor a worker within the meaning of any employment rights legislation."
Staff are also encouraged to keep the distinction clear – and to use the term "fees" rather than "wages" or "salary". Workers also shouldn't say "shifts" but say they are "logging on".
Ben, who trains bicycle delivery riders for Deliveroo and is also chair of the food and delivery branch of the Independent Workers Union of Great Britain, said: "It seemed to be about changing the language as much as they can to make it seem like you are not a worker, not an employee."
One Brazilian scooter rider summed up the mood among his colleagues. He said: "I have to wear a uniform, be on a rota, represent the company. If I worked in Sainsbury's I'd have to do all the same duties, the difference being there I'd be an employee."
Even the trainers for the company are "self-employed", despite being responsible for selecting riders for Deliveroo.
One scooter trainer, who has been with the company nearly two years, said: "I train, select, and recruit their riders. I tell them if they are good enough to join the team or not. But despite all that, I'm still 'self-employed'. That's what annoys me. I've been told to do things, sent emails to run trial shifts, asked to move zones. They ask me to do it as if I'm an employee, yet I'm self-employed in their status."
Deliveroo argue that the self-employment status allows for flexibility among its workforce.
But the riders BuzzFeed News spoke to said many are forced to take shifts they may not want or told to switch zones – in London, for example, there are now 30 zones.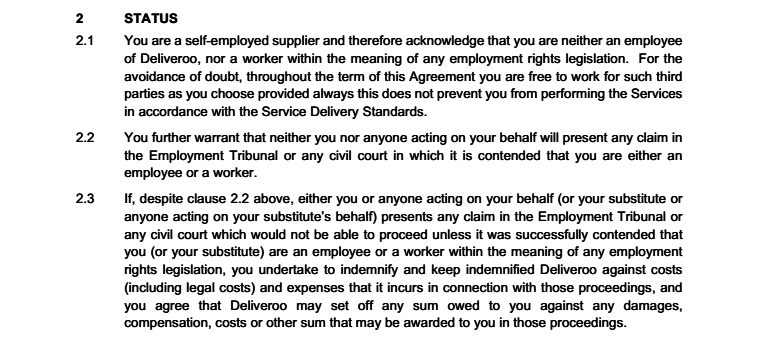 Ben said: "If you miss regular shifts then you will be suspended. I've had my account suspended – I had just started working as a trainer and they called me up while I was on a training shift.
"They said 'you're logged in for a shift but you're not supposed to be working'. I explained that I was logged in for a training session, but was then threatened. They said 'we're not going to be able to let you work any more lunchtime shifts until your performance improved'.
"Cutting shifts is their big go-to punishment. It's not quite as bad as firing people, but it sends a strong message. It's almost like a fine, because we're not going to earn any money."
Riders say taking holidays can also lead to problems – with the computer systems seemingly unable to cope. Several riders said they had booked holidays and had to continually contact head office to get reinstated on the rotas once they returned.
A scooter rider said: "This year I went to Spain for one week, but two days before I came back, I emailed them to tell them when I'll be back and free to work again. I said 'I'd like to take my shifts back' but they didn't respond for two weeks. Every day I was sending an email because I needed the shifts, so in the end I spent two weeks without pay." Other riders had similar tales.
Many of the workers were wooed to the job by the flexibility, but once they sign up riders are told they must work at least two shifts across Friday, Saturday, or Sunday. The company confirmed this policy to BuzzFeed News.
Dan Bagshaw, from north London, said: "Because I'm a keen cyclist I was bombarded with adverts to come and work for Deliveroo. A friend said the pay was guaranteed, it was flexible and sounded fantastic."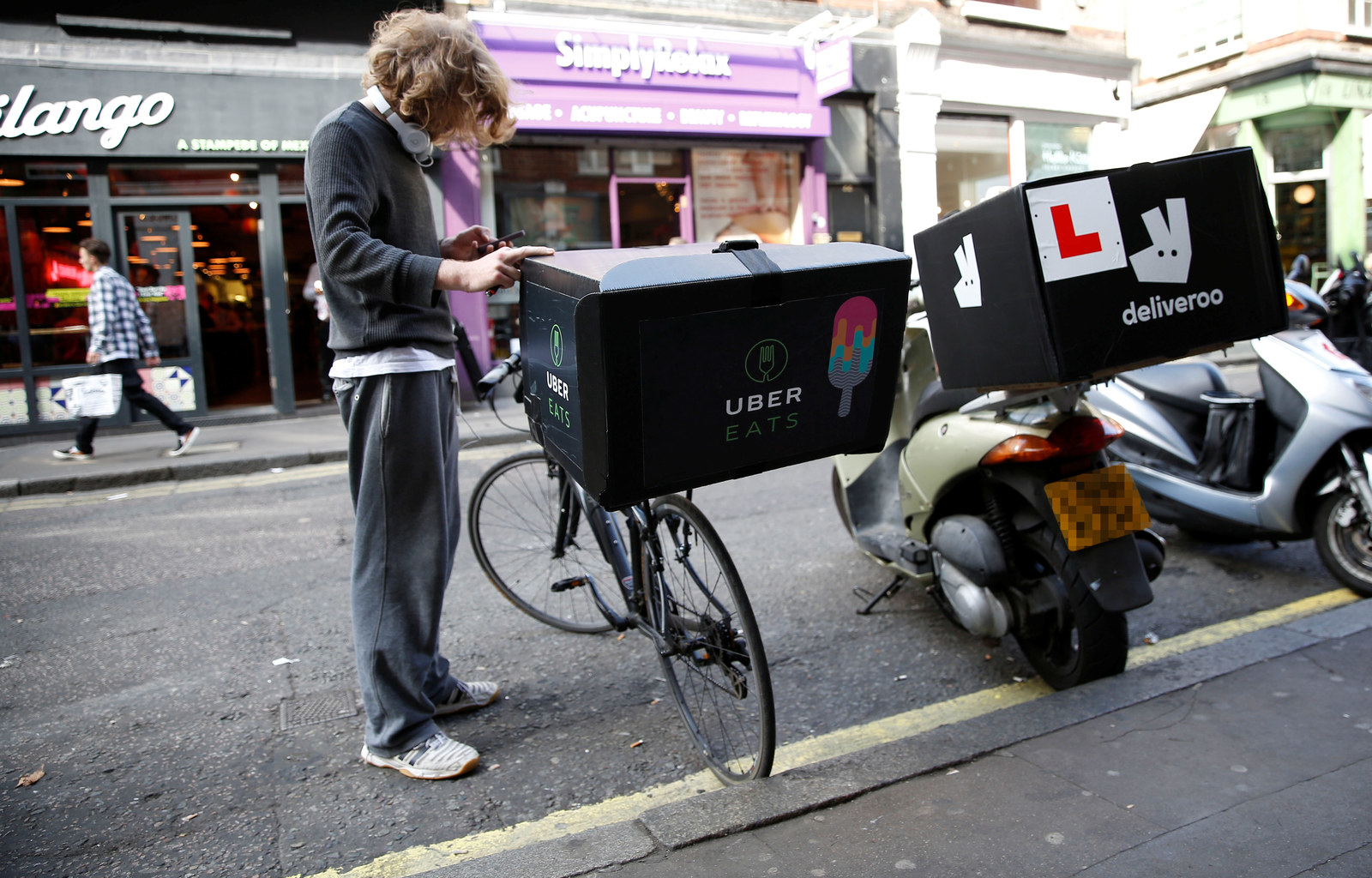 He added: "I told them I needed quite a bit of money and they initially said I could have 20 hours a week for the first month during the week and I wouldn't need to work on weekends."
But shortly after signing up, Bagshaw was subsequently told he could only do 12 hours a week and had to work weekends. He turned down the job.
A spokesperson for the company said riders are expected to say when they can work a week in advance. She added: "All of our riders work with us flexibly, often around other commitments, such as studying."
Part-Time vs Full-Time
According to Deliveroo 85% of its riders see the job as providing "supplementary income, or short-term flexible work". Around 75% of riders use bicycles, and there are limits of a maximum three hours per shift for cyclists.
But all the drivers BuzzFeed News spoke to questioned those figures and believe that although there may be more cyclists, the vast majority of deliveries are carried out by scooter riders – who tend to work full-time.
For example, the scooter rider who was forced to miss a shift to rush his pregnant wife to hospital works every day, only getting Saturday mornings off to see his three children. Finishing late at night means he rarely sees them during the week.
The reason so many scooters riders opt for full-time is because the insurance costs are so high and for every minute the scooters sit idle, the insurance premiums must still be paid.
Responsibilities
The issue of where and when Deliveroo should take responsibility for its riders was also problematic for the workers BuzzFeed News spoke to.
Most said they had suffered an injury and were left alone to deal with insurance companies and police with no help from Deliveroo.
Only one scooter rider said he was helped: "Last year I was sick for two weeks and was in hospital. They treated me very well and paid me for one whole week while I was off." However, he is unconvinced whether he would get help again.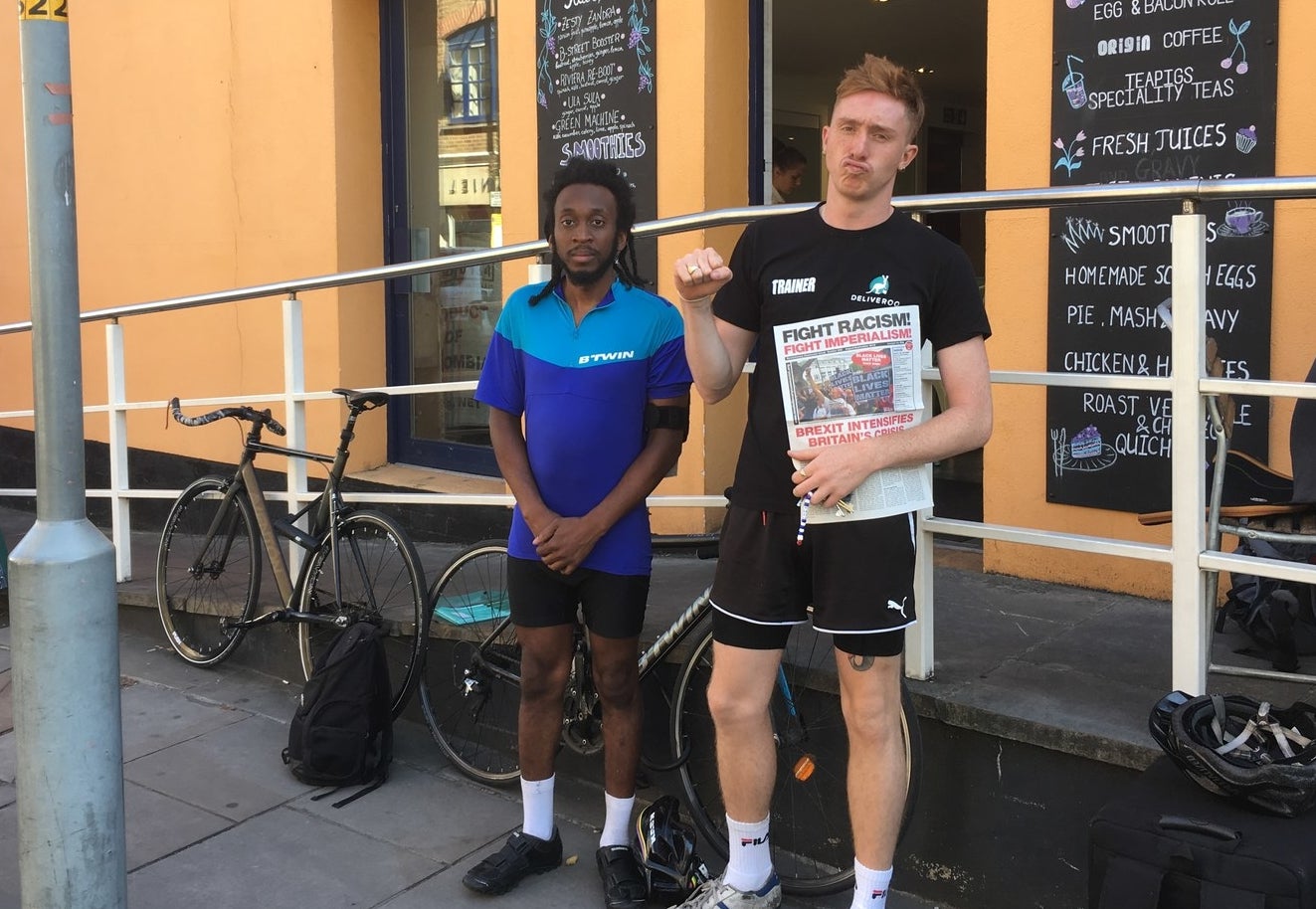 The company said it has a livechat and phone call-centre service for riders with an average rating from riders of 4.6 out of 5.
Insurance is also very expensive. Scooter driver Mubarak Khan said he pays £117.50 a month on insurance and £90 a month in instalments for his bike.
Other riders told us insurance premiums can be anything from £900 to £1,400 a year.
Khan's take-home pay for working seven hours a day and 10 and a half hours on Saturdays and Sundays was until recently around £600 a week.
But he said that under the new trial contract Deliveroo has introduced – with a £3.75 per delivery fee, instead of £7 an hour plus £1 per delivery – his pay has fallen by 50%, working out at just £5.35 an hour, which is less than the minimum wage.
"I can eat or not eat," he said," but I need to pay the insurance and bike money. In London, if we don't get the minimum wage, how are we to live here? How can you survive on £3.75 a delivery? I'm going to have to ask for benefits, but I don't want benefits, I want to work."
Deliveroo said it introduced a top-up payment system on the new contracts to make sure no one loses out, but this guarantee has now come to an end.
Cyclists rarely take out insurance, because of the cost, which means they become personally liable for any accident.
One cycle rider explained the downside: "I've had a very minor collision with a guy in a car. I was like, 'I'm not going to deal with you,' but he saw my bike.
"Deliveroo gave him my details and said I should have my own insurance. I've got insurance as a cyclist but it's invalid if I'm working as a courier. You simply can't get any cover." He had to defend himself against a £600 bill.
Deliveroo also attempts to waive any employer liability with a clause in its contract that bans workers from taking them to a tribunal.
It says: "Neither you nor anyone acting on your behalf will present any claim in the Employment Tribunal or any civil court in which it is contended that you are either an employee or a worker."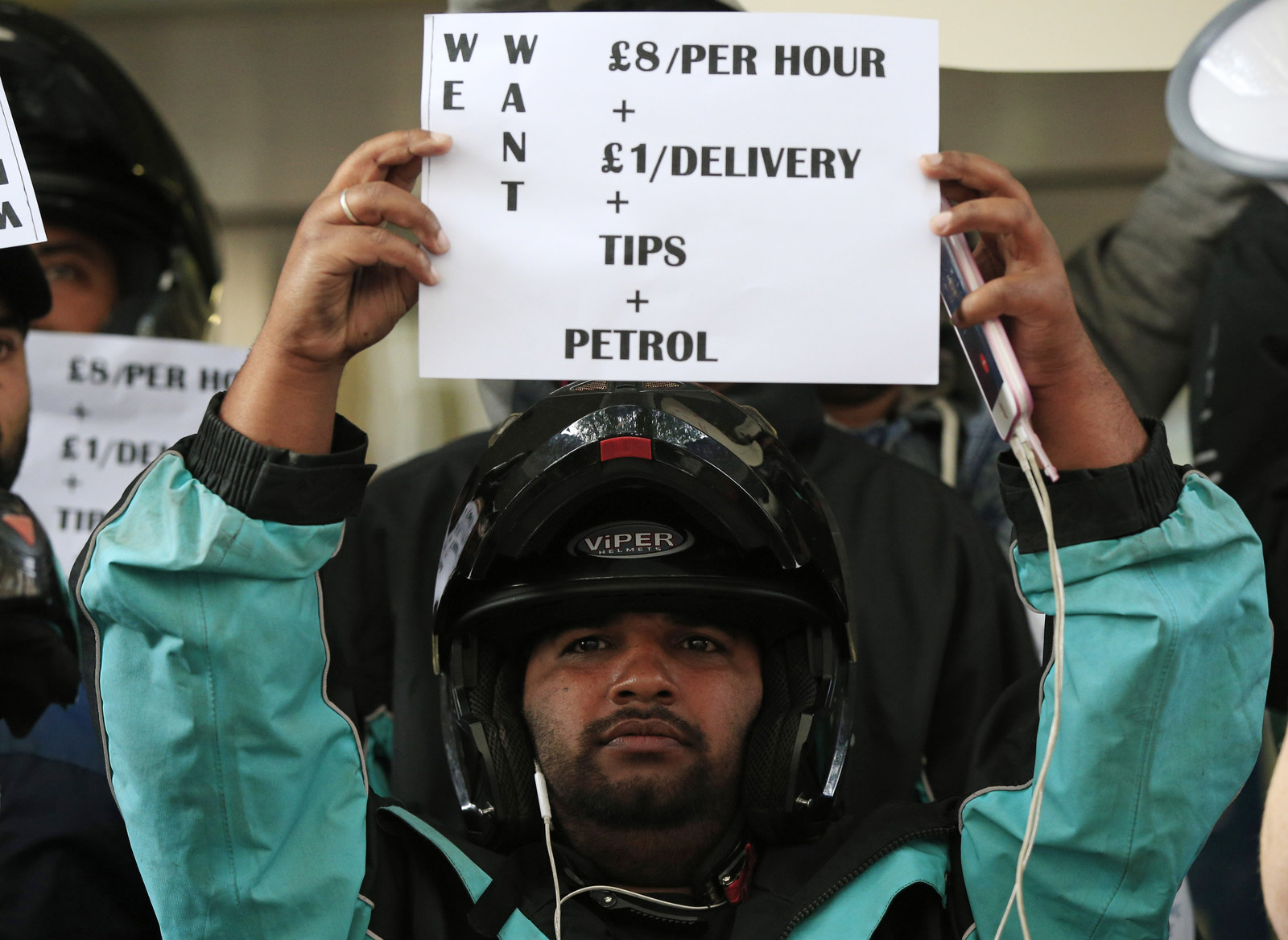 It goes on to say that if a rider does take the company to court, he or she will be liable for any legal costs incurred by both sides.
However, employment lawyers said the clauses are unlikely to be upheld in court.
Nicholas Le Riche, an employment lawyer and partner at Bircham Dyson Bell, said: "That provision won't stop anyone [taking the company to an employment tribunal] and the claim won't get struck out because of this wording in the contract.
"If I was a Deliveroo driver and received a letter from their solicitors threatening legal proceedings as a result of a breach of this provision, that might scare me off, but if it went to court you're going to struggle to get that enforced."
Kevin Poulter, an employment lawyer and partner at Child and Child, said: "I believe that the clause is there more as a deterrent to Deliveroo contractors and not something that Deliveroo would choose to test in court, given the option."
He also said the company is very unlikely to recover costs from a rider who takes them to court.
The New Contract
Anger among Deliveroo's riders peaked last month when plans for the new contract led to a seven-day impromptu strike.
Management said they would only meet riders one-on-one, rather than collectively – something the striking riders refused.
The company subsequently backed down and said the new contract was an optional trial, although anyone who stayed on the old contract had to change to a zone where the new contract has not yet been implemented.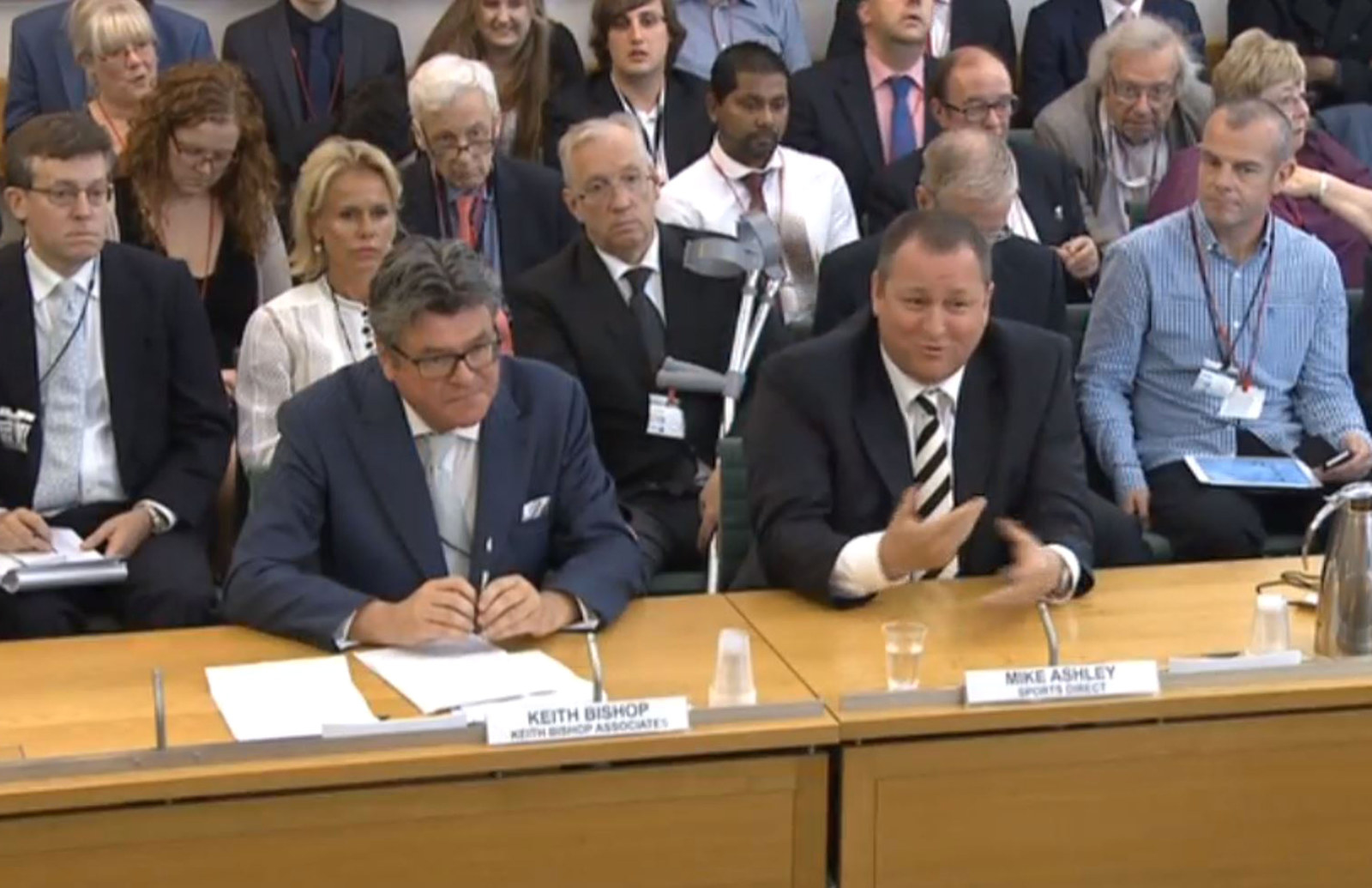 Fears over income were the biggest issue. A Brazilian rider who met BuzzFeed News outside a coffee shop where Deliveroo riders hang out waiting for orders said: "As you can see, there are more than 10 bikes around here waiting for deliveries. Imagine if they change the contract to pay per delivery? We wouldn't have any money."
Other riders warned that the new contract meant they felt forced to take more risks to make deliveries faster. Deliveroo said it is dedicated to rider safety and provides some free equipment – although a deposit is required.
Ben said: "The guys in Belsize Park [in north London] have already seen an increase in people having accidents as people try to go faster."
Some also suggested that there has been a boost in hirings in an attempt to force out those who are on the old contracts.
Deliveroo said in a statement: "We operate two rider payment systems across the UK. The first is a fee-per-delivery trial, where riders have 100% flexibility – choosing to log-in and out to work whenever they like. The second is our hourly pay model where riders indicate their availability ahead of time.
"Rider feedback is very important to us and we always ensure that there are consistent communication channels in place for riders to share their views and any concerns. We're always working to provide an offer that's safe, competitive, and enjoyable for all riders and we're proud to work with over 8,000 across the UK."
What next?
The gig economy is now the subject of intense public scrutiny and Labour MP Frank Field has asked the prime minister to launch an inquiry.
Le Riche said: "I think self-employment contracts are definitely becoming more prevalent.
"We had the Uber tribunal case last month and got courier cases coming up in the autumn. Employment law is trying to keep up with the changes but there is ambiguity."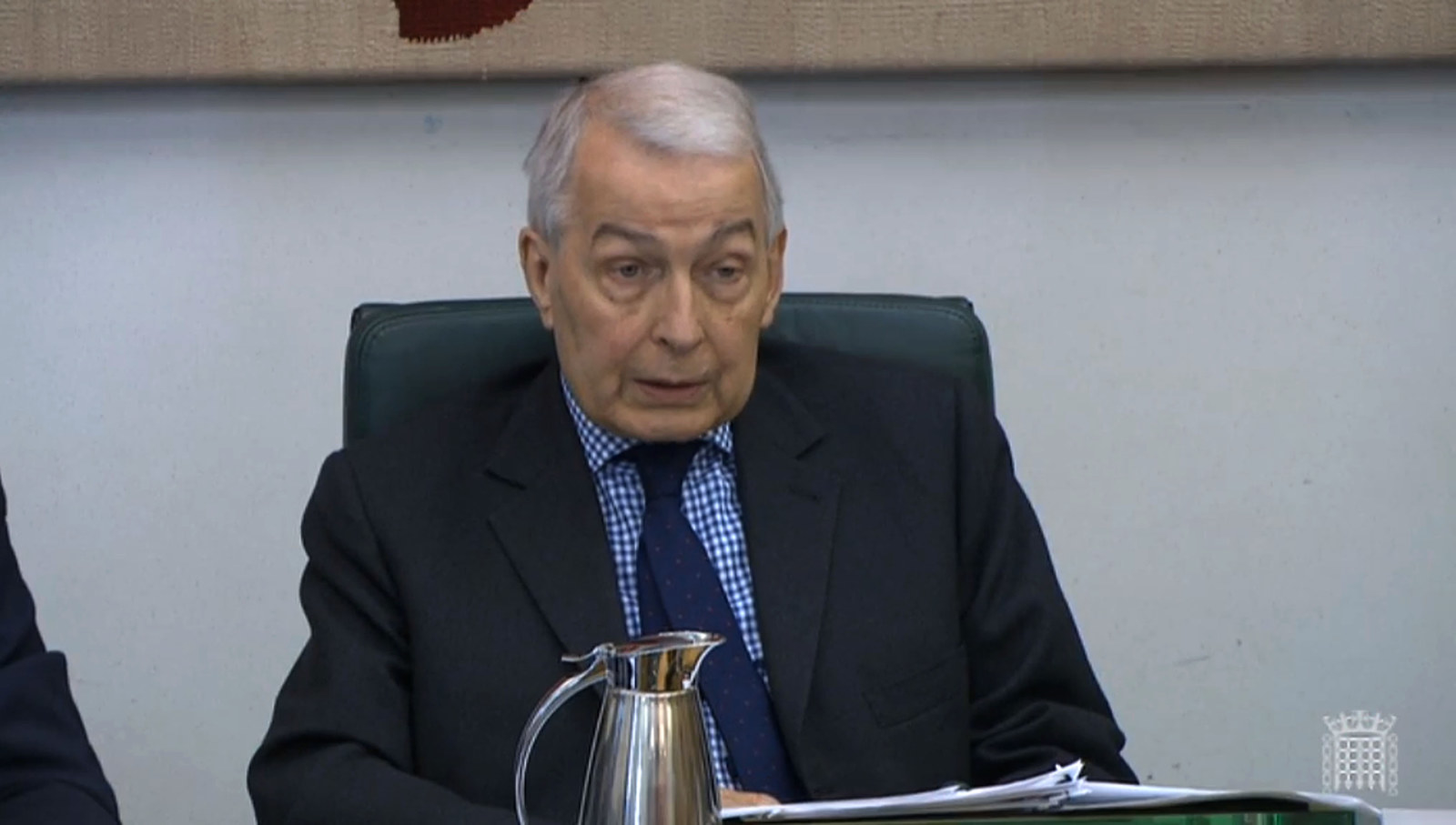 The House of Commons business select committee, which grilled Sports Direct's Mike Ashley earlier this year over his company's treatment of workers, is also looking at labour markets more widely.
But many of the riders BuzzFeed News spoke to were anxious about the future.
At least half said they were actively looking for new jobs, and the fear now is that as competition in the sector is squeezed further, working conditions could get tougher.
Deliveroo is by no means the only player in the restaurant home delivery business – with Uber expanding its UberEats platform to compete.
But some rivals have fallen by the wayside, including Take Eat Easy, a Belgian startup, which went bust earlier this year.

The same day Take Eat Easy went into administration, UberEats cut the fees it pays its own riders for deliveries (although the company said the timing was purely coincidental).
Because Take Eat Easy's riders were all "self-employed", they missed out on their final two weeks of wages because administrators recognised them as '"unsecured creditors" rather than staff. The same could happen to riders if Deliveroo or any other rivals went down.
Luckily for Deliveroo investors, their money looks safe for now as the value of their investment soars. But the firm's drivers are insisting its growth should not be on the back of their own hard work.