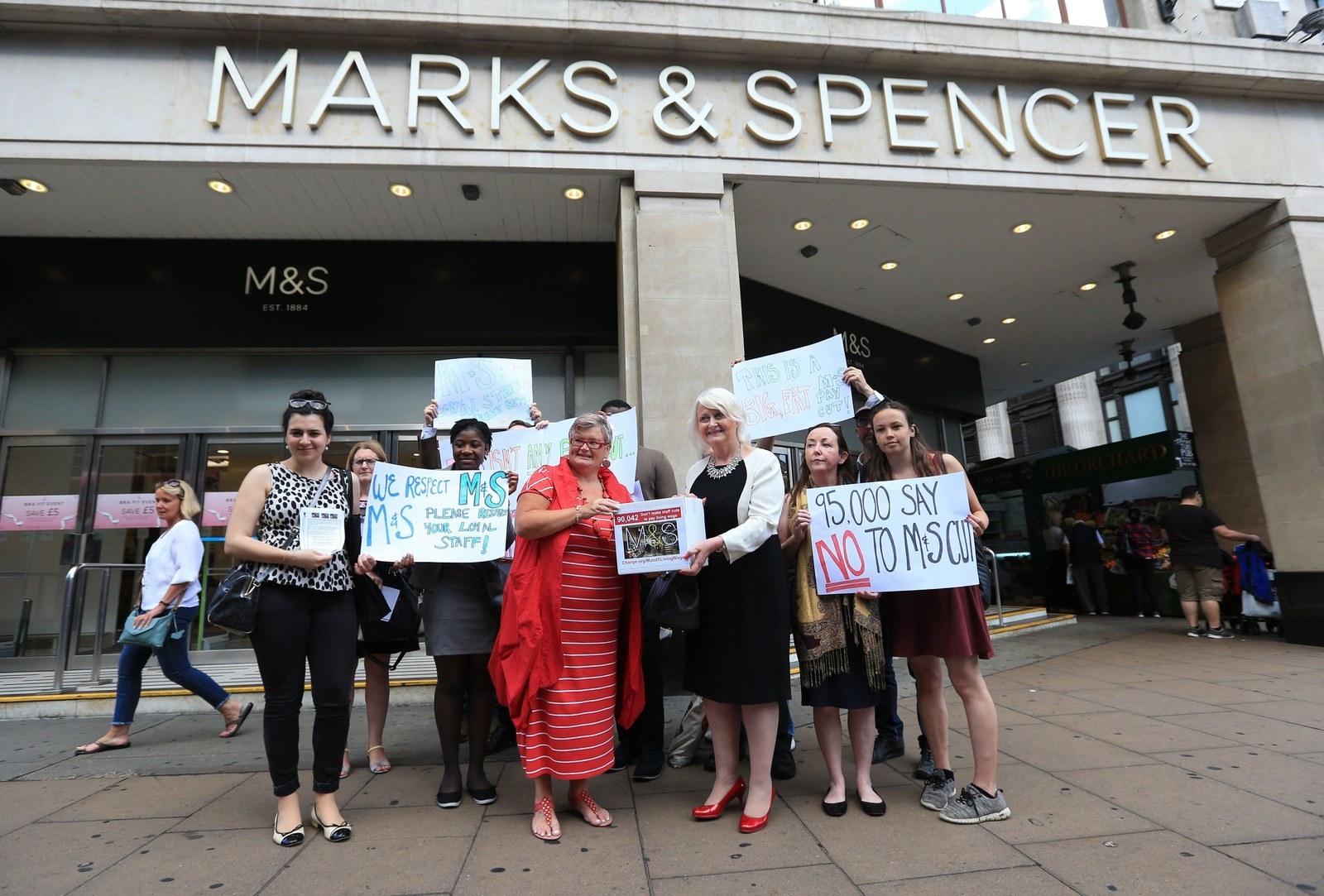 Dozens of politicians have waded into the ongoing battle between Marks & Spencer and thousands of its staff, who say they are set to see their wages significantly cut following a recent pay review.
A letter signed by 70 MPs, including campaign organiser Siobhan McDonagh, Labour leadership contender Owen Smith, and former home secretary Alan Johnson, will be sent on Wednesday to the high street chain's chief executive, Steve Rowe.
It voices their concern that nearly 7,000 staff will have overtime payments for Sundays scrapped in three years' time and asks for Rowe to also freeze his own salary for three years.
The politicians also say they are worried that staff will be forced to sign up to the new arrangement or face the sack.
The letter says: "We agree that the proposals that the company announced … were an improvement on the original transitional package. However, it would be a betrayal to loyal staff, many with more than two or three decades of professional experience, to say that this is a very good offer for them."
It adds: "We are also very concerned with the coercive way in which these proposals have been presented.
"Staff have been told that the consultation is now closed, the decision is now made, and that if they do not sign the new contracts they will soon be receiving, they will forfeit their transitional payments.
"We would like to know, what will happen to staff who do not accept these proposals, and do not sign their contracts? Will they be sacked for 'some other substantial reason'?"
Staff who have been with the company since before 2003 currently get double pay on Sundays, while employees who joined between 2003 and 2010 get time and a half.
M&S wants to raise the hourly wage for customer assistants from £7.41 to £8.50 outside London and £9.65 in Greater London. Section coordinators and section managers will also get a pay rise.
But to fund the changes, the company wants to end overtime payments to some of its longest-serving staff.
Last week a petition with nearly 100,000 signatures was sent to M&S, and the retailer agreed to concessions under which staff that lose out can make extra money by taking on more hours.
They will also see their pay cut tapered over two years, with M&S making up 50% of any losses until 2020.
But MPs remain unhappy and warn that their constituents could suffer.
The letter added: "We all represent constituents who will still be seriously financially affected by these changes.
"While we are obviously glad to hear that M&S had amended their transitional payments in light of our campaign, it still falls short of the offer that your longstanding and loyal staff really deserve.
"What the company is telling them is that even if they work longer hours to make up the difference, they will earn no more money in three years' time than they do today – which is absolutely not fair."
BuzzFeed News has approached M&S for comment.