A boy brought a watermelon to Melbourne's Big Bash cricket derby, and became an instant legend.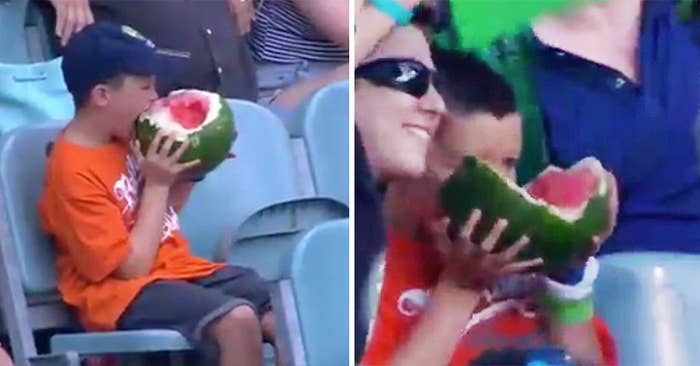 He started early, and a hashtag was born.
Soon pics of a younger #watermelonboy emerged.
People felt they'd seen him somewhere before.
Some started wondering how he was getting home.
His highlights reel was quite something.
Journalists speculated what he was up to.
Soon stores were selling out of watermelons.
Not bad kid, not bad. 🍉 🍉 🍉 🍉 🍉 🍉
#watermelonboy, bringing people together since January 2, 2016.
PS: #watermelonboy strutted his stuff at the Melbourne Cricket Ground, in front of a record Big Bash League crowd of 80,883 😍.
Update 08:45 AEDT, January 3: #watermelonboy, aka 10-year-old Mitchell Schebeci, appeared on The Today Show on Sunday morning, still eating. Basically, he did it for the LOLs.