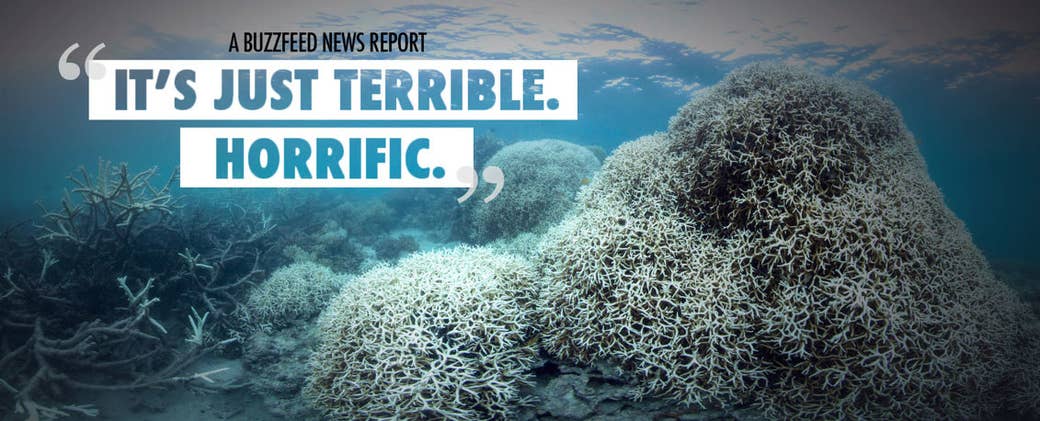 "It's gut-wrenching," says the man who discovered 20% of the world's coral species. "No one will ever study coral as I have, because so much of what I have studied will no longer exist. That's really a gut-wrenching thing to have to say."
Professor Charlie Veron is the angry, outspoken former chief scientist of Australia's Institute of Marine Science. He has spent much of this century warning of the cataclysm awaiting the world's reefs if nothing is done to limit rising ocean temperatures.
This year, his apocalyptic warnings have been realised, with huge sections of the 2,300km long Great Barrier Reef hit by its worst ever bleaching event: with 22% of corals dead according to the government.

"When I see so much damage, all in the space of a few months, it really is heart-breaking," Veron says. "It's just terrible. Horrific."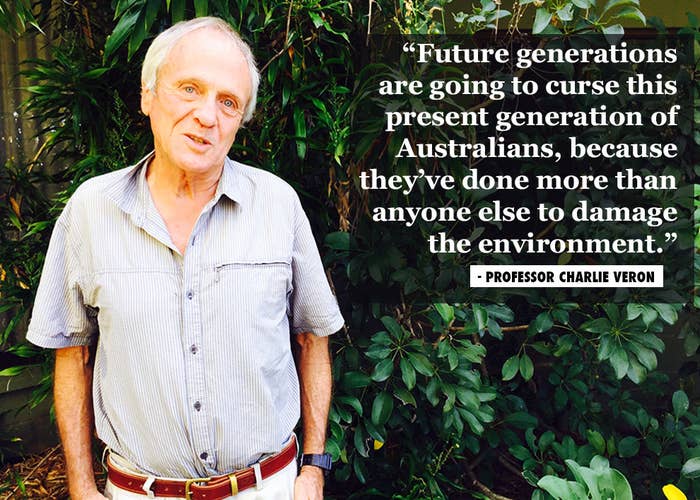 Speaking with BuzzFeed News in his lush, bird-filled tropical garden outside Townsville, in tropical north Queensland, this softly spoken veteran of more than 6000 hours of underwater research is close to tears.
"I predicted this bleaching 10 years ago at the Royal Society in London," he says.
"At an emergency session, chaired by Sir David Attenborough, I predicted 400 parts per million (ppm) of carbon dioxide in the atmosphere by now."
"Some people poo-pooed that, but today we're at 402 parts".
According to scientists, we have now passed a point of no return. On June 13, the UK's Met Office reported that CO2 concentrations won't go below 400 ppm again "within our lifetimes". With so much carbon in the atmosphere, ocean temperatures are predicted to warm, rapidly.
"We're committed to bleaching now," says Veron. "We've created conditions that we'll see the effects of in 20 to 25 years time. The present bleaching is a response to the amount of CO2 we had in the atmosphere in the 1990s. We've got a lot more carbon dioxide in the atmosphere today. The oceans take a long time to warm. But respond they will. Each year the ocean will be a little warmer than it was the previous year."
And as the oceans warm, mass bleaching events become more common.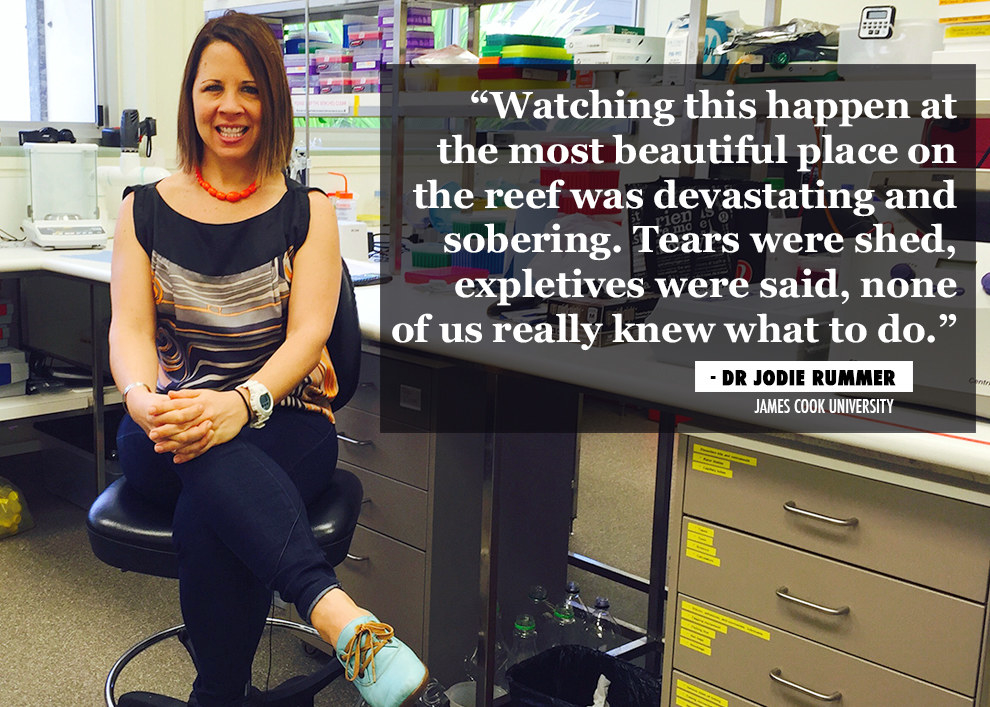 "I was at Lizard Island when [the bleaching] started," recalls James Cook University's senior researcher Dr Jodie Rummer, sitting in her laboratory at the ARC Centre of Excellence for Coral Reef Studies on the outskirts of Townsville.
"We watched it happen before our eyes. Every two days or so you could see corals getting whiter and whiter, the tissue was dying, then anemones started bleaching, the soft corals started bleaching, the giant corals started bleaching. It hadn't even dawned on me that other organisms would suffer: some of those giant clams are 100 years old."

The conditions Rummer had been simulating in the lab to study the effect of rising ocean temperatures on the reef were happening in real time, right in front of her. "Lizard Island is my favourite place on the planet," she says.
"I didn't expect to watch it happen in front of my eyes. It was confronting to see this devastation, devastation that we hadn't expected to see for decades."
"This is unequivocally the worst bleaching event to ever affect the Great Barrier Reef," says Rummer's colleague Morgan Pratchett, a chief investigator at the Coral Reef Studies centre. "This is in the order two to three times worse than previous events. In terms of mortality there's a line north of Port Douglas, of the reefs we visited we estimate 50% of corals will die on affected reefs."
As news of this year's massive bleaching event rippled around the globe, the perilous state of Australia's global icon – "bleaching visible from space!" – made front page news in the New York Times, London Times and Times of India.

In May, fearful of the negative impact of bad press on the $5.4b reef tourism industry, the Australian government intervened in a draft Unesco report on climate change and world heritage sites to make sure all references to Australia were scrubbed out.
But if bad news is driving people away now, what future is there for tourism in the region? The Great Barrier Reef supports an estimated 70,000 tourism jobs in Queensland alone. What happens to the tourism-focused economies of Airlie Beach, Townsville and Cairns if there is no reef to see?
A June survey from The Australia Institute revealed that the relentless negative news is likely to see fewer overseas visitors travel to Queensland to see the reef: "Based on surveys of Chinese, UK, American and domestic tourists, results show that tourism areas adjacent to the Great Barrier Reef risk losing over 1 million visitors per year, worth over $1 billion in tourism expenditure."
Australia's governing Coalition and opposition Labor party have made large reef protection promises ahead of the July 2's federal election. Prime minister Malcolm Turnbull pledged $1 billion over 10 years to fix water quality on the reef; money comes from the Clean Energy Finance Corporation, which the Coalition government has previously tried to abolish. Labor is promising $500m over five years, which includes $377 in new funding.
Meanwhile, leaked figures from the Queensland state government say at least $16 billion is required over the next decade, just to improve water quality.
Prime minister Turnbull says his government is committed to meeting Australia's Paris climate agreement targets, reducing carbon emissions to 26-28% on 2005 levels by 2030, but environmental law experts and scientists question whether current plans will see Australia meet its domestic targets.
And then there's the not so small matter of Indian mining company Adani's proposed Galilee Basin coal mine in central Queensland, which both the Liberal-National and Labor state parties back, and which the non-profit Climate Council says would see 705 million tonnes of CO2 released each year once it reaches capacity – 1.3 times Australia's current annual emissions.
"The Adani mine is singularly the worst thing this country could do – it's unforgivable," says Veron. "Future generations are going to curse this present generation of Australians, because they've done more than anyone else to damage the environment."
The Great Barrier Reef is in real danger. Scientists have repeatedly warned that Australia is at a tipping point when it comes to saving it, and that neither major party fighting for victory in the federal election has fully grasped the need for immediate action.

On July 2, Australia will go to the polls after a marathon 55-day election campaign, the longest in decades.
Hopes that the extended campaign would stimulate a robust discussion on the long term issues affecting Australia beyond the electoral cycle have been dashed: the election is being fought on tight party lines, focusing on jobs and growth, health and immigration. And almost no one wants to talk about the Great Barrier Reef.
Bleaching caused by rising temperatures is not the only threat facing the reef. 150 years of beef farming in Queensland on land never previously used for cattle has led to extensive erosion of topsoil, caused by cows eating all the grass. Today huge amounts of mud and sediment wash off the land, particularly during the summer wet season.
And then there's the sugarcane industry. The biggest crop on the Queensland coast for a century, sugar has historically employed a lot of pesticides, with large amounts of nutrients, nitrogen and phosphate ending up on the reef.
The sediment causes the water to be turbid and stops coral and seagrass growing – so dugong numbers have been greatly reduced. And without dugongs, sometimes known as "sea cows", corals have less chance to recover from the algae blooms that follow bleaching.
The Coalition government's biggest promise for the reef, the $1b protection fund, will provide loans for "clean energy" projects to improve reef water quality by reducing run-off of pollutants and fertiliser from farms, and limiting "ocean outfalls" from sewage treatment plants.
But Australia's foremost water quality expert, Jon Brodie says the pledge is not enough.
"We estimate that it will cost approximately $10 billion to really fix up water quality over 10 years," says Brodie, the principal research scientist at JCU's Centre for Tropical Water & Aquatic Ecosystem Research.
Funding of this magnitude would reduce the number of crown of thorns starfish, and a lot of the problems that nutrients and sediments currently cause. For the government, tackling the contribution farming makes to the reef's health is an easier, quicker fix than taking more radical action of climate change. And many farmers are keen to help.
"As a grower the last thing we want to do is to damage or affect the reef," says Michael Reinaudo, a third generation canegrower on a farm near Ingham. "That's the last thing we are about, we want to save it. We want to be able to farm without damaging anything."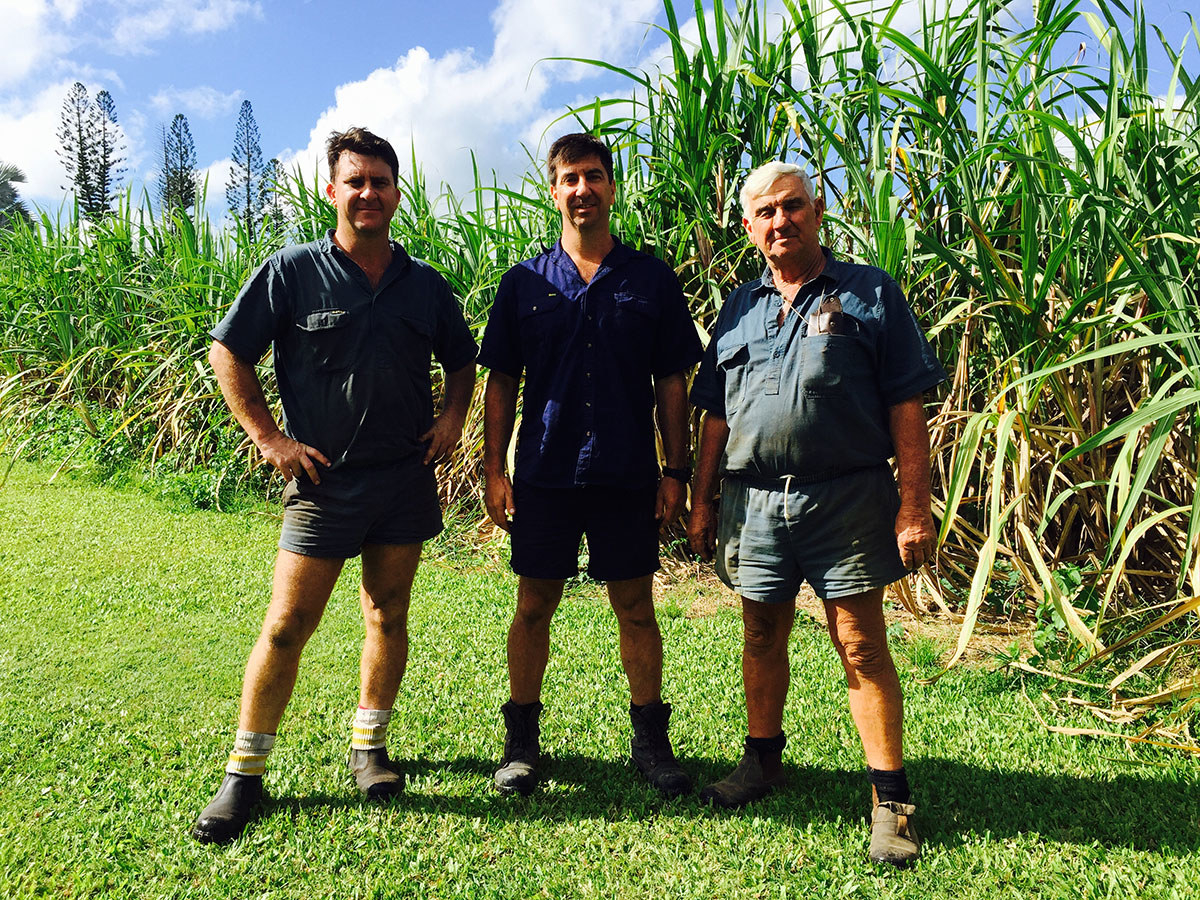 Since 2010, Reinaudo and his family have been working with not-for-profit Project Catalyst to employ variable rate fertiliser, trying to reduce the rate of fertiliser on their farm. Project Catalyst is a group of sugarcane growers from Mackay to Mosman, supported by funding from Coca-Cola and WWF.

"Being involved with Project Catalyst has helped us see where we can improve," he says. "We've strived to reduce our impact. We can't grow cane without fertiliser or some form of chemicals, but we're striving to reduce our output."
Reinaudo welcomes prime minister Turnbull's announcement of $1b in loans for clean energy funding. "As a farmer you are always doing trials, always looking for a better way. All growers are trying new things, and we need support," he says.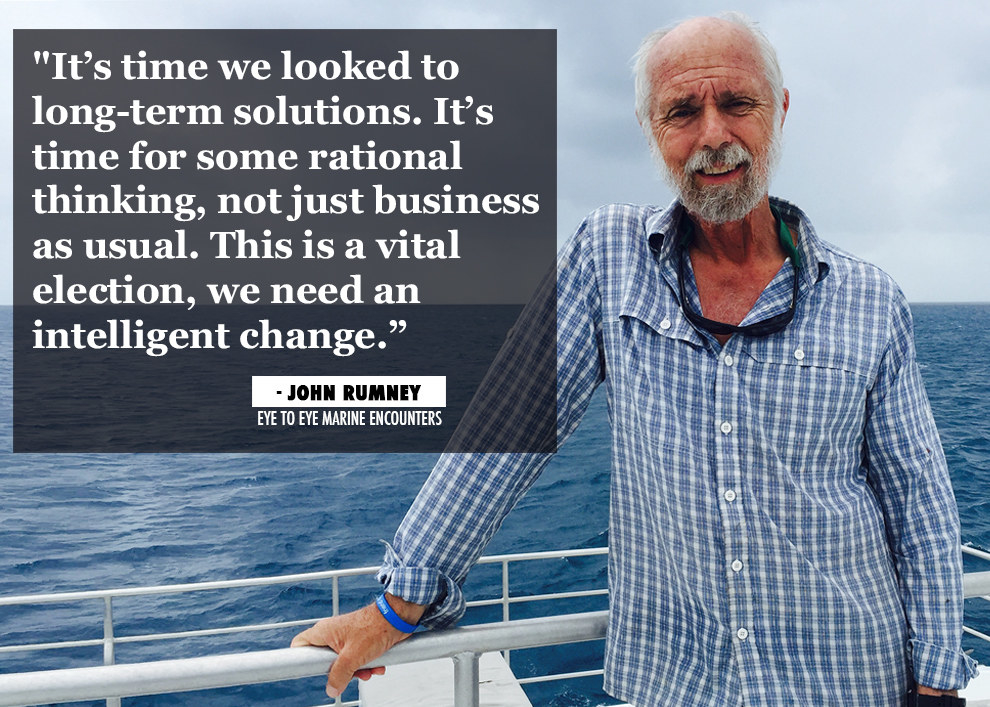 John Rumney is a Port Douglas-based former commercial fisherman born in the USA, who has been working on the reef for 40 years, running diver charters since the mid-1980s. Recently the trips are mostly for research, including pioneering missions to tag and research the elusive minke whale.
Standing on the bow of a charter boat where he is leading a research expedition by students from a Texas university, Rumney is deeply pessimistic about the reef's future: "It's very upsetting. If the next bleaching comes in the next six to 10 years, the reef may not recover."
In his decades on the reef, Rumney has watched it change dramatically. "There are many less fish, less coral cover, the sense of super wild wilderness has been diminished, we've had three major bleachings, and the one we're having now is by far the worse," he says.

Rumney says the Great Barrier Reef is the best managed reef in the world, but when you add the global issues of fossil fuel emissions and climate change, you have big problems.
"While it's great the government are putting some funds into that [improving water quality], they're not taking responsibility for the bigger picture. And if they don't then we will lose this reef. I commend both parties for committing money to the reef, but it's only now that the bleaching has come that they've made a commitment. And they're not addressing that we're a huge exporter of coal."
"This is a climate change issue. It's time we looked to long-term solutions. It's time for some rational thinking, not just business as usual. This is a vital election, we need an intelligent change. This [bleaching event] should be a wake-up call. The canary in the coalmine."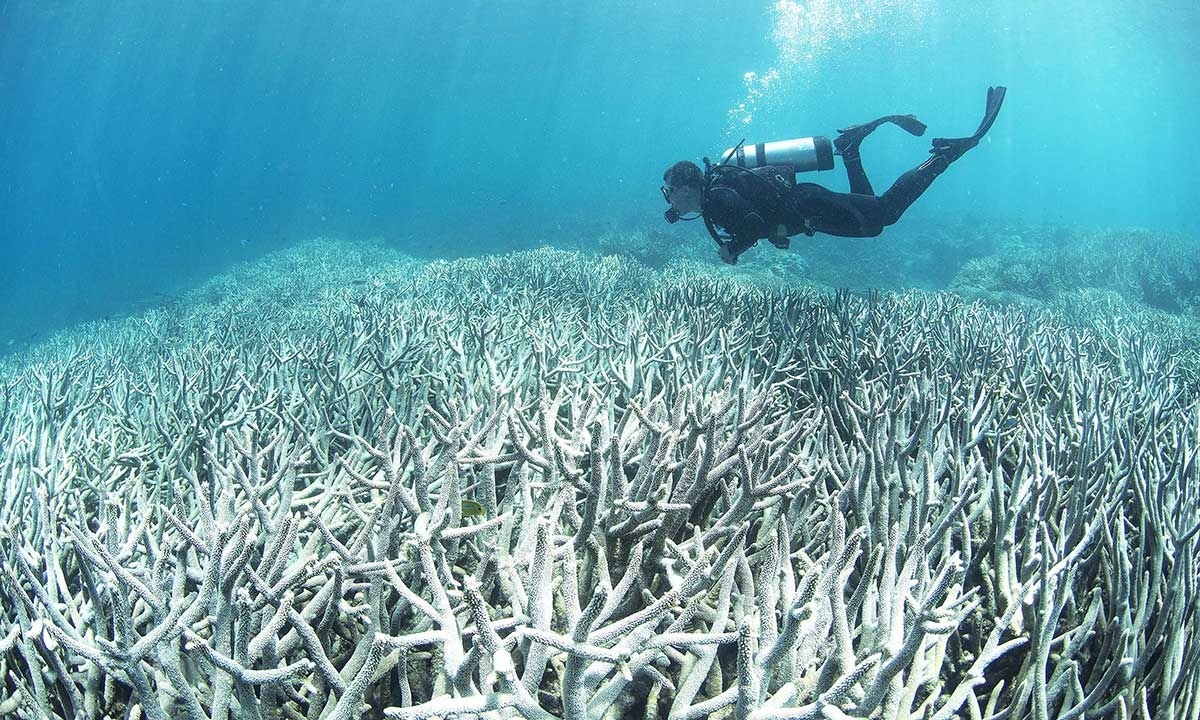 On Saturday, scientists at the largest global gathering of coral reef experts in Hawaii sent a letter to prime minister Malcolm Turnbull urging him to do more to save the reef, and asking Australia to stop endorsing coal exports and work to curb fossil fuel emissions.

Signed by the past and present presidents of the International Society for Reef Studies on behalf of the 2000 attendees of the International Coral Reef Symposium held in Honolulu, the letter urged the "laggard" Australian government to prioritise the Great Barrier Reef.
"This year has seen the worst mass bleaching in history, threatening many coral reefs around the world including the whole of the northern Great Barrier Reef, the biggest and best-known of all reefs," the letter said.
"The damage to this Australian icon has already been devastating. In addition to damage from greenhouse gases, port dredging and shipping of fossil fuels across the Great Barrier Reef contravene Australia's responsibilities for stewardship of the Reef under the World Heritage Convention."

"All scientists are depressed and disillusioned," say JCU's Jon Brodie, whose trip to the quadrennial International Coral Reef Symposium in Hawaii will probably be his last. "It's a very depressing thing. The lack of action is depressing. The only thing I can say to young people is "go and see it now". There are still good bits, but go now."
"I just wish as a scientist I'd been wrong," says Veron. "Not many scientists wish they'd been wrong, but I certainly wish I had been. When I first saw the bleaching start, I thought it might not be as bad as I'd feared, but it's actually worse. It's really terrible."
"Eventually reefs can recover if conditions are okay, but that's the problem now, these conditions are likely to repeat between four and seven years apart. We're likely to have increased El Niño cycles, and then the corals are not going to wait around for El Niño years; and they are going to bleach every year."
"I wish there was another way of looking at it. But there isn't."