ICYMI, Black Panther premiered this weekend and IT 👏 WAS 👏 PHENOMENAL👏! Honestly, I can't even find the words to do it justice.
Fans have been insanely hyped for this movie, so when it was finally released in theaters, people were amazingly, brilliantly, fabulously extra.
1.
For one thing, the lines were absurd.
2.
ABSURD, I TELL YOU!
3.
Couldn't afford multiple tickets? Here's two for the price of one!
4.
The outfits were hilarious...
5.
...life-affirming...
6.
...and inspiring AF.
7.
*chef's kiss*
8.
"Lit as hell" is right.
9.
I mean, what other movie has its own before, during, and after party!?
10.
YAAASSSSSS 🙌.
11.
Hungry? What about a custom menu?
12.
Popcorn is a snack. What about some ribs instead?
13.
Or, you know, a whole buffet dinner works too.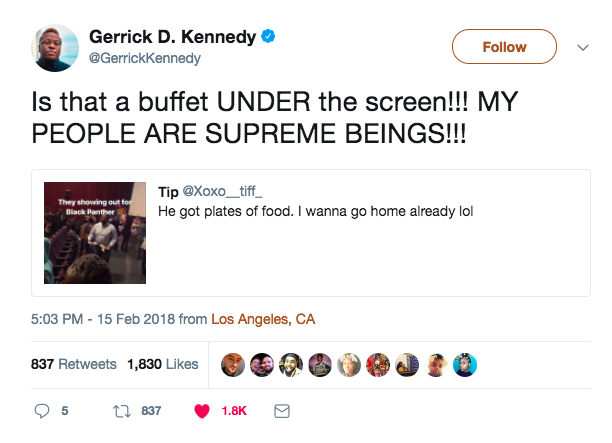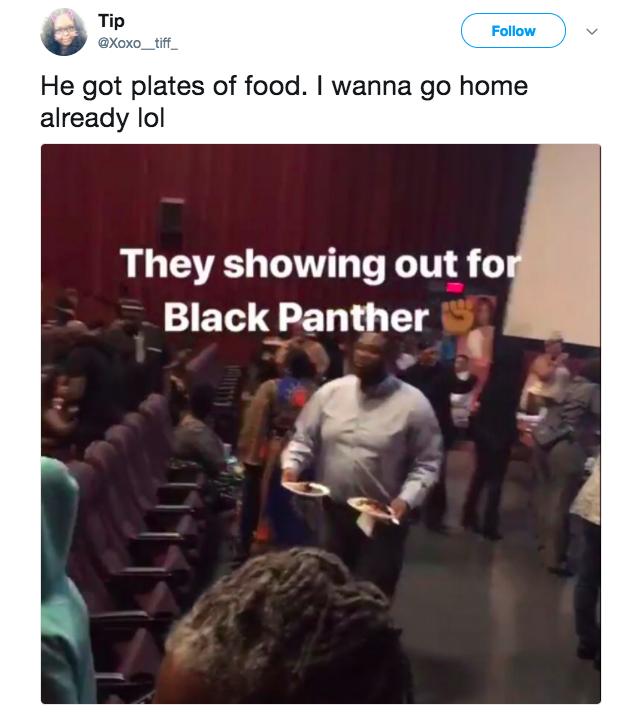 14.
Instead of previews before the film, how about some light drumming?
15.
Applause with hands? Oh no. Applause with horns!
16.
Oh, did I forget to mention that there was a freaking MARRIAGE PROPOSAL!?
17.
Honestly, this theatre playing nothing but Black Panther for the foreseeable future is something I can get behind.