Miley Cyrus Tweeted A Short, But Sweet, Message To The Cast Of "Hannah Montana" After She Missed Their Second Reunion
*plays "This Is the Life" on a loop for eternity*
Earlier this week, Hannah Montana's very own Mitchel Musso, Emily Osment, and Jason Earles reunited and it was everything middle-school-you could've ever dreamed of.
After sharing the photo with my friends, I thought, "Well, nothing can top this." But wait! They reunited AGAIN just a couple of days later, this time with Moises Arias in tow.
Jason even wore a Rico's Surf Shop tee and everything — I can't handle it!!!!
Emily posted a heartfelt message about their reunion, adding that they were "obviously missing [their] girl!"
Twice in one week! 2018 has brought a lot of old friends back into my life and I am so grateful for the comfort of those who have known me so long. Love these boys. Obviously missing our girl! Hope all you HM fans know after all these years we still come back to each other and talk about how much fun we had growing up together in front of the world during the most awkward stage of life and we couldn't have done it without all of you tuning in. Thank you for sticking with us. We love you.
After sharing a similar message on Twitter, Miley — who was in Australia celebrating Liam's birthday at the time — replied, "Miss you! Wish I could've been with my 'family' to celebrate...love you so much."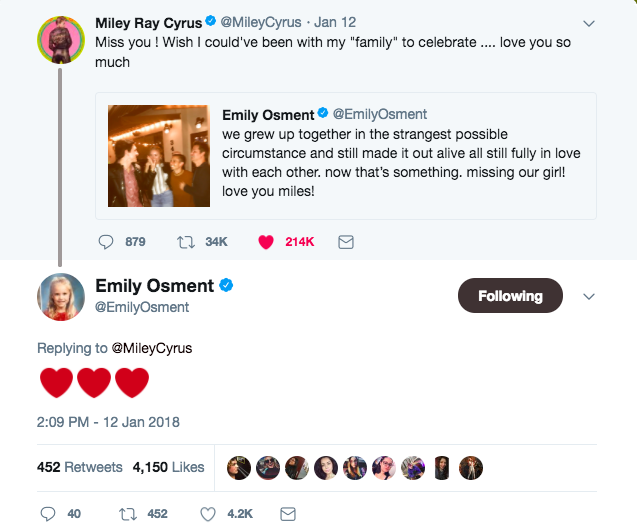 I'm not crying, you're crying.