Miley Cyrus Snapped A Selfie With Paolo From "The Lizzie McGuire Movie," And 12-Year-Old Me Is Freaking Out
Sing to me, Paolo!
The Lizzie McGuire Movie. You know it.
I remember it like it was yesterday: Lizzie travels to Rome on her 8th grade field trip and immediately captures the attention of international superstar and teen heartthrob, Paolo.
Younger me was convinced that he and I were meant to be — that is, until this fateful moment when he turned out to be a lying lip-syncher who couldn't sing.
Anywayyyy, Paolo — real name Yani Gellman — was out enjoying dinner this week in LA when two super fans asked for a photo. And, by two fans, I mean Miley and Noah Cyrus.
After snapping pics, the pair even blessed fans with a little "Dreams Are Made Of" duet.
Miley and Noah are like: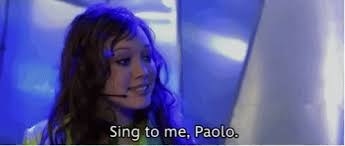 While the rest of are like: