To celebrate the occasion, the new mom shared photos of 6-month-old Stormi and OHEMMGEEE, SOOO SQUISSSHYYYY!
She wrote: "Bringing in my birthday tonight with my most special gift."
"What was life before you, Stormi."
"I love you my little angel."
Just last month, Kylie said that she wouldn't be sharing any more photos of her daughter. But I, for one, am very glad that she changed her mind because THIS. FACE. 😍😍😍😍!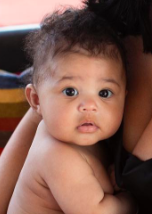 Happy early bday, Kylie! You have an ADORABLE daughter.