Kylie Jenner Was Seen Holding A "Single AF" Cup At Her Birthday Party And People Freaked Out
Settle down, people.
ICYMI, Kylie Jenner celebrated her 21st birthday yesterday!
She and the whole Kardashian/Jenner gang attended a family dinner at Craig's, and later a private party at Delilah's in West Hollywood.
Anywyay, inside the Barbie-themed bash, guests had the option of choosing a drinking cup that matched their relationship status. There was a red cup for 'Taken,' yellow for 'Single AF,' and green for 'It's Complicated.'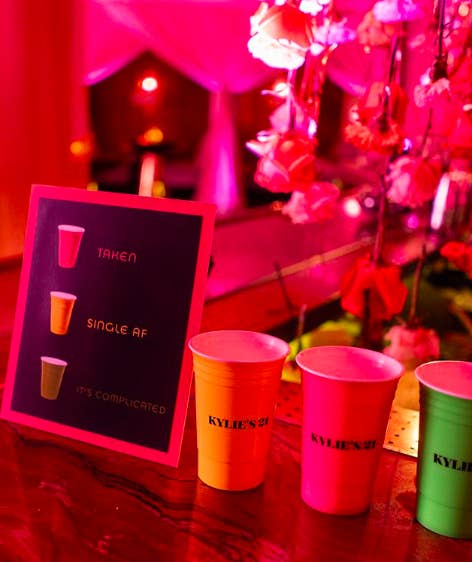 And somewhere in the course of the evening, Kylie uploaded a video to Snapchat of her holding a yellow cup. 👀👀👀👀.
Keep in mind, Travis Scott — Kylie's boyfriend and Stormi's father— WAS in attendance. And, there haven't been any rumors of drama between them.
But, that didn't stop people on Twitter from freaking out.
After a ton of speculation, Kylie finally took a moment to squash any rising rumors. She commented on a fan account that she "didn't even know what color [she] was holding" and that she's "def taken."