27 Things About "The Great North" Star Dulcé Sloan That Will Make Her Your New Fave Celeb
"Just give her an Afro, draw a squiggle."
Dulcé Sloan started performing stand-up comedy more than 10 years ago and quickly made a name for herself as "One to Watch," including being named one of Rolling Stone's "10 Comedians You Need to Know" in 2017. She's performed on Conan and also works on The Daily Show with Trevor Noah as a correspondent. Now, Dulcé is starring in Fox's new animated series, The Great North, alongside Nick Offerman, Jenny Slate, Will Forte, and more.

To celebrate her new role, Dulcé joined BuzzFeed over Zoom to chat about everything from dealing with hecklers during her stand-up days and what it's like making an animated show during a pandemic, to how she nearly fainted meeting Angela Bassett and what living in Alaska is really like. Here's everything we learned:
1. Where would you rather live: LA, NY, or ATL?
LA.
2. Who was your most listened to artist last year?
Megan Thee Stallion. [Especially the songs] "Tina Montana" off the Tina Snow album and "Realer" off Fever. Also "W.A.B." off of Fever. Those are my favorites.
3. What's been the proudest moment of your career so far?
Making enough money to buy my mom a new car. The Black kid dream!
4. What's your favorite brunch item?
There is this place in Atlanta called Marlow's Tavern that does stuffed French toast. So, it had strawberries and I think cream cheese in the French toast. ... They would do bottomless pomegranate mimosas!
5. What was your favorite animated show growing up?
DuckTales and Darkwing Duck.
6. What was it like working on The Great North during the pandemic?
I had heard of people having home studios, and I was always like, "Man, that'd be kind of cool." And then they sent me a home studio! It's interesting to be working a job but you're just sitting there in your housedress and a head wrap making money. So, it's been interesting, but the hardest part about it has been not being able to — because as often as possible, they try to get us to all record in person at the same time so we still get to interact with each other. So, that's been the hardest part — it's acting in a bubble, basically.
7. What's the biggest similarity or biggest difference between you and Honeybee?
I'd say the biggest difference between me and Honeybee is I don't know if I would go to Alaska for a man. He might have had to move to Fresno. It's too cold. It's too cold! My Afros aren't made for those type of frigid temperatures. So, I think the biggest difference between me and her would have been he was going to have to move to me, I wasn't going to go to him.

8. What advice would you give your 20-year-old self?
"People can see talents in you that you can't see in yourself, so listen to them."
People can see talents in you that you can't see in yourself, so listen to them. Also...when a man tells you who he is, listen. Don't try to dig deeper. Don't say, "I'm gonna try..." or "Well, I don't know..." 90% of the time, he said what he said.
9. What's a funny behind-the-scenes moment from working on The Daily Show?
I used to go in when Trevor was getting his makeup done when I first started. I would just pop in the makeup room and say Young Jeezy lyrics and then pop back out. Just silly stuff, just 'cause. Just come in. Just bothering him, basically. I mean, he absolutely loves it, 'cause I just bother him. I'm like, "What're you doing? What's going on?" That's why there are so many pictures that our photographer gets of me and him laughing.

I mean, we're in an office and stuff, but there could be days where I don't see him because we're all busy. I'm doing stuff, he's doing stuff, you know? So, I love to just be like, "Hello!"

10. What's one misconception people have about you?
I am not a writer on The Daily Show. People ask, "What's it like to be a writer?" And I'm like, "I don't know, you should ask one of the writers." I write for field pieces. We work together on what the script should be and all of that. But, when it comes down to writing credit? She's in SAG, she's on the camera.
11. What's the last book you read?
I am currently reading a murder mystery — A Lady's Guide to Mischief and Mayhem. I love a historical situation. You know, I love a woman out here solving crime, but I don't need it to be too heavy. I don't need anything where...the whole thing takes place at night. I don't need your Broadchurches, your real heavy. I need a Father Brown, I need Murdoch Mysteries. I need something cute and something nice, like a Psych situation.
12. What's your favorite line of Honeybee's?
"Is that a sex moose?"
13. What was your biggest fangirl moment?
When I met Angela Bassett — I was on the show that day doing a desk piece and she was the guest, and my desk piece was right before she came on. She walks up to me and she holds my hand and she's like, "You were so great." I was like, "Thank you!" And she said, "You did such a great job." I said, "Thank you!" She's talking to me and then I say, "Angela Bassett, I'm so sorry." She said, "What?" I said, "I'm about to faint. I'm listening to everything, I want to take all of this in. But if I fall, I don't want to take you with me." I told myself, "Stop talking. Let her talk to you." But I was gonna tip over and was like, "You're gonna land on Angela Bassett." I felt so bad, so when she was leaving from the interview, she's like, "You alright?" I said, "Yes, ma'am. I'm so sorry. I wanted to talk to you!" I never get starstruck, I usually don't care. But, yeah, that time.
14. When was the first time you were recognized?
I was taking my mom to Cancún for Christmas of 2018. They had switched gates last minute, so I was running through the Cancún airport trying to find my gate. I'm in a gift shop trying to get to the other terminal, and then this guy is like, "Hey, don't I know you?" And I'm like, "If you do, come on!" and he's like, "You're on The Daily Show?" I say, "Yes, I am." And he was like, "Oh, well..." I said, "Sir. Sorry, but if you want a picture, you gotta walk with me. I'm not missing my flight. Come on, let's go." And so he was walking with me, and then he runs and grabs his mom. And she's like, "Oh, my gosh." I talked to her and him, but that was the thing that I remember the most. I got recognized in the airport in Mexico.
15. What's something about doing an animated show that people wouldn't expect?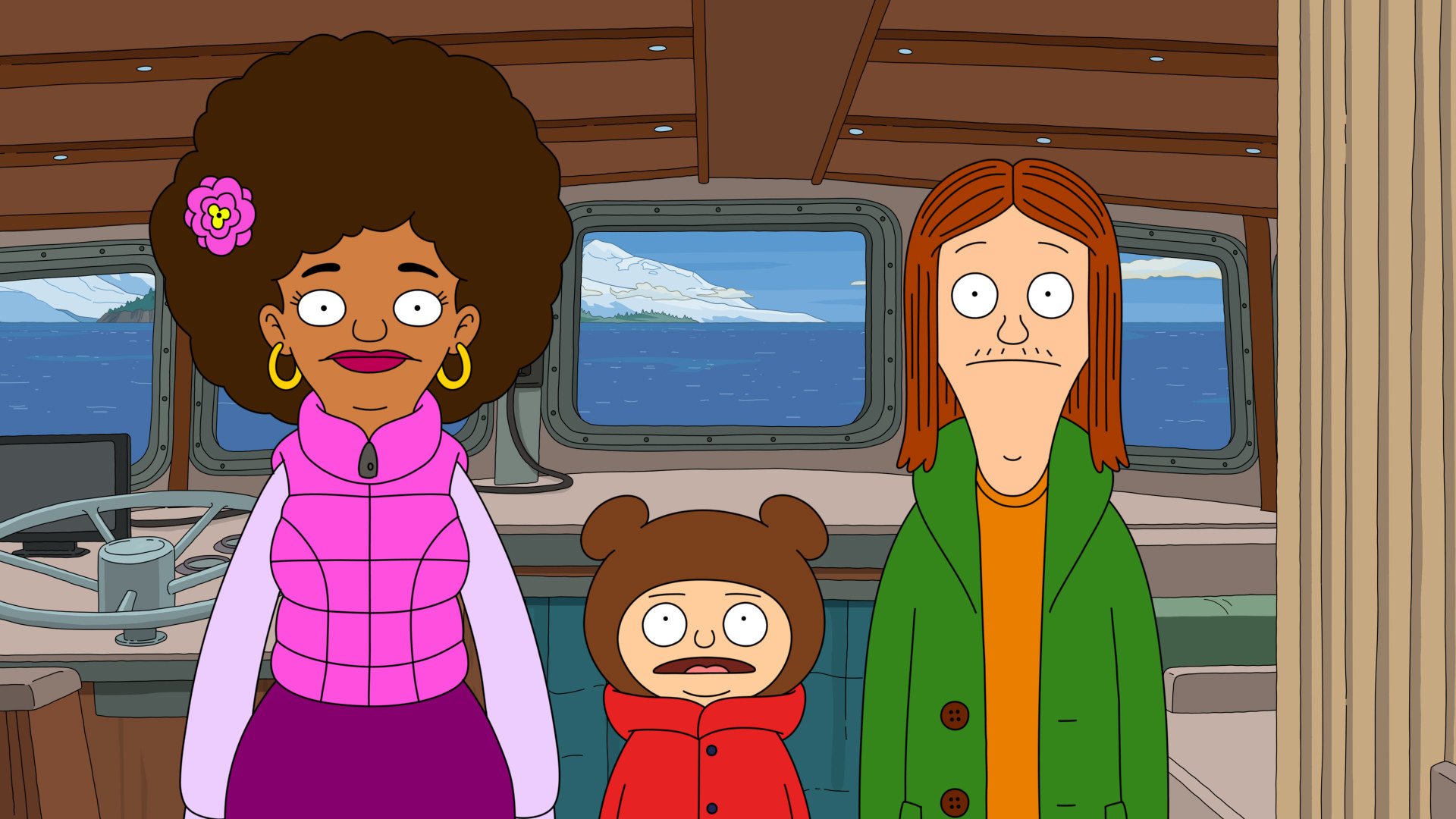 I think people don't know about the timing for things. Because of the way they animate the mouth, if we have to redo a line — it's called ADR — if we have to redo a line and if the show's already animated, you have to redo that line at the same pace that you originally had it, so it doesn't mess up the timing of the character's mouth and your dialogue. ... So, if your line was like 12.2 seconds, you have to get it around that timing so it doesn't mess up the animation of the mouth.

16. Who is your comedy inspiration?
The first time I realized what comedy was was because of Lucille Ball. The first stand-up comic I ever saw in my life was Margaret Cho. I think that I've had a lot of different inspirations. I knew about stand-up comedy, but I wasn't really into it until I became a comic. Before that, it was just like, "Oh, yeah, I tell jokes, I get that." But I think when it came to me as a comedic performer, it would have to be Lucille Ball.

And then when I got into comedy, comics who really inspired me and pushed me — I think about Baron Vaughn, how supportive he's been with me, from the very beginning. Him and Tone Bell. And not only how supportive they've been, but just listening to their jokes and their style — that's really inspired me. It's been more comics who I see their process more. Like, I was doing shows with Baron when he was headlining and I used to feature for him, or how I met Tone and found out that our parents live a mile from each other. So that's kind of who my inspirations were — people who I could interact with directly.

17. What would your life look like if you lived in Alaska?
I've been to Alaska. I was in Juneau during college, but I was there in April so it was, like, 65 degrees outside, it was fine. But there were some points where the sun don't go down. I was like, "Nah, man. Y'all don't need me up here." And it's the most quiet. I thought I heard quiet before, but at night there's not even crickets. There was nothing. The wind wasn't even blowing. I was like, "This is scary."

18. What's one of your favorite stories with your Great North cast members?
The last all-cast recording we had, I was also doing Conan that afternoon, and I was kind of nervous about it. I had to run out so I could get my car to go. And it was so sweet, because Will was like, "Dulcé's gotta head out...she's doing a new Conan." And everyone was like, "You're gonna do such a great job!" and Will Forte made a moment to stop and be like, "You're gonna be amazing. You got this," and I teared up. It was just so sweet for them to take a moment to acknowledge that and for Will to just take a second and be like, "You're gonna be amazing. You know, don't even think about it," and just give me a little pep talk as I was running out. So, that was great. That's so sweet.
19. What's your favorite dessert?
Patbingsu. It's a lot going on because you have the ice chips, and then there's fruit, and then sometimes there's ice cream, and then there's the red beans, and the little rice cake. There's so much happening!
20. What did you last binge on Netflix?
Blown Away. It's a glass-blowing competition show.
21. What app do you use the most?
Just in general? Gmail.
22. What's one of your favorite things about working on The Great North?
One of my favorite things about working on the show is when they were still in character design for Honeybee, they asked for my input on how she should look. Originally, her hair was completely different — it wasn't like a full Afro. They were showing me the different things that they were looking to do and were like, "We could try this style, this style, this style, or this style..." and I was like, "Just give her an Afro, draw a squiggle." And they were like, "Okay, we'll see how that looks." I didn't know what the finished character was until I went to the first table read, and I finally saw her.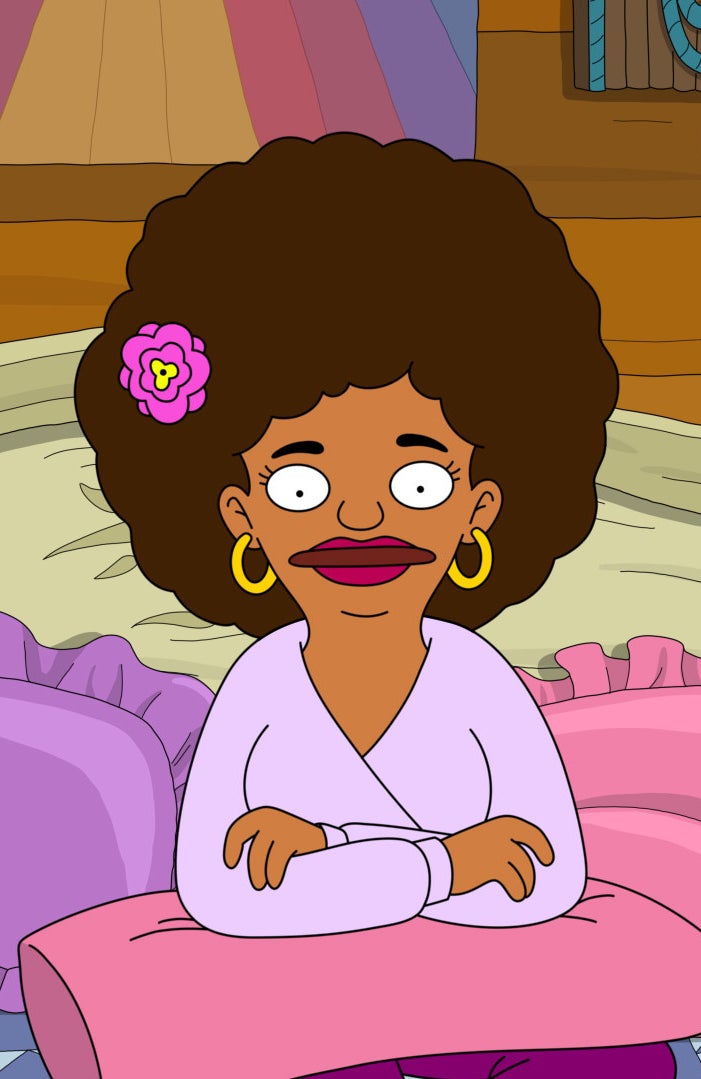 In my headshot, I have an Afro with a flower in my hair, and I did not know she had a flower in her hair until I was at the first table read and I was like, "They modeled it off of my 'fro!" So, I don't know if other people can see themselves in their character, but my character has my Afro. That was one of the things that made me really excited about it was just, like, they asked me first of all. There's a Black character on the show [and] you asked a Black person, you consulted the person who's playing her and said, "What do you think she should look like?" I don't know if they did that with other people, but I know they asked me; they may have asked everybody. But that was so great.
And Lizzie and Wendy, the Molyneux sisters, are really great about talking to us and asking us for our input. And if we want to pitch a joke while we're recording our lines, or say, "I have an idea for a joke," they're like, "Great! Run it!" I think that's another of my favorite things about it, they listen to us and ask for input.
23. Who followed you on social media that made you say, "OMG!"?
Crazy Bone from Bone Thugs-N-Harmony. He just followed me on Clubhouse and I was losing my shit! And not only that, he's been following me on Twitter. Him and Wish Bone have been following me on Twitter for years. Right? And just know how much I love Bone Thugs-N-Harmony. I had all their albums, I had a black light Bone Thugs-N-Harmony poster. I went to meet them. I've met like three out of the five of them. When I saw he started following me on Twitter, I was like, "[shocked] No!" And then he just got on Clubhouse and started following me and I was like, "Yo! This man probably really out here looking at my page!"
24. What's something memorable that happened before, after, or during one of your stand-up sets?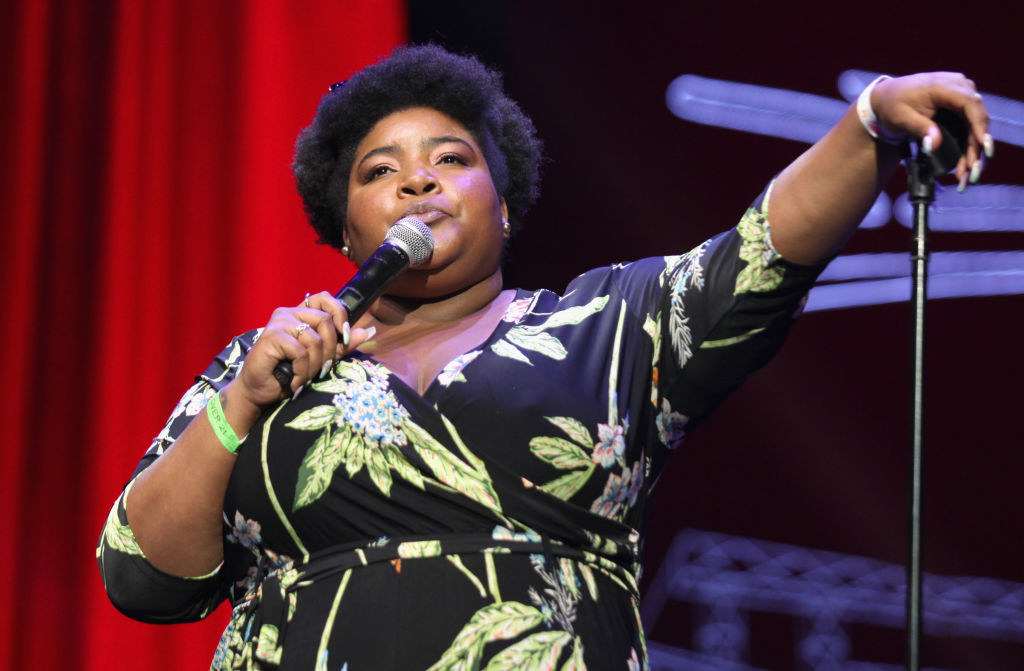 When I was shooting my half hour in New Orleans in 2019, there was a girl in the front who was...I call it supportive heckling. It's not like, "Boo, you suck!" It's, "Yeah, girl. You're so funny!" The thing is, you can't come at them in the same way. Because some comics will come at them in the same way that they would come at a heckler who's being rude. And the crowd kind of turns on you for a little bit, because in their minds, they're saying nice things, so you can't be mad at them. So, she's being supportive, heckling, and all this other stuff. I'm doing my first big special and I was kind of in my head, and her doing that kind of knocked me back. So, I was just like, "Hold on, miss. Hey, sis, listen, thank you so much for being so supportive. But I'm the last comic on the last day. It's already about 10 o'clock. Y'all want to get out and leave and drink, don't you?" They were like, "Yeah!" I said, "Well, girl, if you calm down, I could do these jokes. We can get up out of here, get drunk. ... So I just need you to shh and we gonna get out of here. We got this handled." She was like, "Okay, girl!" And she didn't say nothing else for the rest of the night.
25. What's a must-have item in your closet?
Housedress.
26. What's your most-used emoji?
The one where it's like you're blowing a kiss, but on the side with a little heart at the end of it (😘).
27. And finally, what always makes you laugh?
Baron Vaughn.
You can watch Dulcé on The Great North premiering Feb. 21, with new episodes every Sunday on Fox.