Ariana Grande Canceled A Show After Weeks Of Being Sick And "In So Much Pain"
"I'm just in a lot of pain."
This weekend, Ariana Grande was scheduled to perform a concert in Lexington, KY, the latest stop on her Sweetener world tour.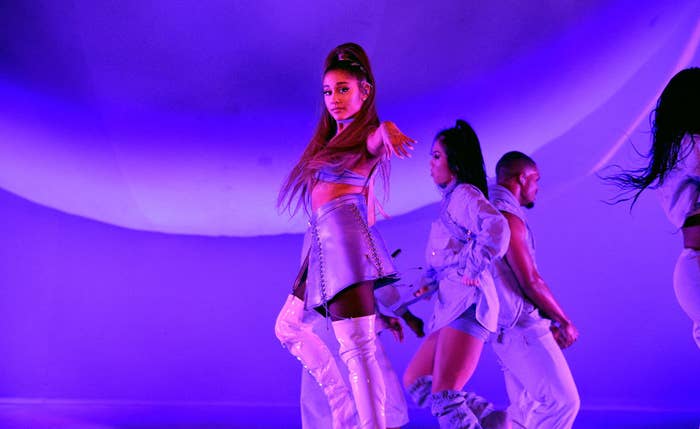 However, the singer had to cancel her show due to an illness she's been suffering for weeks.
In a tearful apology on her Instagram Story, the 26-year-old shared, "Okay, so I woke up kind of ten times worse and it hurts...so bad to swallow. I'm not really sure what's going on, but I unfortunately don't think I'll be able to push through tonight, and I'm so upset and sorry."
The "Don't Call Me Angel" singer has apparently been unwell for weeks, but it really came to a head on Saturday, when she opened up about being "in so much pain."
Hi, my loves. So, I'm still very sick. I've been sick since the last London show. I don't know how it's possible, but my throat and head are still in so much pain. I sound okay, I'm just in a lot of pain and it's difficult to breathe during the show. I am seeing my doctor and trying my [very] best to get better for tomorrow's show. The last thing I would ever want to do is cancel a show at this point, with so few left. I'm truly cherishing every moment of this...I just really don't know what's happening with my body right now and need to figure it out. Please take this as a gentle heads up...I don't want anyone to feel blindsided tomorrow if, God forbid, I can't make the show happen. I'm on all the meds, getting IV drips...doing everything I possibly can to pull through. Mom and friends are taking good care of me, just a scary feeling. Love you with all my heart and will keep you posted.
But, ultimately, the remedies weren't enough to help Ari recover. She gave another update late last night, saying, "Update, still can't swallow or lift my head, love you. Medicated AF and hoping to wake up better. Seeing doc again in the A.M. and will let you know about show. I'm so sorry again. It's catching up to me, I guess. Love you the most."
In a final post, Ariana wrote, "Love you. Sorry for the anxious updates and for over sharing. I just don't want anyone not aware of what's going on ahead of time. You know I push through and hide things as often as I can when sick and wouldn't say something unless it were really tough."
Oh my gosh, she is such a rockstar. If I'm even having a bad allergy day, I cancel all my plans, hibernate, and whine until my mom takes pity on me and helps me feel better. I can't even imagine what she goes through with all the travel, night after night of a physical performance, and who knows what else.
Please, please rest up, Ariana, and get well soon ❤️!!