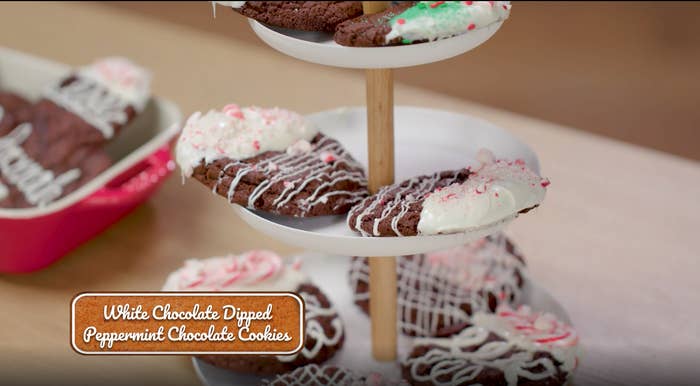 White Chocolate-Dipped Peppermint Chocolate Cookies
Makes about 25 cookies
Ingredients
Cookies
1¾ cup all-purpose flour
1 cup unsweetened cocoa powder
1 teaspoon baking soda
½ teaspoon kosher salt
1 cup (2 sticks) unsalted butter, room temperature
1 cup granulated sugar
1½ cups light brown sugar
2 large eggs
1 teaspoon vanilla extract
1 teaspoon peppermint extract
2 cups white chocolate chips
2 teaspoons coconut oil
For Garnish
¼ cup finely crushed peppermint candies
¼ cup holiday sprinkles
Preparation
In a medium bowl, whisk together the flour, cocoa powder, baking soda, and salt.

In a large bowl, cream together the butter, granulated sugar, and brown sugar with an electric hand mixer on medium speed until fluffy, about 2 minutes.

Add the eggs, vanilla, and peppermint extract and whip until just combined, about 60 seconds.

With the mixer running on low speed, gradually add the flour mixture and mix until combined.

Freeze the dough for 15 minutes.

Preheat the oven to 350°F (180°C). Line 2 baking sheets with parchment paper.

Using a 1-inch cookie scoop, portion the dough onto the prepared baking sheets, spacing 2 inches apart. Flatten the cookies slightly with a flat-bottomed cup.

Bake the cookies for 10–12 minutes, until they look dry but are still slightly soft in the center. Remove from the oven and let cool completely.

Meanwhile, combine the white chocolate chips and coconut oil in a medium microwave-safe bowl. Microwave in 30-second intervals, stirring between, until melted and smooth.

Dip half of each cookie in the melted chocolate, then sprinkle with the crushed peppermint candies and/or holiday sprinkles. Return to the baking sheets and let the chocolate set for 10 minutes.

Enjoy!