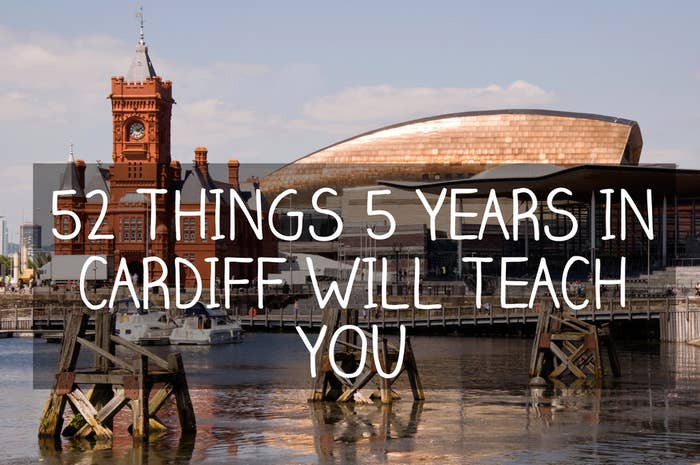 1. Being called "my lovely" by middle-aged strangers is totally normal.
2. It's just because everyone in Cardiff loves a chat.
3. Cardiff is the best place to go shopping in the UK. Imagine massive shops, like in London, but without the 10-million-strong crowd.
4. Seagulls love cities as much as the coast, particularly if they can track down a McDonald's.
5. But somehow they'll always find a squawking spot outside your bedroom window at 5am.
6. You'll learn to understand Welsh train announcements, even if you don't actually speak the language.
7. The most interesting taxi drivers are found in Cardiff.
8. And you must always say "thanks drive" when you get out of the car.
9. But never try to get a taxi home at New Year without pre-booking. You'll end up crying.
10. Except no one will be able to tell because it'll be raining so hard.
11. No one actually says "What's occurring?"
12. Unless they're being ironic.
13. But they do say "Alriiiiigggghhhh?"
14. Your phone's autocorrect will never learn that you mean "Cathays", not "Cat gays".
15. The decision to place Cardiff Students' Union at the top of a huge flight of stairs was very questionable.
16. But it's funny when people fall down them. Unless it's you.
17. Every year you will be inspired to enter the Cardiff Half Marathon. You'll think about it for 10 minutes but never actually get round to it.
18. People going to B&Q in their pyjamas and dressing gowns is not just a thing made up by the Daily Mail.
19. Bins make excellent drums.
20. Daleks make excellent neighbours.
21. It is ALWAYS necessary to carry an umbrella.
22. If you spend Saturday night on St Mary Street, you'll never be more than 5 metres away from a hen do.
23. Or more than 10 metres away from someone drunkenly flashing a body part.
24. If you pull someone early on during a night out in Cardiff and want to avoid them, you will almost definitely see them on Chippy Lane at 3am.
25. Late-night toast is a brilliant idea and should be served at all nightclubs.
26. Everyone has a Charlotte Church story.
27. And everyone has a story about a night out where they met the entire Welsh rugby team.
28. You'll literally never work out the entry and exit systems for Cardiff Central on a match day.
29. And, for the love of god, never EVER go shopping on a match day.
30. Or out for a meal.
31. Especially if it's a date. Unless you want to be joined by 18 rowdy lads.
32. But Cardiff is not all about rugby. There's a white water rafting centre, a stunning Olympic-size pool, and a state-of-the-art ski centre on the way too.
33. But it is mainly about rugby.
34. Everyone talks about moving to Cowbridge or Penarth "one day".
35. It's impossible to go on a diet in Cardiff because the food is so damn good.
36. There are dragons everywhere.
37. The smell of Brains brewing is hideous.
38. The National Museum has an excellent woolly mammoth.
39. And an impressive basking shark.
40. Cardiff Winter Wonderland is never quite as magical as you imagine.
41. Probably because it's always raining.
42. At Christmas, everyone you know will go to the same musical at the Wales Millennium Centre.
43. Which is a pretty stunning building, if we do say so ourselves.
44. You'll go on numerous romantic dinner dates "down the bay".
45. You'll get drunk in Coopers Field.
46. And have at least one "ironic" trip to St Fagan's, despite having no children with you.
47. You'll be excited to discover you can fly anywhere from Cardiff airport.
48. As long as you change at Amsterdam.
49. You might accidentally walk through a Doctor Who set on your way to work.
50. But if you go looking for one, you'll never find it.
51. People are often surprised when they visit Cardiff for the first time and realise it's not shit.
52. But if they stay long enough, they'll soon find out it's the most wonderful place in the world.