September means many things: the end of summer, going back to school, the return of our hair from the horrors of humidity. But September is also special for another reason — the Emmys!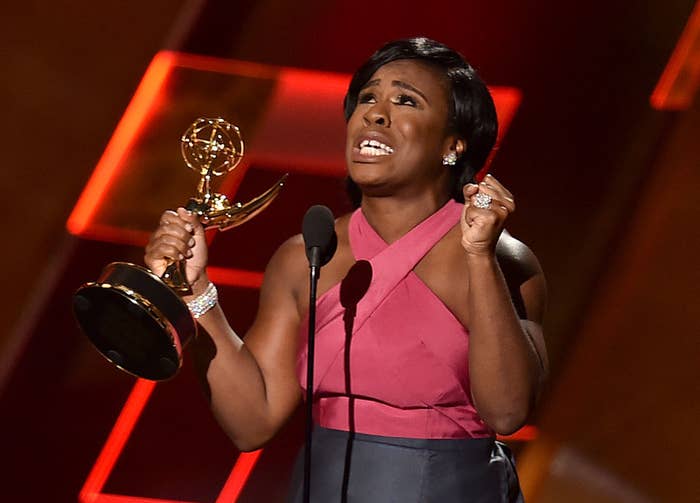 This year, the Emmys are taking place on Sept. 18. And since we'll never turn down a chance to look ~fancy~, we decided to try on some gorgeous gowns.
Awards show red carpets are a huge spectacle — there was apparently a time before the question "Who are you wearing?" became such a thing. What would happen when we got six women together to try to look Emmy ready?
Using six of this year's nominees — Taraji P. Henson, Kerry Washington, Maisie Williams, Amy Schumer, Tatiana Maslany, and Viola Davis — as a little #styleinspo, stylist Lulu Bernard outfitted us in some red-carpet-worthy outfits. Here's how it went:
Nina was inspired by Taraji P. Henson's sexy style.
Nina: Look, Taraji P. Henson is the perfect embodiment of glam strength. She always manages to look bold and beautiful on the red carpet. She has this incredibly commanding presence, and it never looks like the clothes are wearing her. I just love the combination of hard and feminine that she typically goes for. With her dress last year, her sheer skirt said "I'm ethereal," but her cutouts said "don't fuck with me."
And here's Nina in her look: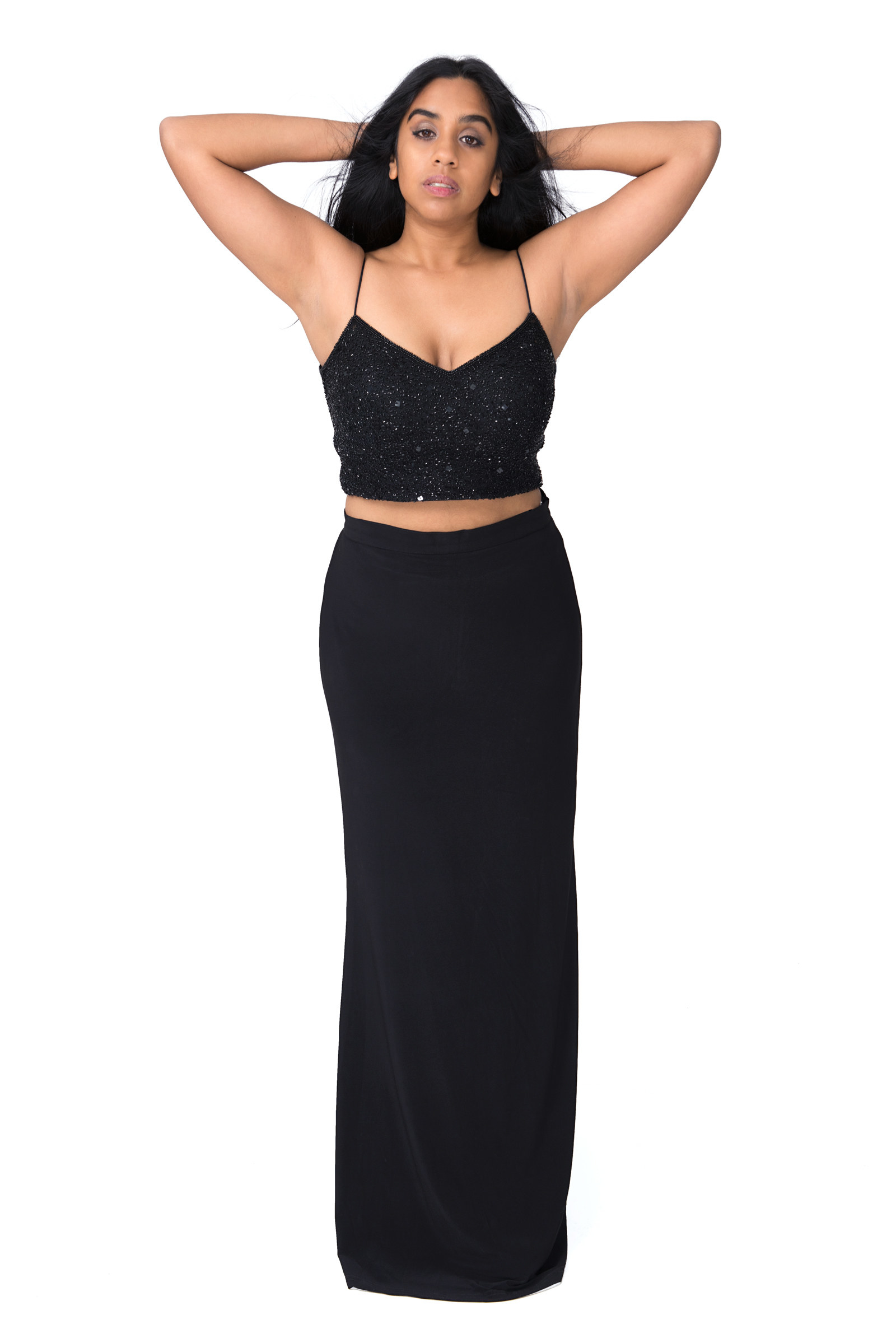 Sandra was inspired by Kerry Washington's edgy style.
Sandra: Anyone who can pull off a badass ShondaLand character AND look flawless while doing it (i.e., Kerry Washington) should be an instant hero. She always has a v ~regal~ red carpet presence regardless of what she's wearing and she's worn a wider variety of styles than I have dog photos on my phone (64GB is not enough storage for dog photos TBH). Her chameleon-like ability is not something just anyone has, but I'm still gonna try!
Here's Sandra in her gown: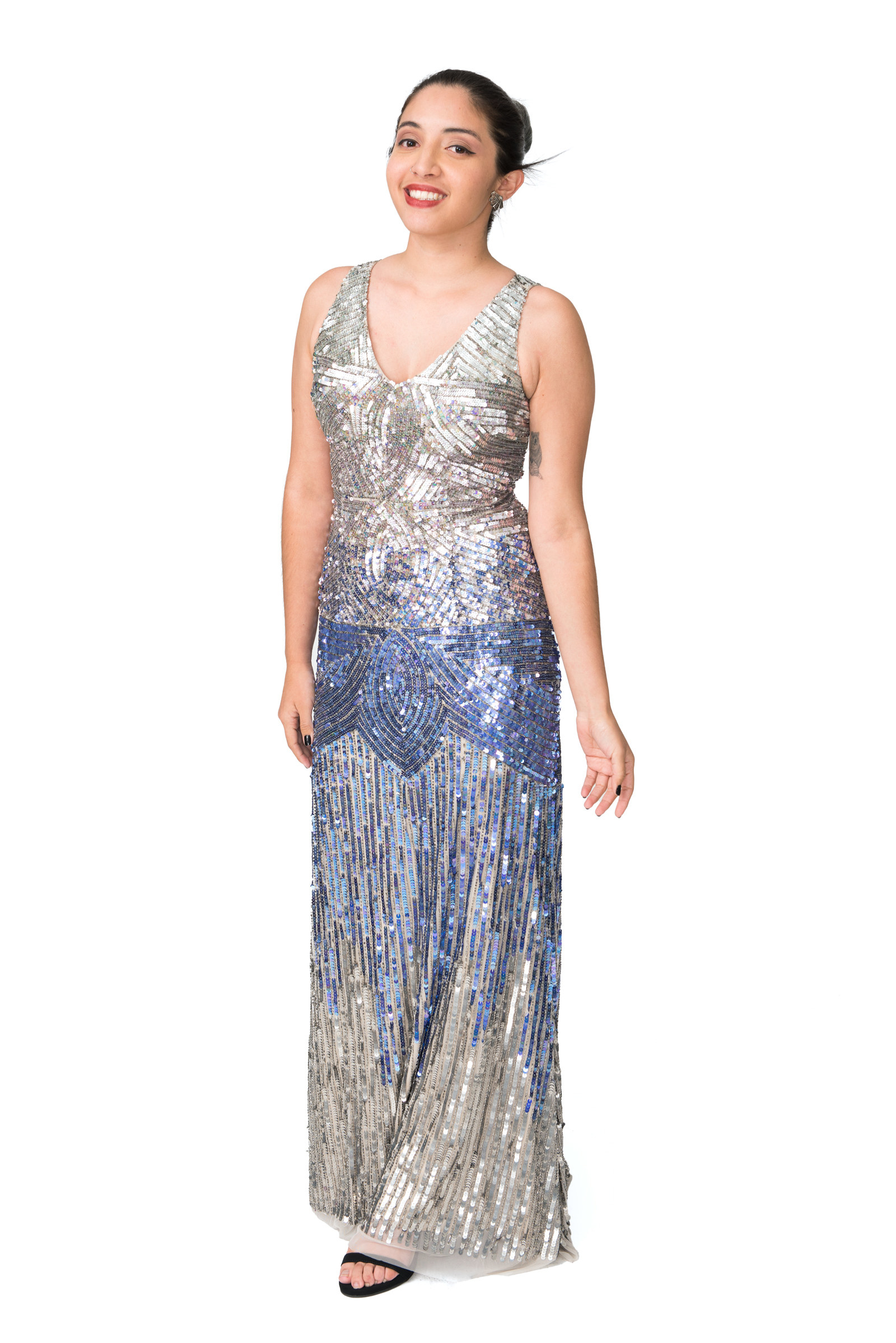 Lara was inspired by Maisie Williams' quirky style.
Lara: Come on, Maisie Williams aka Arya Stark is a certified badass! Her look is always bangin'. She isn't afraid to go out of the ordinary, yet she always manages to pull it off. She had FURRY shoes last year!!! Her looks are kinda weird, but in a cool way. That's basically how I dream to be described...cool but in a weird way. Here's hoping.
Here's Lara in her outfit: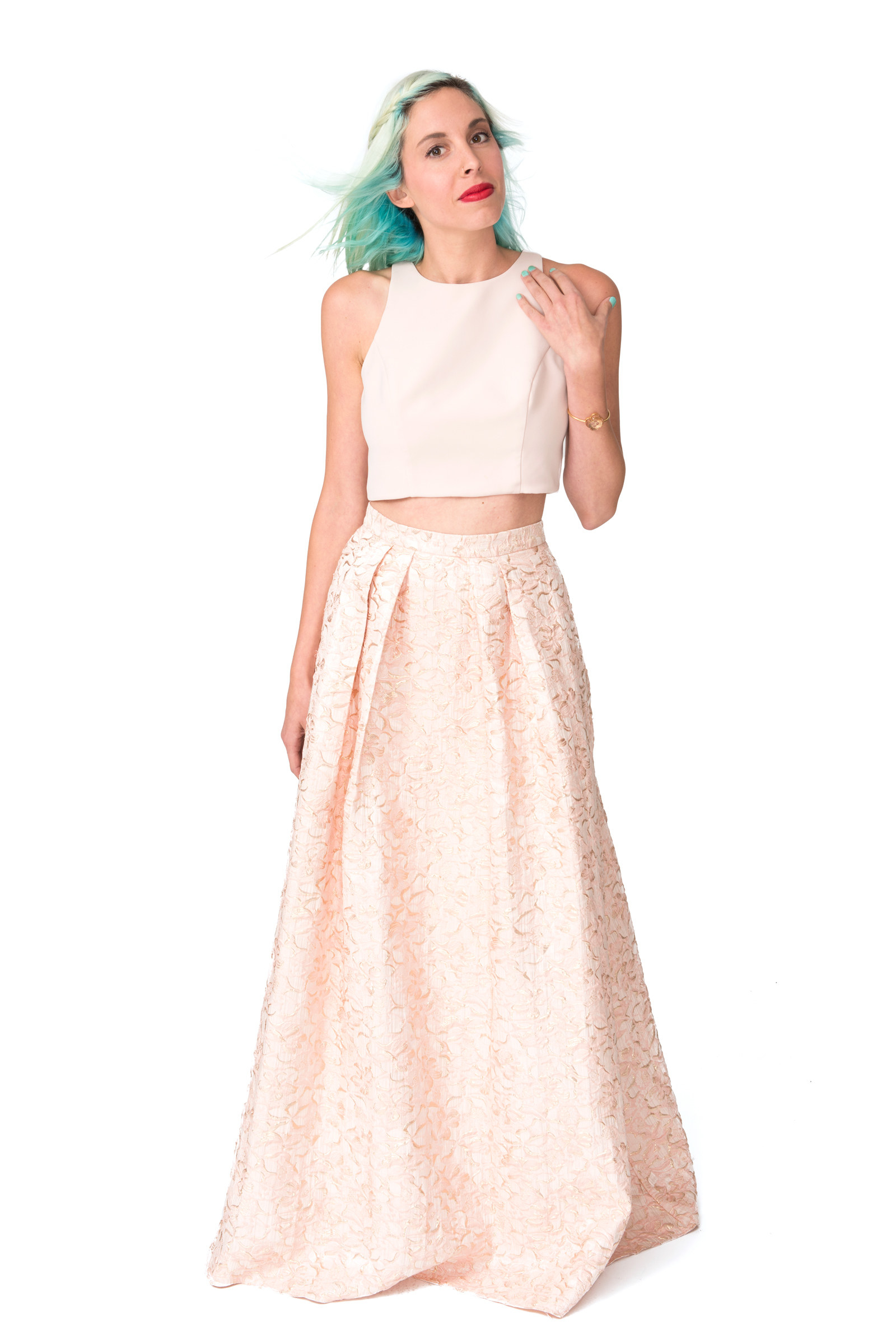 Sheridan was inspired by Amy Schumer's versatile style.
Sheridan: I'm gonna bring this back to the basics: Style is about the individual. What they love, what makes them feel confident, and whatever other look they're feeling in the moment. Wanna be sexy? Awesome! Wanna be classy? Yesssss. Wanna wear Yeezy clothes? Uh, sure, I'll support you, I guess. And that's what I love about Amy Schumer's style — homegirl wears what she wants, when she wants to. She does a very Vegas bandage dress one night and a ball gown the next. Oh, the versatility!
And here's Sheridan in her outfit: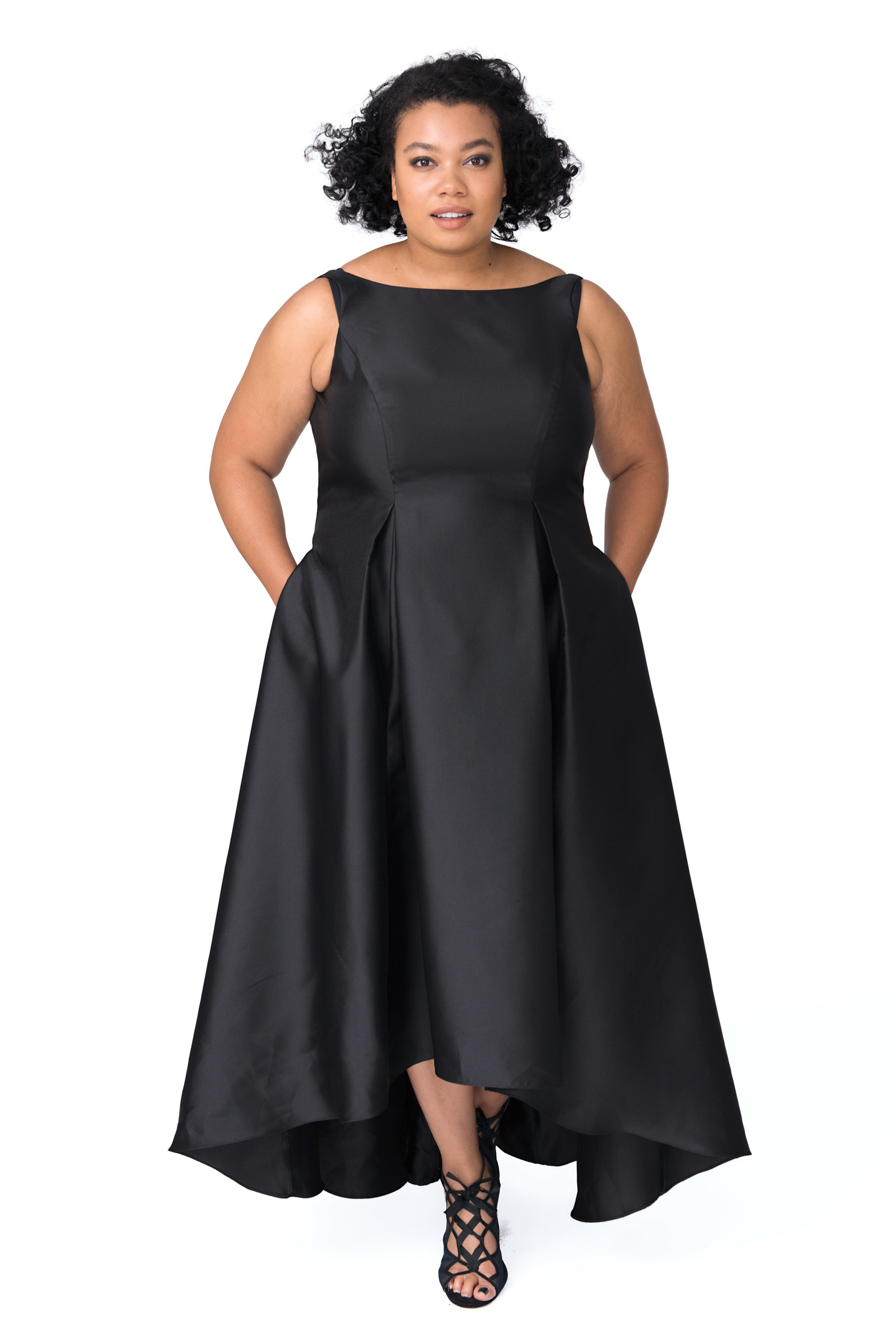 Chrissy was inspired by Tatiana Maslany's badass style.
Chrissy: Here's the thing about Tatiana Maslany: She always looks so goddamn cool. It might be because she wears black 90% of the time or that it always looks like she's ready to throw down (even in a designer gown!), but hey, either way, even if just 1% of her badassness (THAT'S A WORD) rubs off on me, I'll consider it a success. Unless, like, my boob falls out in the process. My nips aren't ready for that. Yet.
Here's Chrissy in her gown:
Kristin was inspired by Viola Davis's colorful and timeless style.
Kristin: Who doesn't want to be Viola Davis? Who would not want her ability to take the bedazzled gown to an entirely new level? Who doesn't understand that if she were a country, her largest export would be stage presence? Seriously, find me the person who doesn't love her beautiful old Hollywood jewel tones and bold lips and dramatic silhouettes. I will fight them.*
*though truth be told I have no idea if any of this will translate onto me. HERE'S HOPING!
Here's Kristin in her dress: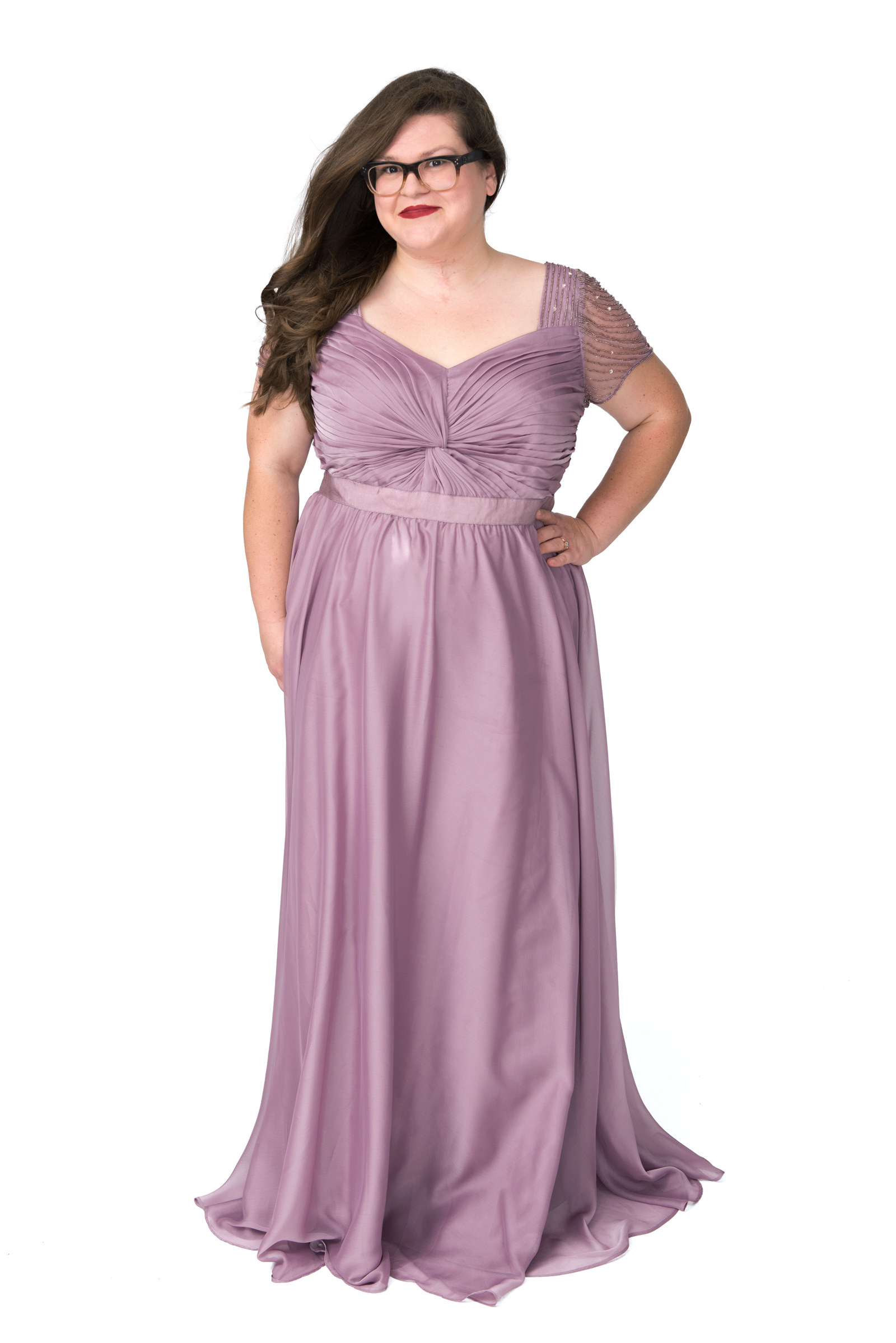 Now who's ready for the Emmys?