55 Things You May Or May Not Know About Prince Harry And Meghan Markle
Aka the Duke and Duchess of Sussex!
2. Meghan's father, Thomas Markle Sr., was the lighting director of Married...with Children.
3. She has two half-siblings from her father's first marriage: Samantha and Thomas Jr.
4. Meghan said she used to go to the set of Married...with Children after school and called it "a very perverse place for a girl to grow up. I'm there in my school uniform and the guests would be Traci Lords."
5. Meghan's mother, Doria Ragland, is a yoga teacher and social worker who lives in Los Angeles. Thomas Markle Sr. retired to Rosarito, Mexico.
6. Meghan attended school at Immaculate Heart, which is where Tyra Banks and Mary Tyler Moore also attended.
8. When she moved to Los Angeles after school, she had trouble finding work. She said she was "too light in the black community" and "too mixed in the white community."
9. She landed bit parts like as a woman sitting next to Ashton Kutcher in A Lot Like Love and a FedEx delivery woman in Horrible Bosses.
10. She was also Briefcase Girl #26 on Deal or No Deal.
11. In 2011, she landed the role of Rachel Zane on Suits. She played that role for seven years.
12. Shooting took place in Toronto, and Meghan lived there with her two dogs, Bogart and Guy.
13. She said Ellen DeGeneres told her to adopt her first dog, Bogart, when Meghan was still deciding. Ellen was at the same shelter at the same time and told her, "Rescue the dog!"
14. Some of Meghan's famous best friends include Priyanka Chopra, Serena Williams, and Abigail Spencer.
15. Her best friend from college is Lindsay Jill Roth; she's also close friends with Jessica Mulroney, Misha Nonoo, Markus Anderson, and Violet von Westenholtz. Violet is reportedly the one who set up the date between Meghan and Prince Harry.
16. Prince Harry was 11 when his parents officially divorced and 12 when his mother, Princess Diana of Wales, died.
17. Harry said walking behind Diana's coffin in front of millions of onlookers and billions watching on television was traumatic. He said, "I don't think any child should be asked to do that under any circumstances."
18. Princess Diana wanted her sons to have as normal of a life as possible, and often took them to places like McDonald's and Disneyworld.
19. Harry attended Eton College, and after school attended Sandhurst Military Academy.
20. He was a controversial partier in his youth: he was caught flipping off paparazzi and once wore a uniform with a swastika arm band to a costume party. In a statement he said: "I am very sorry if I caused any offence or embarrassment to anyone. It was a poor choice of costume and I apologize."
21. He was an active member of the military and completed two tours in Afghanistan.
22. In 2012, nude photos were published of Harry partying in a hotel room in Vegas.
23. He started the Sentebale charity, which supports children affected by HIV and in Lesotho and Botswana.
24. To honor his military past, he created the Invictus Games, which brings wounded veterans from around the world to compete in different events. There have been three so far.
25. At the Invictus Games in Toronto in 2017, Meghan and Harry made their first appearance as a couple.
26. She also appeared on the cover of Vanity Fair, saying, "we're two people really happy and in love."
27. The couple said they initially bonded over charity work and seeing change.
28. After their second date, Harry asked Meghan to accompany him to Botswana for a five-day vacation in August. They camped out under the stars.
29. They fell in love "pretty quickly" and decided to not go two weeks without seeing each other. They would fly back and forth between Toronto and London.
30. Harry reportedly gave Meghan a bracelet that they could both be seen wearing in separate photos.
31. The first few months of their relationship were a closely guarded secret.
32. The world found out about Meghan and Harry in November of 2016 when the palace released an unprecedented statement about press abuse, mentioning racist and sexist social media trolls.
33. Meghan and Harry started being seen with each other more and more. They bought a Christmas tree in London and also saw a West End show.
34. In January of 2017, Meghan attended the wedding of Tom Inskip and Lara Hughes-Young with Harry in Jamaica, not far away from where she had her first wedding.
35. She was married to Trevor Engelson, a producer, from 2011 to 2013.
36. In May 2017, Harry attended the church service of Pippa Middleton and James Mathews' wedding. He then drove an hour and a half back to London to pick up Meghan for the reception.
37. The palace announced Prince Harry's engagement to Meghan on November 27, 2017.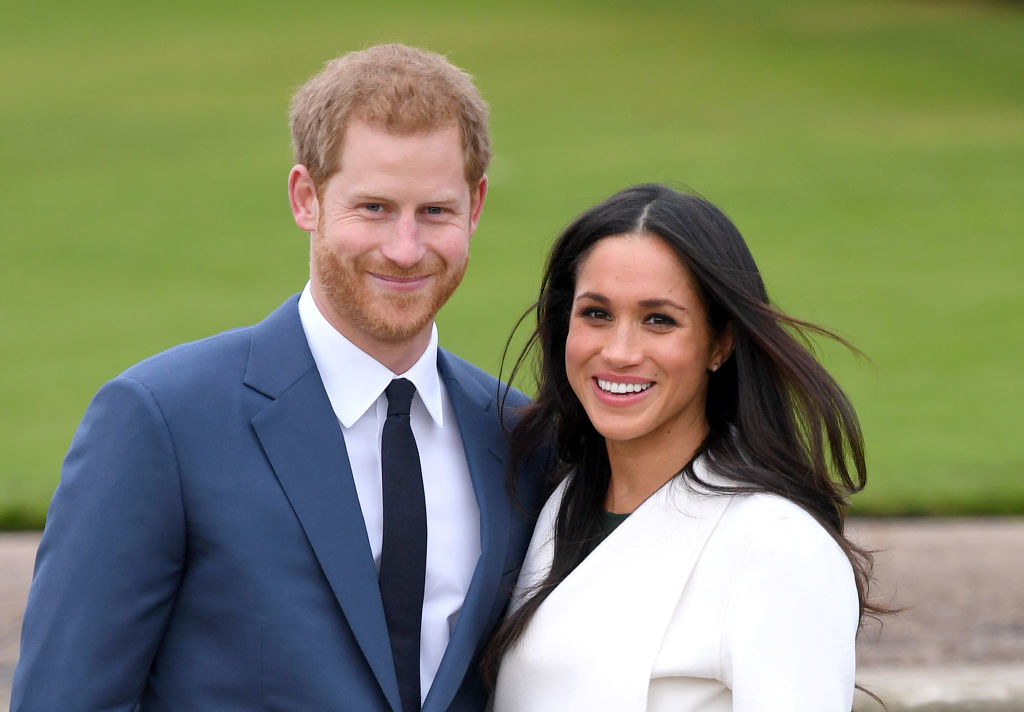 38. During their photo call in the Sunken Garden at Kensington Palace, a photographer asked Harry when he knew Meghan was the one. He responded, "The very first time we met."
39. After the announcement, the couple sat down to discuss their relationship. Meghan also confirmed that she was planning on retiring from acting to focus on philanthropy and her "new chapter."
40. Meghan's ring has a center diamond from Botswana, where she and Harry had their "third" date, as well as where he took her for her birthday in 2017. The two stones to the right of the ring are from Diana's private collection.
41. After Diana's death, each son got to choose an item from her household to keep. Harry chose her sapphire and diamond engagement ring but the boys agreed whoever got engaged first would get it. William, of course, proposed to Kate Middleton (now Catherine, Duchess of Cambridge) in 2010.
42. Though she wasn't yet an official member of the royal family, Meghan was invited to spend Christmas with the royals at Sandringham after her engagement to Harry. Normally only married spouses are invited.
43. She reportedly gave the Queen a singing hamster for a present. Adults in the royal family give each other joke presents every year.
44. Harry and Meghan's May 19, 2018 wedding was full of personal touches.
45. The Duke of Cambridge was Harry's Best Man.
46. The cake was by baker Claire Ptak and was lemon and elderflower. The flowers were by Philippa Craddock.
47. Harry hand-picked a few forget-me-nots for Meghan's bouquet, as they were his mother's favorite flower.
48. Prince Charles walked Meghan down the aisle after her father suffered from two heart attacks and several public relation catastrophes the weeks before the wedding.
49. The stress was blamed on Meghan's half-siblings. Samantha started writing an autobiography called The Diary of Princess Pushy's Sister and also reportedly told her father to set up paparazzi shots. Thomas Jr. wrote letters to a tabloid calling Meghan a "jaded, shallow, conceited woman that will make a joke of you and the royal family heritage." He also wrote a letter asking for wedding invitations.
50. Meghan's nephews also are reportedly selling a strain of Marijuana called Markle Sparkle.
51. After the ceremony in St George's Chapel at Windsor Castle, the Queen hosted a reception, where all 600 guests attended.
52. Then there was a more intimate reception at Frogmore House at night, hosted by Prince Charles. Frogmore House is also where the couple took their engagement photos.
53. Meghan wore a dress by Clare Waight Keller for Givenchy and later changed into a dress by Stella McCartney.
54. She wore the Queen Mary Bandeau tiara during the ceremony, and for the night reception wore Princess Diana's aquamarine ring.
55. The morning of the wedding, the Queen announced that the couple would now be known as the Duke and Duchess of Sussex.