What We Know About Miley's Rumored New Boyfriend, Patrick Schwarzenegger
We obviously know who his parents are.
Apparently, Patrick Schwarzenegger has now entered a relationship with someone named Miley Cyrus*. The two were caught leaving the SAME apartment. Patrick has reportedly been pining for Miley for quite a while. But who exactly IS Patrick Schwarzenegger? Well, if you can't tell by the name, this is his dad. And this is his mom, Maria Shriver. He calls her "M dog."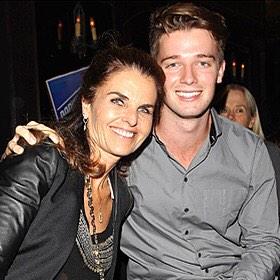 Patrick currently attends the University of Southern California.
Apparently, accounting is not his strong suit.
Patrick owns the Blaze Pizza shop on Figueroa next to USC.
In his spare time, Patrick enjoys acting. Patrick is also a model.
So. Yeah. Patrick has a nice body. And a nice face.
In conclusion, good luck to these crazy kids*.
*Who both don't actually need any good luck because they seem to be doing OK.