OK, are y'all ready for a dose of "Wait...what?!" Then PAY ATTENTION.
First off, let's state some facts: Danielle Jonas is married to the eldest Jonas brother, Kevin Jonas.
Now that we have that out of the way, let's dive into it, shall we? So Danielle posted a beautiful pic on Instagram, celebrating Sophie's birthday:
We love a supportive sister-in-law!

But weirdly enough, some people took Danielle's post as shade...against Priyanka? Thankfully, as caught by Comments by Celebs, Danielle was having NONE of that.
"No shade about Priyanka. It's just Sophie's birthday so I wanted to say happy birthday."
"I think everyone should stop with thinking that we don't like Priyanka, she is lovely. I am so over people trying to make a problem."
Yep, that's exactly how you respond to someone saying you don't like your sister-in-law, just because you wished your other sister-in-law HAPPY BIRTHDAY.
Oh, and ICYMI, Priyanka also posted a beautiful birthday tribute for Sophie:
I mean...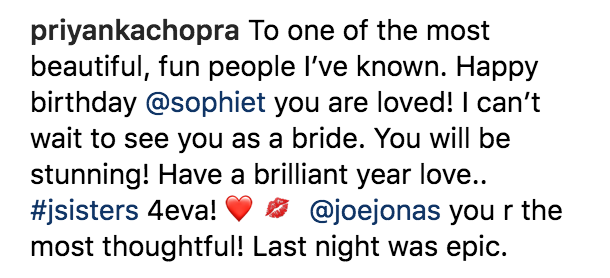 Why can't people realize that it seems like this family actually loves each other? Thanks, bye.