A billionaire philanthropist financier convinces you to stay overnight while paying a visit to his latest pet project on an island near Costa Rica… without telling you what it is. What are your terms for going?

Amblin Entertainment / Via giphy.com

a. Only if he promises it's a really cool place I'll like.

b. Only if he promises to give up some of his billions.

c. Only if he will provide some serious 'just in case' weaponry.

You've landed safely onto the island – what is the first thing you do?

Amblin Entertainment / Via giphy.com

a. Ask to get some food and see the accommodations.

b. Ask if there is WIFI and where the best place to get a signal is.

c. Find out if the helicopter pilot will be staying overnight.

You've just discovered that the park is a dinosaur park. What is your reaction?

Amblin Entertainment / Via giphy.com

a. Outrage and annoyance – dinosaurs are boring.

b. Alarm and apprehension – this really doesn't seem like a good idea.

c. Interest and excitement – never thought I'd get to see real dinosaurs.

An automated tour has been arranged for you and the other visitors, but a storm is scheduled to hit the island. Do you go?

Amblin Entertainment / Via giphy.com

a. Sure – I'm not going to be locked in the car though am I?

b. Sure – the tour will probably be over before the storm comes.

c. Sure – I came all this way; I want to see these things in person.

During the tour, a "glitch" in the system causes power failure throughout the park, and your automated car gets stuck. What do you do?

Amblin Entertainment / Via giphy.com

a. Sit tight. They must know about the power failure and will get things going soon.

b. Stay put, and start mapping your surroundings while there's still day light.

c. Leave the car. This is the perfect opportunity to get some good pictures.

As you wait for the power to come back on, you begin to feel the car shake from tremors, and sense something large is coming closer from a distance. You:

Amblin Entertainment / Via giphy.com

a. Panic. There is no way this is a good sign.

b. Question. Maybe is the power trying to come back on?

c. Ignore. It's probably nothing.

So no big deal, but a T-Rex just stepped out of the trees and right in front of your car. You:

Amblin Entertainment / Via giphy.com

a. Signal. Turn on the flashlight and let the other car know I need help.

b. Freeze. I know what this guy's weakness is -- and thankfully my legs aren't responding to the natural instinct to run.

c. Run. I'm getting the heck out of here before it sees me.

Staying in the car is no longer an option. How do you avoid danger for the night?

Amblin Entertainment / Via giphy.com

a. Look for a cave. It's the best place to avoid the storm.

b. Sleep in a tree. In the right position, no predators can reach or see me.

c. Just keep moving. It might be dark and rainy, but you can't be caught if you're never in the same place.

In the middle of the night, you hear rustling and strange sounds nearby. You:

Amblin Entertainment / Via giphy.com

a. Investigate. I won't be able to sleep unless the noise stops.

b. Ignore. Just tune it out and listen to the rain.

c. Leave. Exit as quietly as possible and find a safer place.

It's finally dawn -- time to find your way back. Along the way you stumble upon a T-Rex hatchery. You:

Amblin Entertainment / Via giphy.com

a. Keep moving. A hatchery is the last thing on my mind.

b. Take a closer look. I want to get a picture of this.

c. Stop. I'll take a look then use this opportunity to survey my surroundings.

You've made it back to the main building, but some of the power is still out – and a Velociraptor is trying to schedule a tour in person. The doors don't lock, so you:

Amblin Entertainment / Via giphy.com

a. Panic. I can't believe I made it all the way back just to die in the lobby.

b. Block the door yourself. If I push against it really hard, it won't be able to get me.

c. Hack the computer to restore power. I paid enough attention in computer science to make this work.

You've finally called for help and have to make it to the dock, but two more raptors want to wish you safe travels. You:

Amblin Entertainment / Via giphy.com

a. Hide. As long as we can evade the raptors, help will eventually find us here, right?

b. Distract. Throw something, break something. Just try to create a diversion to get out the front door.

c. Look for another exit. There's got to be more than one way out of this place.

The nightmare is over and you're boarding the helicopter. The final question – do you endorse the park?

Amblin Entertainment / Via giphy.com

a. Of course. Its dinosaurs. There's a 'killing' to be made. There just needs to be a REALLY big warning sign.

b. No way. Burn it to the ground.

c. No seriously - did you really just ask me this question?
Would You Survive A Night In Jurassic Park?
CONGRATS! You would live! A night on dinosaur island – piece of cake! Your survival skills are very much on point, my friend. No ending up a T-Rex's dinner for you! You know that the key to survival is remaining low key and being aware of your surroundings. You made smart choices and you're less dead as a result of it! Was it dangerous and completely crazy to pay the park a visit? Absolutely! But you didn't back down, and you proved to yourself that you have the guts and gusto to make it through. Well done!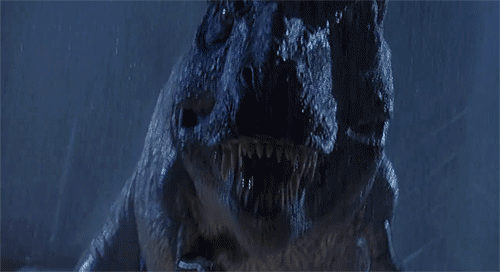 CONGRATS! And by congrats we mean we're happy you've finally been put out of your misery. By the looks of things, you would have a really hard time surviving even the first few minutes in Jurassic Park, let alone the whole night. Don't misunderstand -- curiosity is a GOOD thing. Just maybe not when ferocious, building-sized beasts are running loose on an inescapable island. Maybe you'd be better off with an aerial tour of the island. We think the 'look but don't touch' approach would work well for you.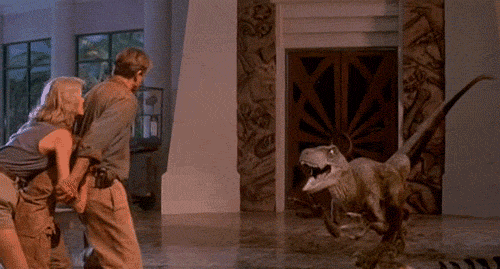 This post was created by a member of BuzzFeed Community, where anyone can post awesome lists and creations.
Learn more
or
post your buzz!