Here's 14 Real Responses From "Nice Guys" On Dating Apps That Prove Being A Woman Online Is An Actual Nightmare
Please, just stop.
Warning: This post contains aggressive and harmful language that many women encounter on a daily basis. Reader discretion is advised.
1.
This woman was a little taken aback by this Prince Charming's "best pickup line':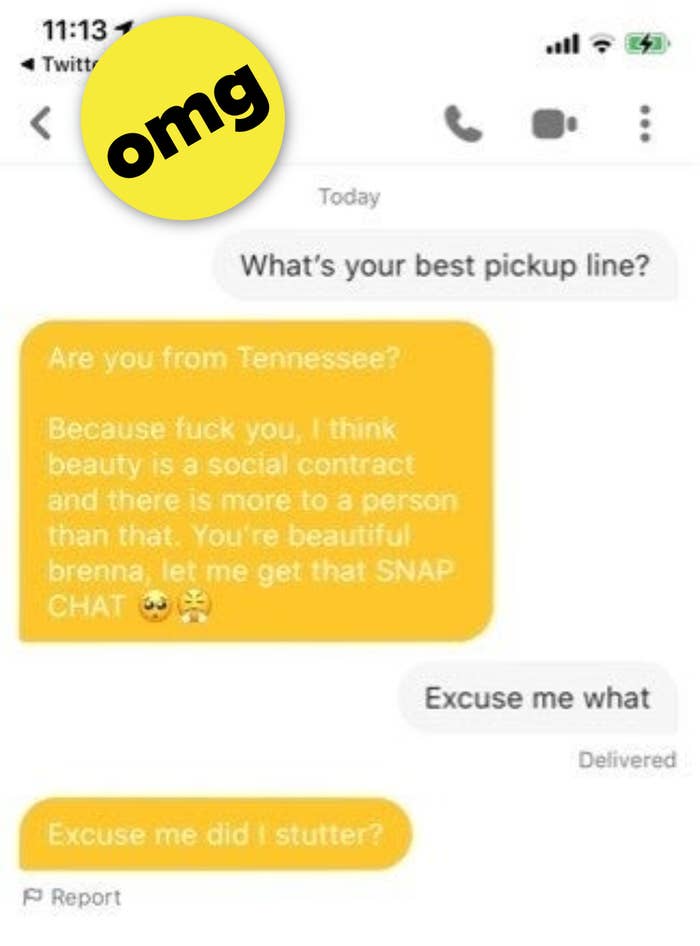 2.
This woman opened up to a man about her anxieties and he was supportive for like 0.03 seconds:
"One time I was talking with a guy and I opened up about being extra stressed with the pandemic going on, and how I was having panic attacks more often to the point where I couldn't watch the news anymore without spiraling. His response was, 'Oh my god that's awful. I'm so sorry.' Then, less than 30 seconds later, 'Wanna make out?' I said I'd rather watch the news and he blocked me."
3.
This woman was body-shamed by a man on a dating site completely unprovoked:
"I was briefly on a dating website. Out of nowhere, I got a message from a complete stranger that said, 'You are so fat and ugly you should kill yourself.' I quit dating sites after that. Being alone is better than dealing with that kind of negativity and cruelty."
4.
This woman didn't respond to a man's message for a few days because she was busy, so he went on a full childish rant:
"This was like six years ago or so. At the time, I was working 3 jobs, 7 days a week, 8–16 hours per day. So, you could say I was busy. This dude messaged me first on a dating app. I messaged back, then he messaged back, but I didn't see it or respond to it for like 3–4 days because I was busy with life. Once I did respond, he started going off on me like a goddamn sociopath. He started by calling me 'the George Clooney of responding to people.' I still don't know what the fuck that means. Then, he started in on the typical entitled, white male response of calling me fat, ugly, and a slut because I had the audacity to wait three or four whole days to respond to his bullshit message of 'good morning.' So, I reported and blocked him."
5.
This woman encountered a man who wanted her to send him nudes because "that's fair":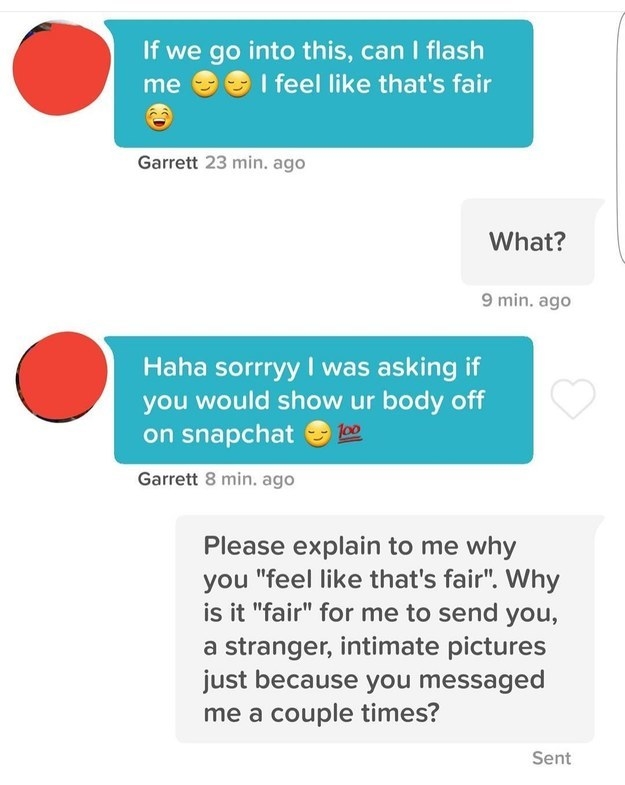 6.
This woman's match mansplained how to have a conversation to her — AS THEY WERE HAVING A CONVERSATION:
"I exchanged a few messages with a guy on a dating app and we were having a very normal, casual conversation when he decided to mansplain how to hold a conversation and sent me this:
'Dearest [my name], you seem like you could be real cool. And I'm coming off weird for sure, but I thought I'd give a helpful tip that maybe you don't need because you're a pretty good-looking lady. It's hard to strike up a convo if you don't follow up your response with a question. Okay, that's my advice. Maybe just not interested and that's totally okay. What drew you to my profile?
Needless to say, we didn't speak after that."
—Anonymous
7.
This woman was genuinely asked if she was into "race play":
"There's too many to count, but two stand out the most: First, a guy asked me if I (a Black woman) would be into 'race play' with him (a white man) playing my slave master."
—Anonymous
8.
This woman rejected a man's advances and he proceeded to stalk her and her family: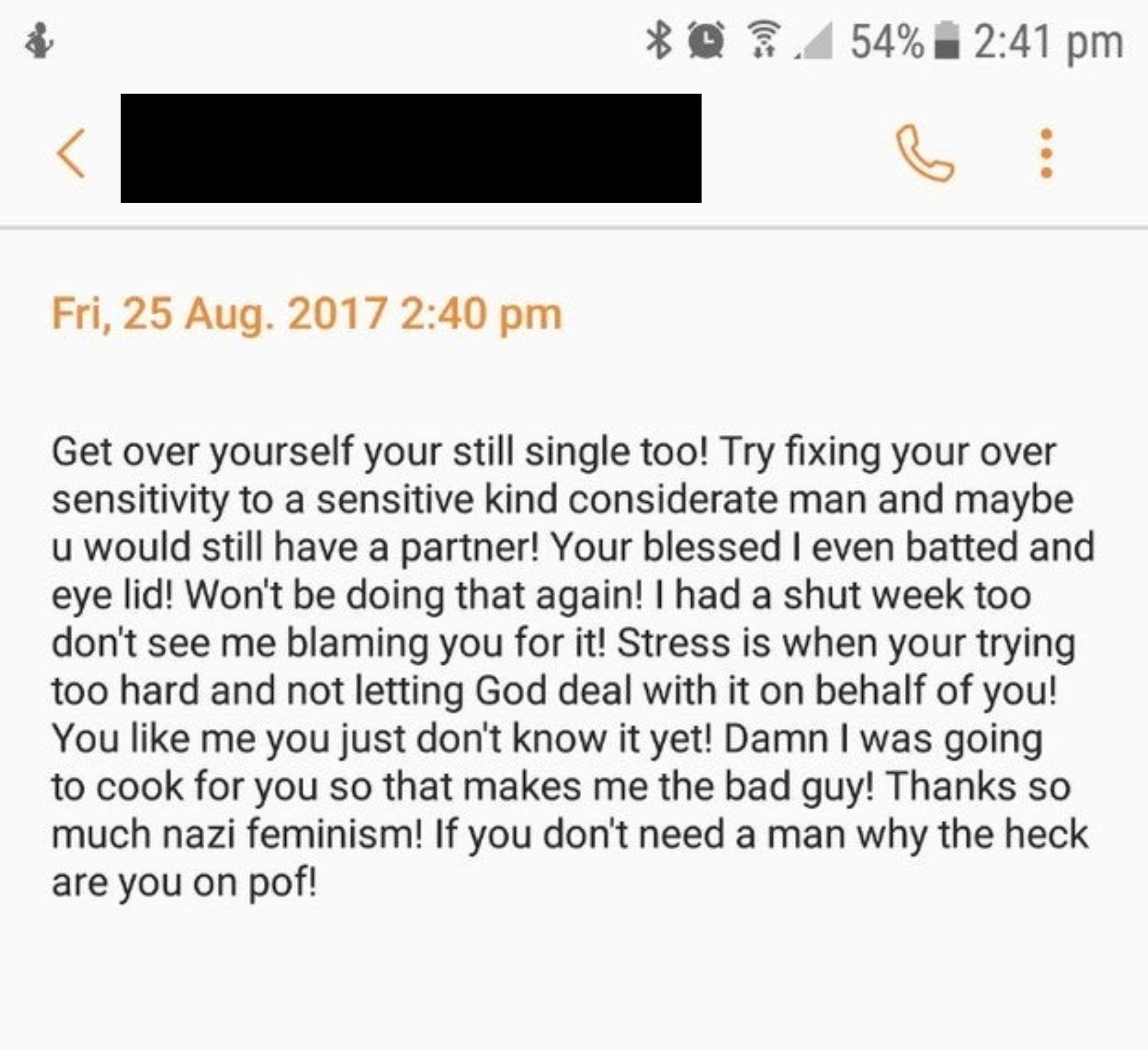 9.
This woman listed her height on her dating profile, and apparently that was an invitation for her to be harassed:
"I'm 4'8", and I put my height on my dating profile like a lot of people do. A guy I'd matched with started the conversation by asking, and I quote, 'Are you too small to 69; this is my key question?' Needless to say, he didn't get a response back."
10.
This woman couldn't decide which of these exchanges was worse, so she shared both:
11.
This woman matched with a man who tried to tell her what to wear on their first date:
"One time a guy I matched with was weirdly insistent about me wearing a dress on our first date, which was going to be a fast-casual restaurant. Dresses aren't really my thing so I tried to play it off like he was joking, but he wouldn't let it go. I canceled on him, then had to block him on Facebook. Lesson learned: Never add someone on socials before you meet them and wear whatever the hell makes you feel comfortable."
12.
This woman told a man about her goals and he condescended her about pursuing a career instead of having kids: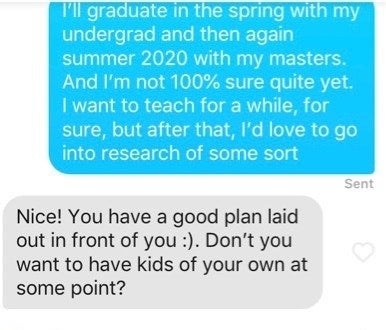 13.
This woman explained to a man that she'd rather meet in a public place and he decided to insult her autoimmune disorder: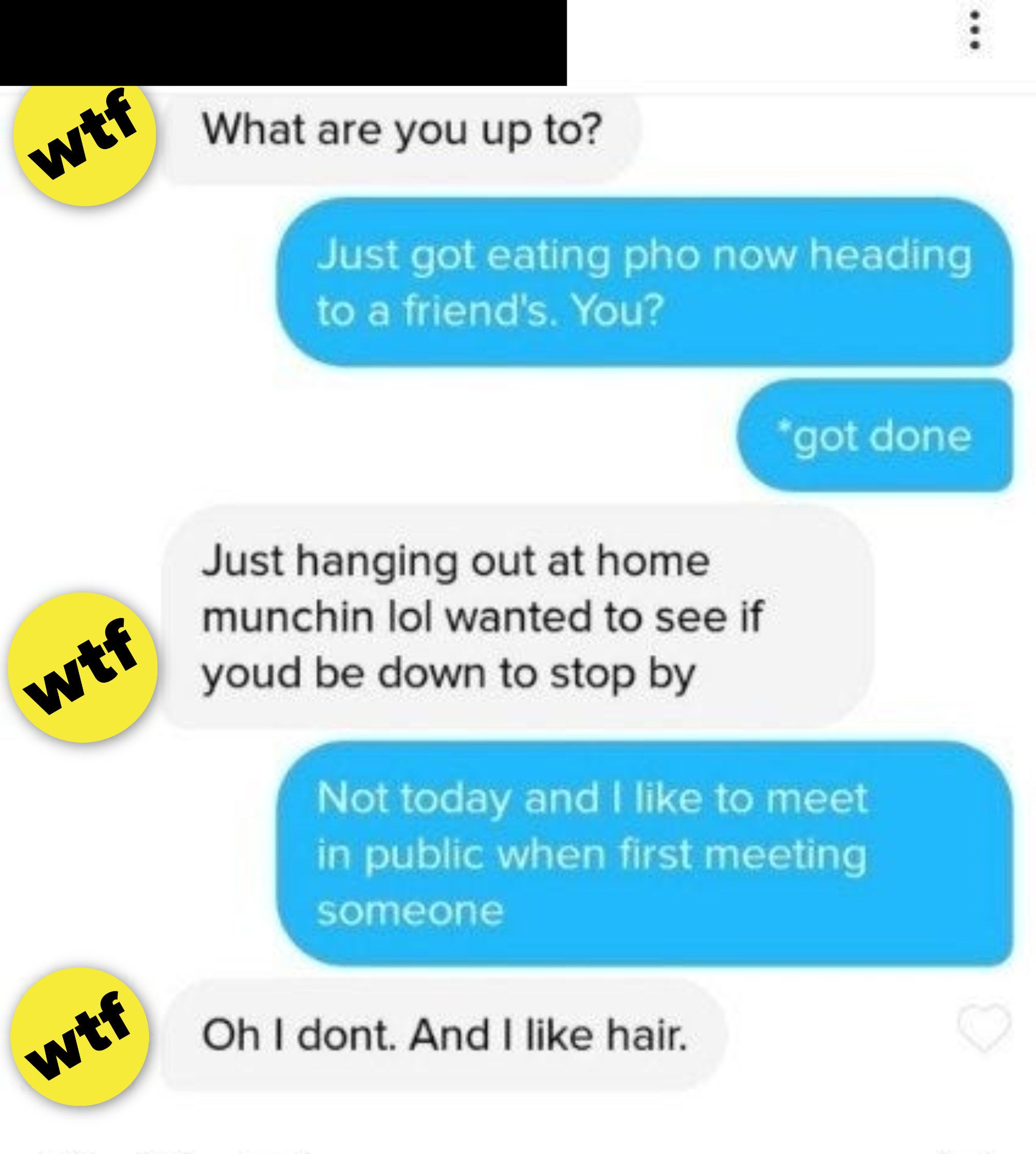 14.
And finally, this woman found her friend's S.O. on a dating app — AND HE HIT ON HER:
"My friend's long-term partner wanted to match with me. He messaged me a few times and I was finally like, 'Yo, you know me, I'm *blank's* best friend. You have kids with her!' I was sure he just didn't recognize me but he wrote back, 'I know. You've really grown up and I always thought you were cute. I figured we could see if we could work something out.'"
—Anonymous
What's been your worst experience with men on dating apps? Share it in the comments below!