Hello! We're Shelby and Daniella, and we're proud members of what's often referred to as the "itty-bitty-titty committee."
We also happen to love TikTok, and one day during our endless scrolling, our eyes popped out of our heads when we saw a magical device called the Misses Kisses bra. User @lovenats143's cleavage went from 🤷‍♀️ to 😱 after they put on the bra, and needless to say (coming from two people who'd never experienced cleavage in their lives), we were intrigued.
So we reached out to Amanda Marie — the founder and CEO of Misses Kisses — to see if we could try it out for ourselves, and also learn a bit more about how this contraption came to be.
Amanda told BuzzFeed that she was inspired to create Misses Kisses in 2015. "I had an event to attend and was going to wear a plunging neckline romper that was beautiful — 'on the hanger,'" she said. "I got home, tried it on, and was extremely disappointed. There were two problems: I didn't like the gap between my breasts, as they lay east to west, and I didn't own a bra that would work with the outfit, because no matter the style of bra, the straps would show."
From there, the Misses Kisses Frontless Bra was born. According to Amanda, it's had a positive impact on customers both inside and out. "It's more than a bra, but a community of women that want to feel even more confident in their wardrobe. Our customers range from mothers who have lost shape to breastfeeding, brides on their big day, cancer survivors, curvy/larger-breasted women that couldn't wear strapless outfits before meeting us, younger and older women wanting extra, and transitioning women wanting cleavage. We do not discriminate."
Here's what the Misses Kisses Frontless Bra kit looks like when you take it out of the box. The Frontless Bra comes in shallow, moderate, and deep plunge options. We both decided to try out the shallow plunge bra, since it seemed to be the most popular. Each bra kit costs around $125 on the Misses Kisses website.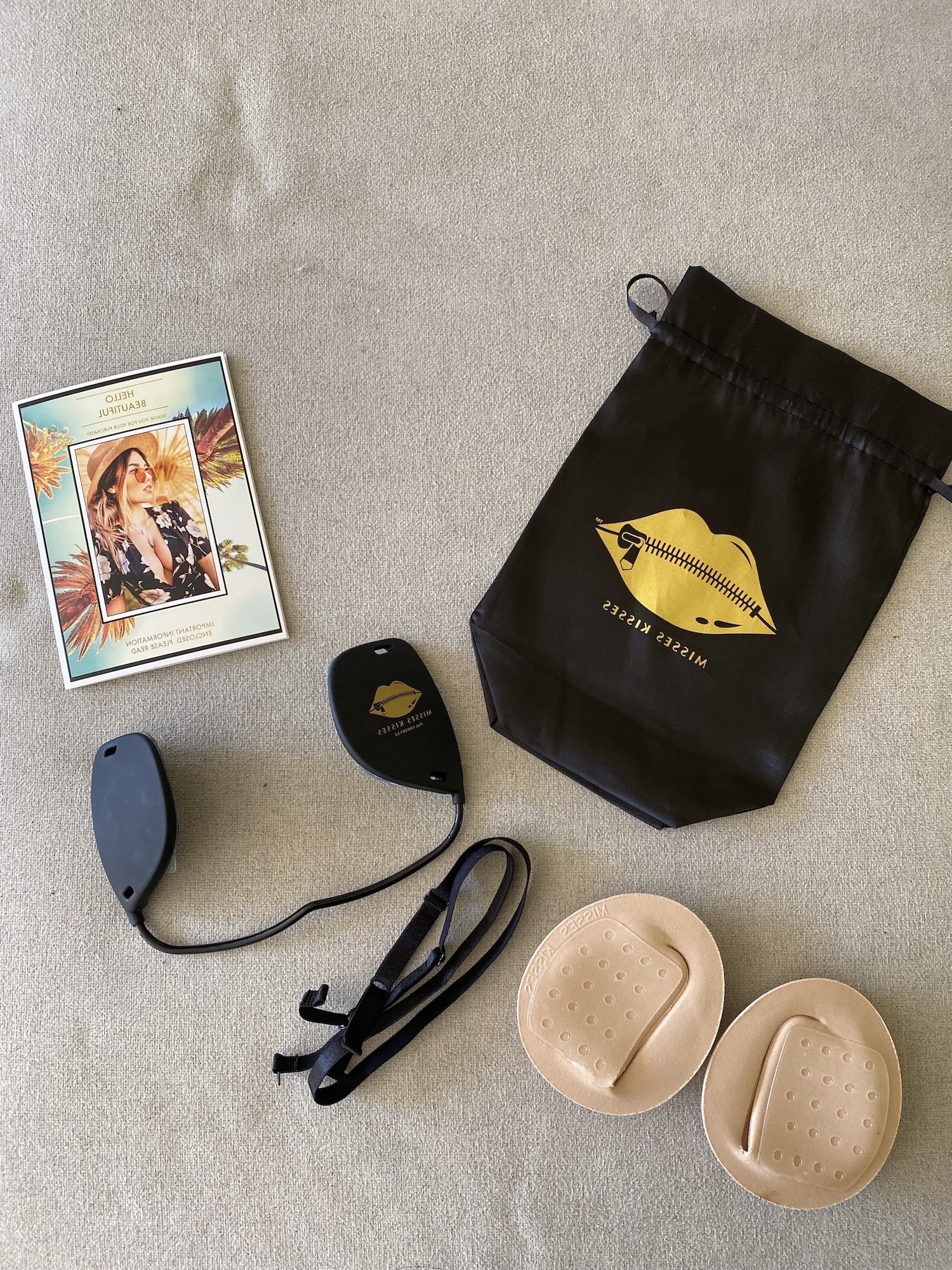 Every bra also comes with a handy guide to help those fitting themselves at home understand how to put on the bra and the mistakes to avoid. It even lets you scan for a setup video to walk you through the process.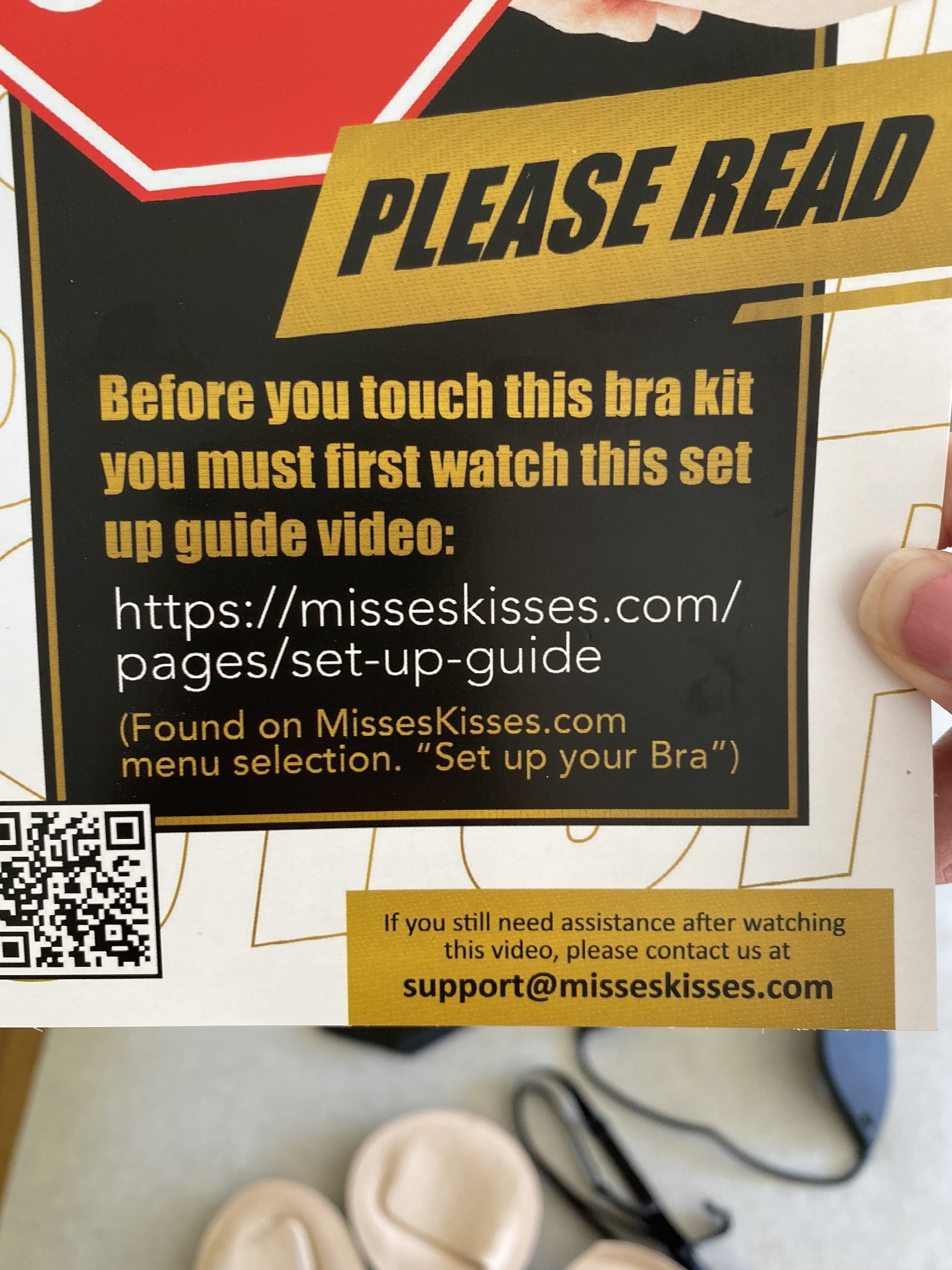 Amanda and Kylee — an employee who's been with her since the company's early days — were kind enough to meet us in person to fit us and explain the mechanics of the bra. We tried it with a bunch of different outfits so we could give our dear readers an accurate look at how it manages to make the "ladies" look so juicy.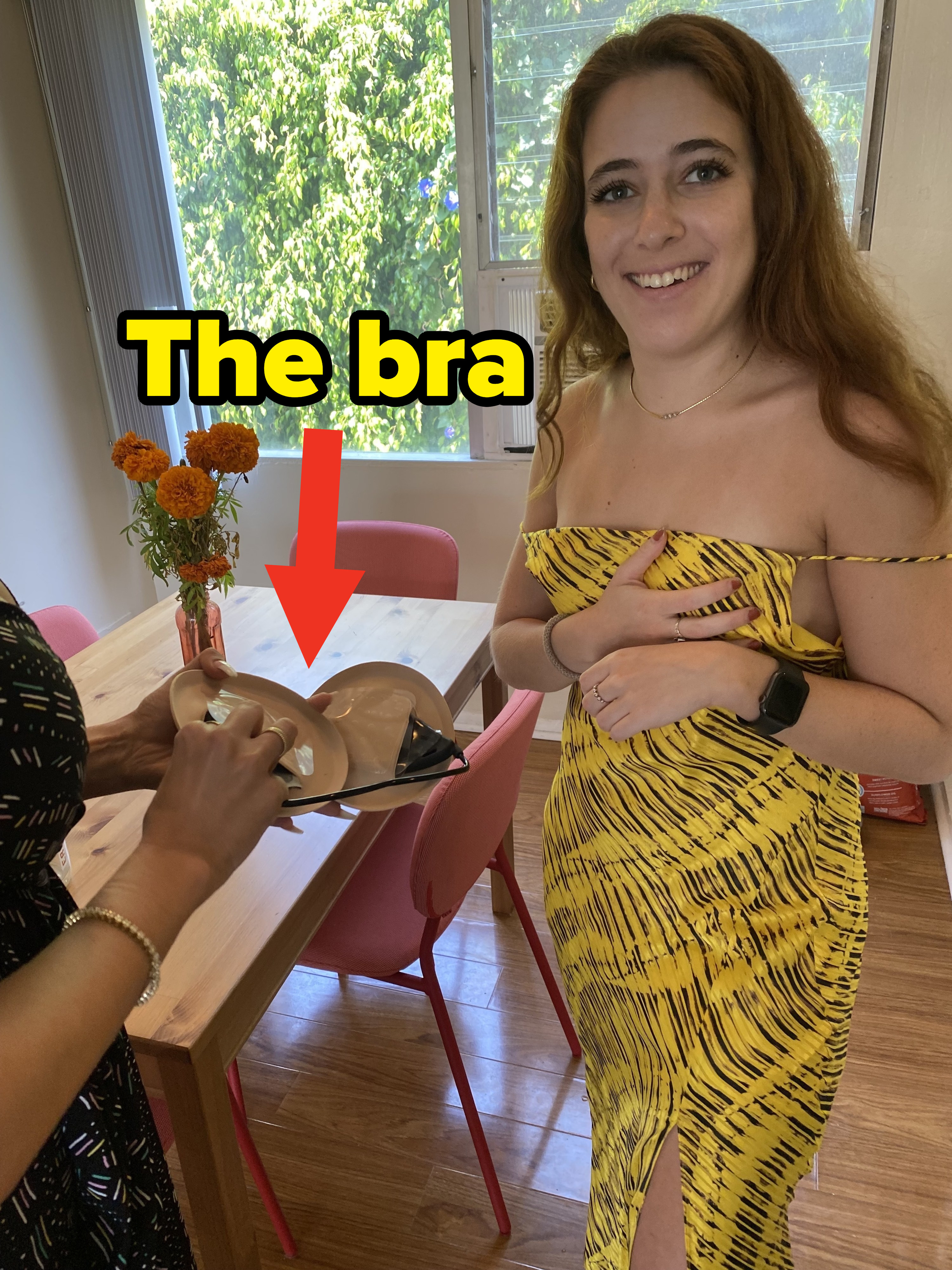 This is how the bra looks when it's on. We must admit that an unsuspecting sexual partner might be a bit alarmed if they took your clothes off to find this product underneath, but this is not about them! It's about you and your confidence! Also, it's important to note that applying the bra is a bit tricky. Even with Amanda's help, there was a bit of a science to getting that supple cleavage JUST right. So we HIGHLY recommend reading the fit guide and also taking advantage of one of Misses Kisses' complimentary virtual fittings.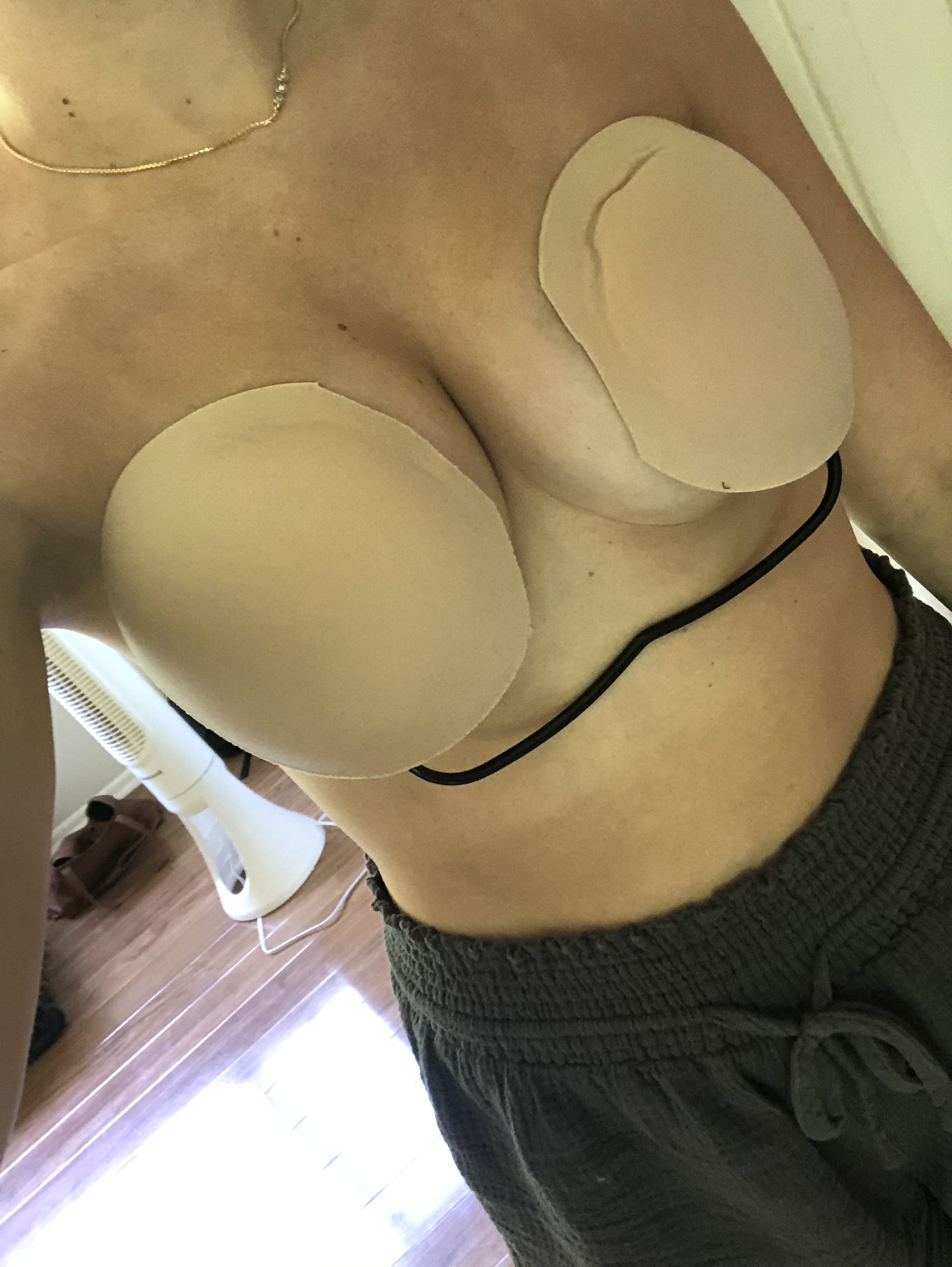 And now the moment you've all been waiting for...the before and afters! Here's Daniella in a dress she's been considering wearing to a wedding. As you can see, she goes from ~respectfully~ resembling a plank to looking like a real-life Jessica Rabbit.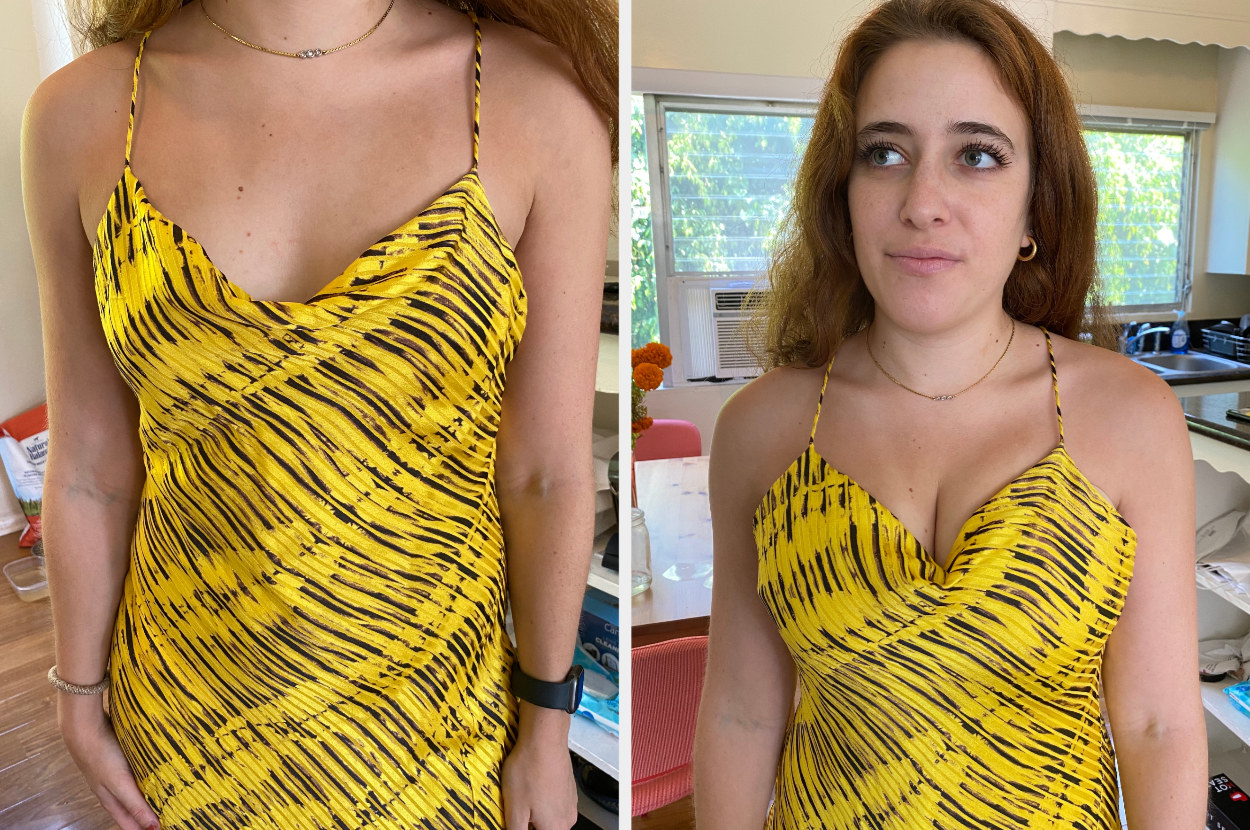 Here's another view of the cups on Daniella in a more plunging fit. These are her thoughts on the bra's wearability: "I definitely felt like my 'misses' were kissing in the Misses Kisses bra. A passionate smooch, might I say. They were clenched pretty close together, and while initially it felt a bit strange, I could see myself getting used to the feeling. A really cool aspect of the product is that you can run, jump, or do a cartwheel and that thing will STAY ON. Also, for the first time in my life, I felt like I had big tatas (which I certainly never expected to experience...in this universe, at least). I was honestly tempted to go out to a club and see the reaction, but alas, it was a Monday afternoon. Perhaps another time. Fellow Misses Kisses customers: Hit me up and we can take on the town with our cleave!"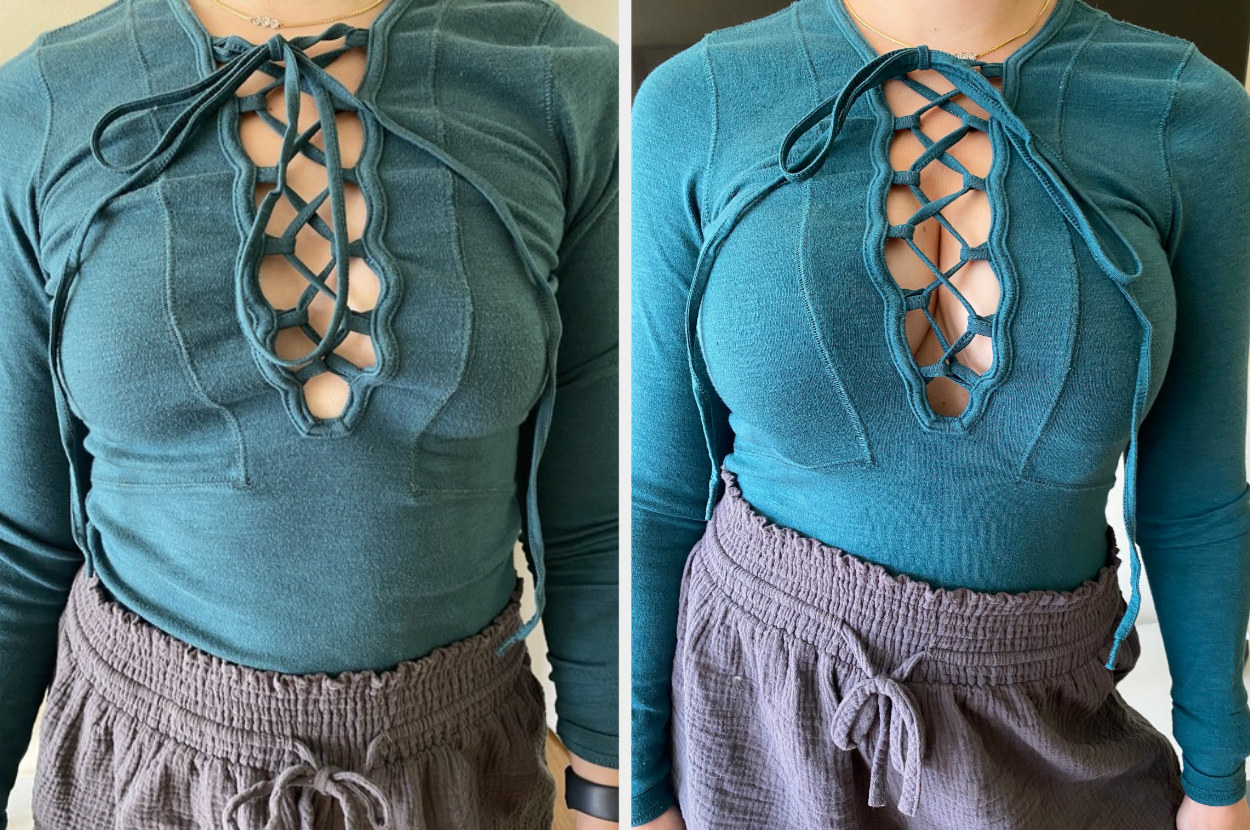 Here's Shelby in a wrap shirt that was giving absolutely ZERO lift to her tatas. Clearly, once she put on the bra, that changed in a BIG way. Shelby's exact words were, "Ba-zinga."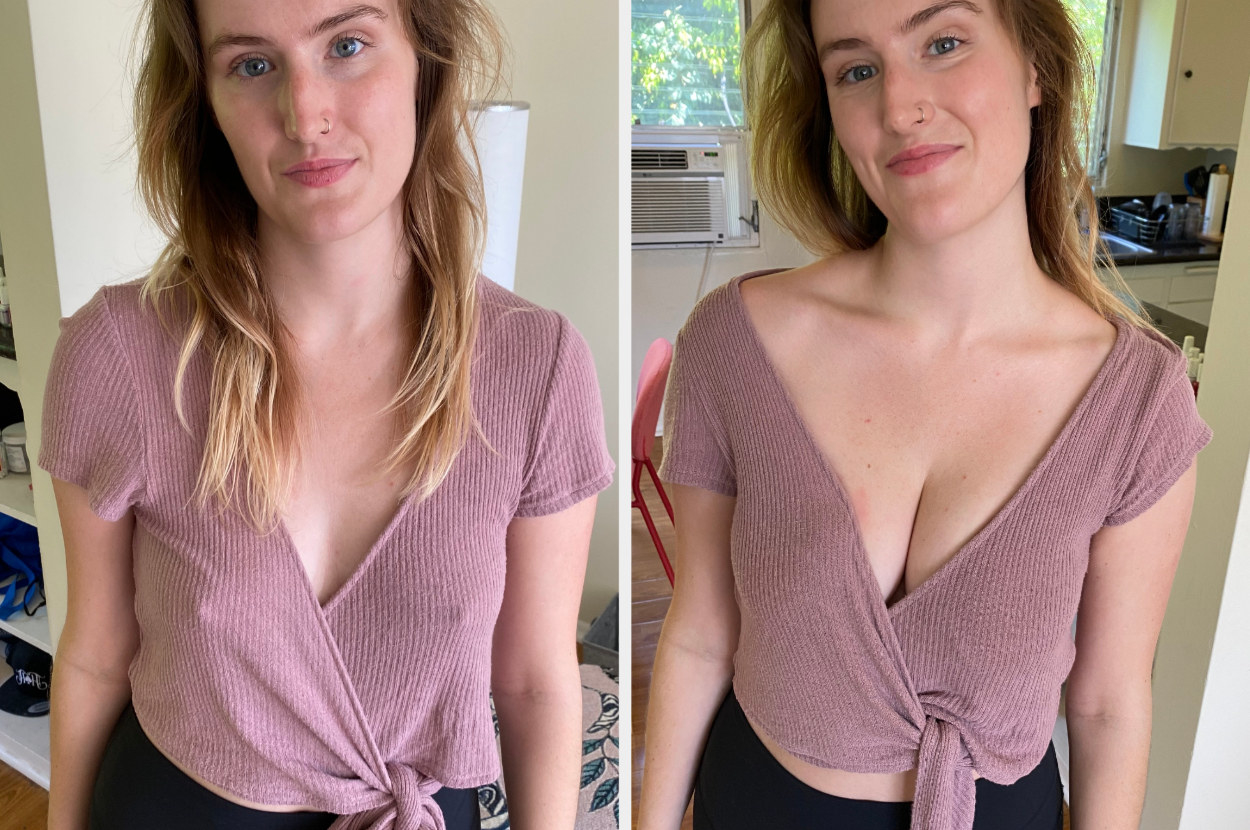 Here are Shelby's thoughts on the bra and how it felt: "I never knew a bra could make me feel like I'd just gotten a boob job, but here we are! Although my boobs are small, they're definitely a bit bottom-heavy, so this gave them a massive lift in a way I didn't think was possible! I wore the petite bra pads, so my cleavage wasn't quite as ~voluptuous~ as Daniella's, but I loved how natural it looked. The bra wasn't exactly comfortable, IMO, but also not unbearable. One thing's for sure: This thing was SECURE. I bounced around a ton, and it clung to my boobies like its life depended on it. TBH, I don't feel super confident that I'd be able to put the bra on without Amanda's help yet, but maybe in time with some of Misses Kisses' many resources!"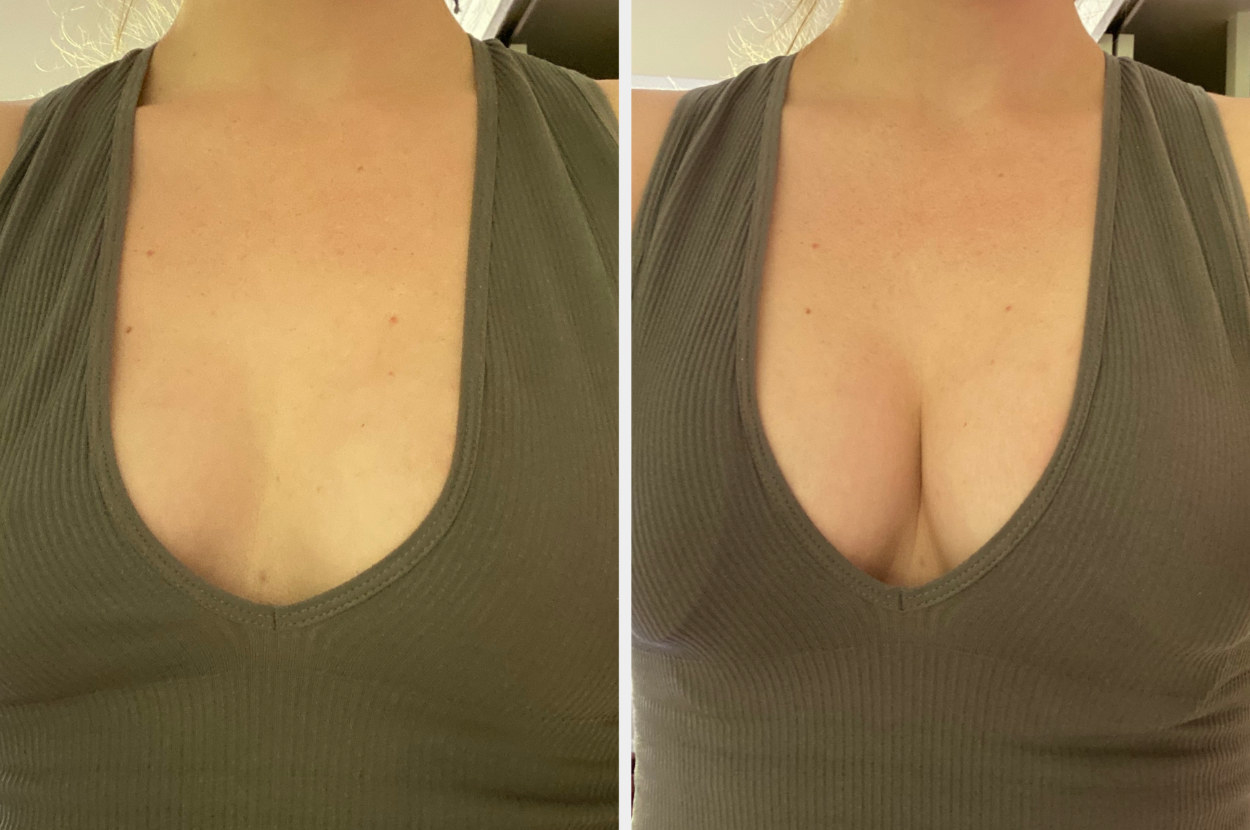 And because Daniella's and Shelby's body types and boob sizes are pretty similar, Kylee (who has an H cup bra size) was kind enough to model the bra to show how it can look on larger-chested customers, in case any curvier BuzzFeed readers are curious. Here's her before and after transformation: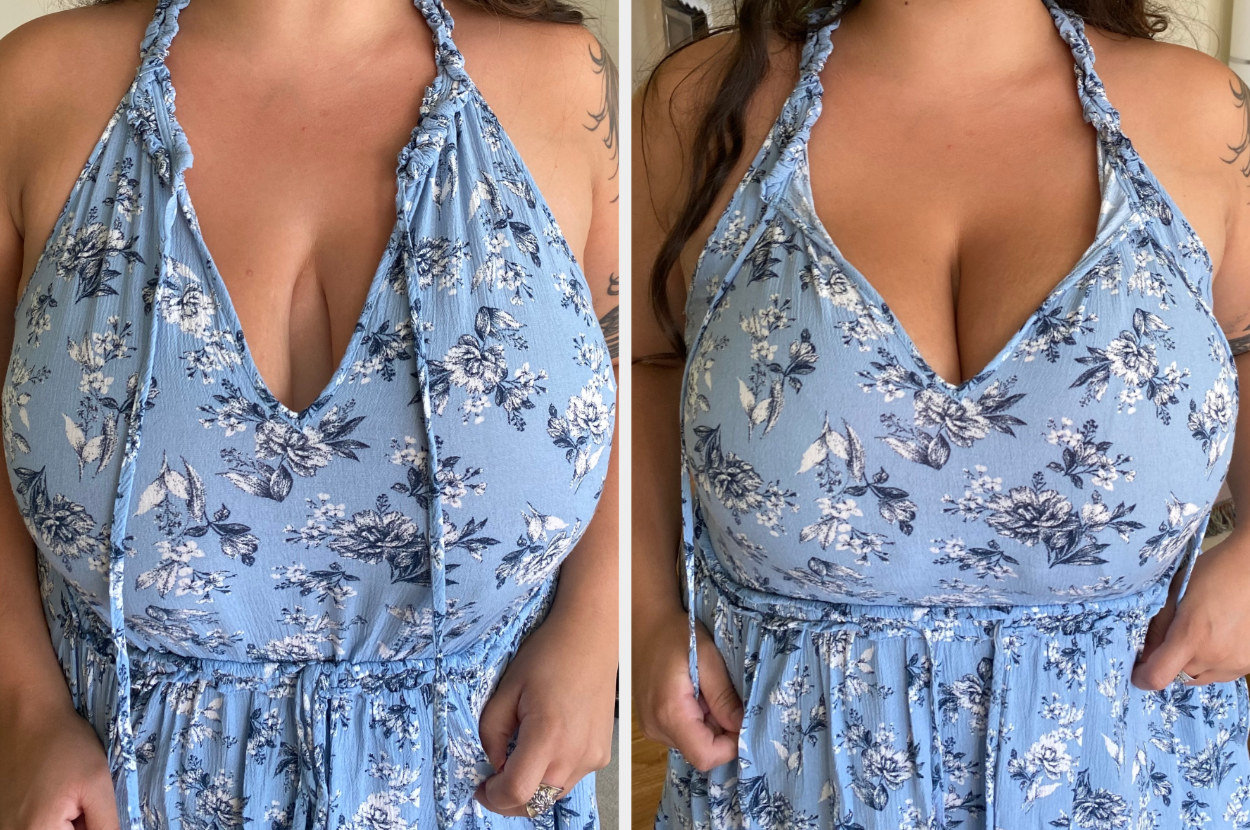 All in all, we had a bodacious time trying out the Misses Kisses bra. Amanda and Kylee were a pleasure to work with — Amanda even gave us a plunging dress off her own back to try on to see the full extent of the cleavage; an icon, truly! We've both decided it's probably a bra we'd personally only whip out for special occasions, but who's to say it's not a vibe you can't rock every day? Also, before we go, we want to remind everyone that all boobs are good boobs, regardless of shape and/or size!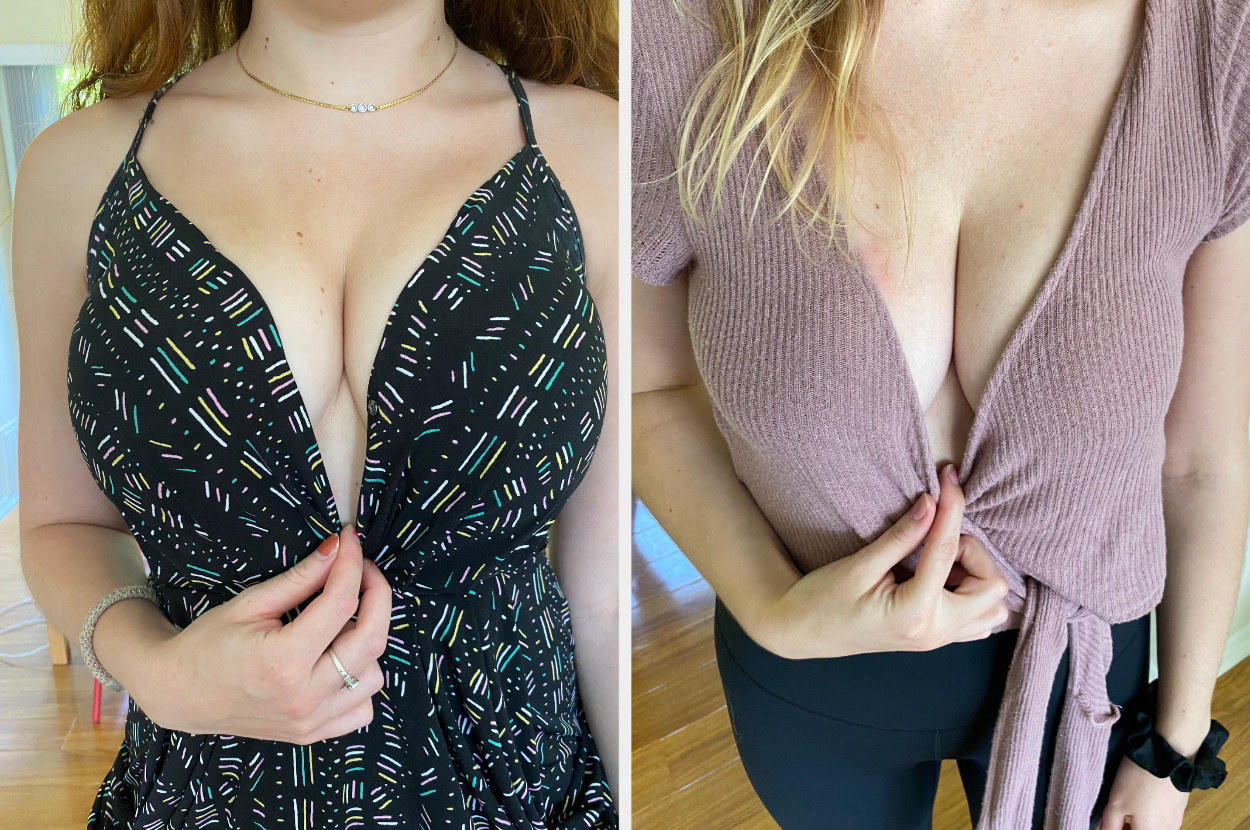 Let us know if you decide to try any Misses Kisses products in the comments; we'd love to hear your thoughts!