This Woman Was Scammed And Stranded By Her Uber Driver At 4 In The Morning, And Now Others Are Chiming In With Their Own Stories
"Do better."
Taylor Rowe, a 19-year-old student from Houston, Texas, has gone viral on TikTok for sharing her experience after being stranded by an Uber she planned on taking to the airport:
The video has nearly a million views and thousands of comments.
In the video, Taylor explains that she called the Uber at 4 a.m. Once she got into the car, she received a notification from Uber telling her that her ride had been canceled. When she asked her driver what was going on, he told her to rebook the ride, but the new price showed $88 as opposed to $50.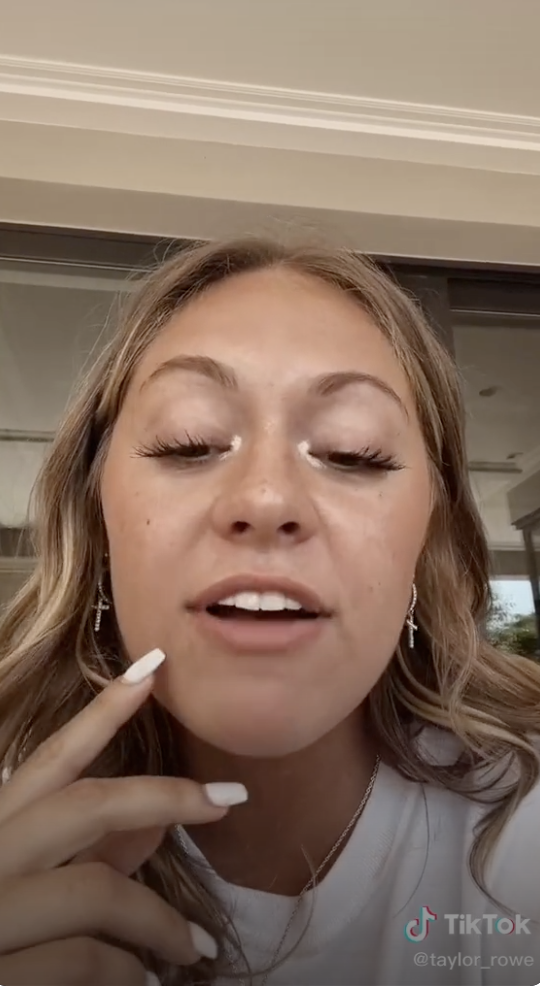 "I said, 'No, I'm not paying $88 for a ride I already paid $50 for,''' Taylor told BuzzFeed. "He then said he would complete the ride if I paid the same amount in cash. I told him that I only had $45 dollars in cash. He said, 'Whatever' and started driving to what I thought was towards the airport. Thirty minutes into the ride, he pulled into a random gas station and demanded the full amount of $88 in cash in order to finish the remainder of the ride."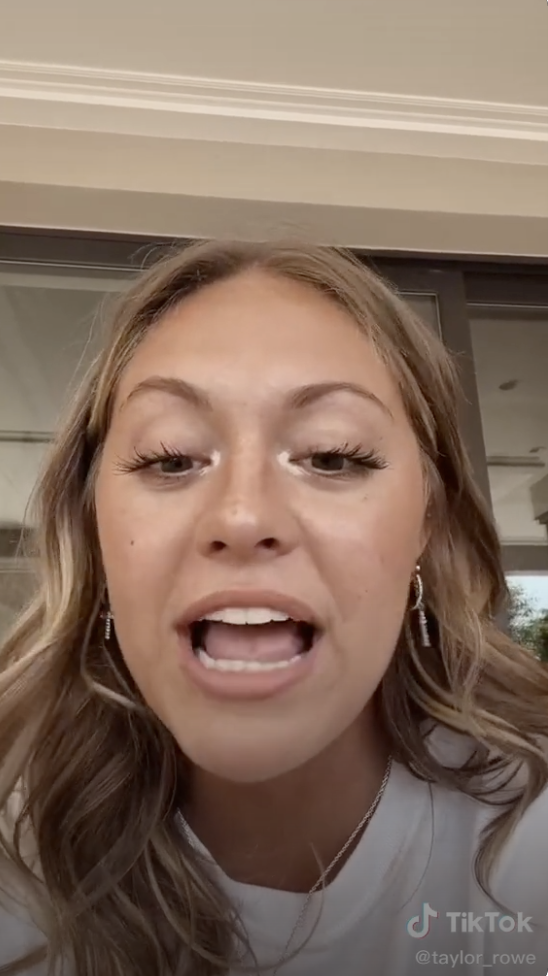 "I gave him the $45 I had, but upon receiving the money, he kicked me out of the car and abandoned me at the gas station with my suitcases, where I then had to call a new Uber in order to make my flight. When I reported the incident to Uber, they offered me a $5 credit for my troubles."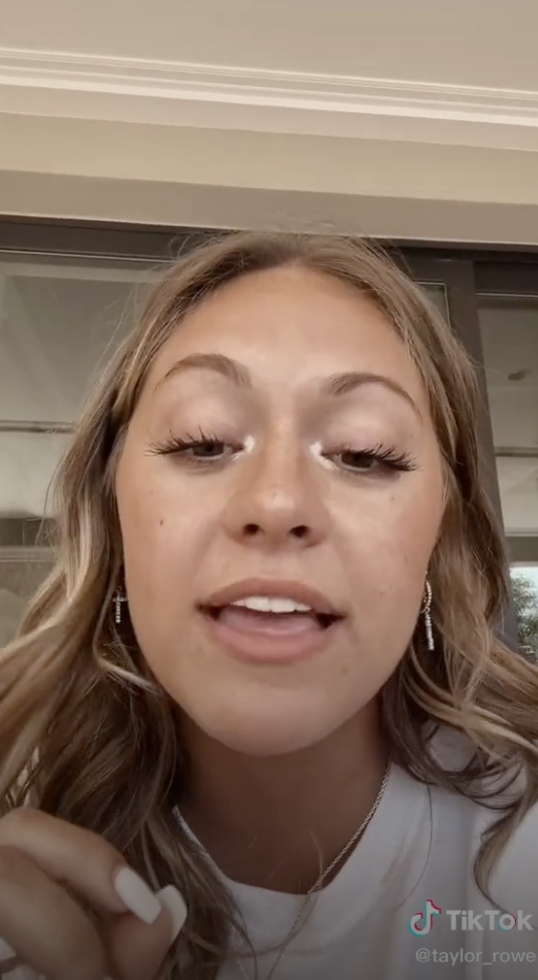 Taylor told BuzzFeed that during the incident, she felt "Upset, uncomfortable, and most of all, scared. It irritates me that drivers have the power to scam people out of more money by just canceling mid-ride after already agreeing upon a price. Uber should have cared more about riders' safety as well. A young girl stuck at a gas station in downtown Houston at 4 a.m. could have turned into a terrifying situation. The $5 credit felt like a slap in the face for the situation that scared me a lot."
Although Taylor's story is both concerning and terrifying, it's not exactly unique. Uber's US safety report documented nearly 6,000 sexual assault claims in 2018 and 2019 alone, and that doesn't even include situations like Taylor's, which involve financial intimidation. Plus, plenty of people in the comment section of Taylor's TikTok began chiming in with their own stories: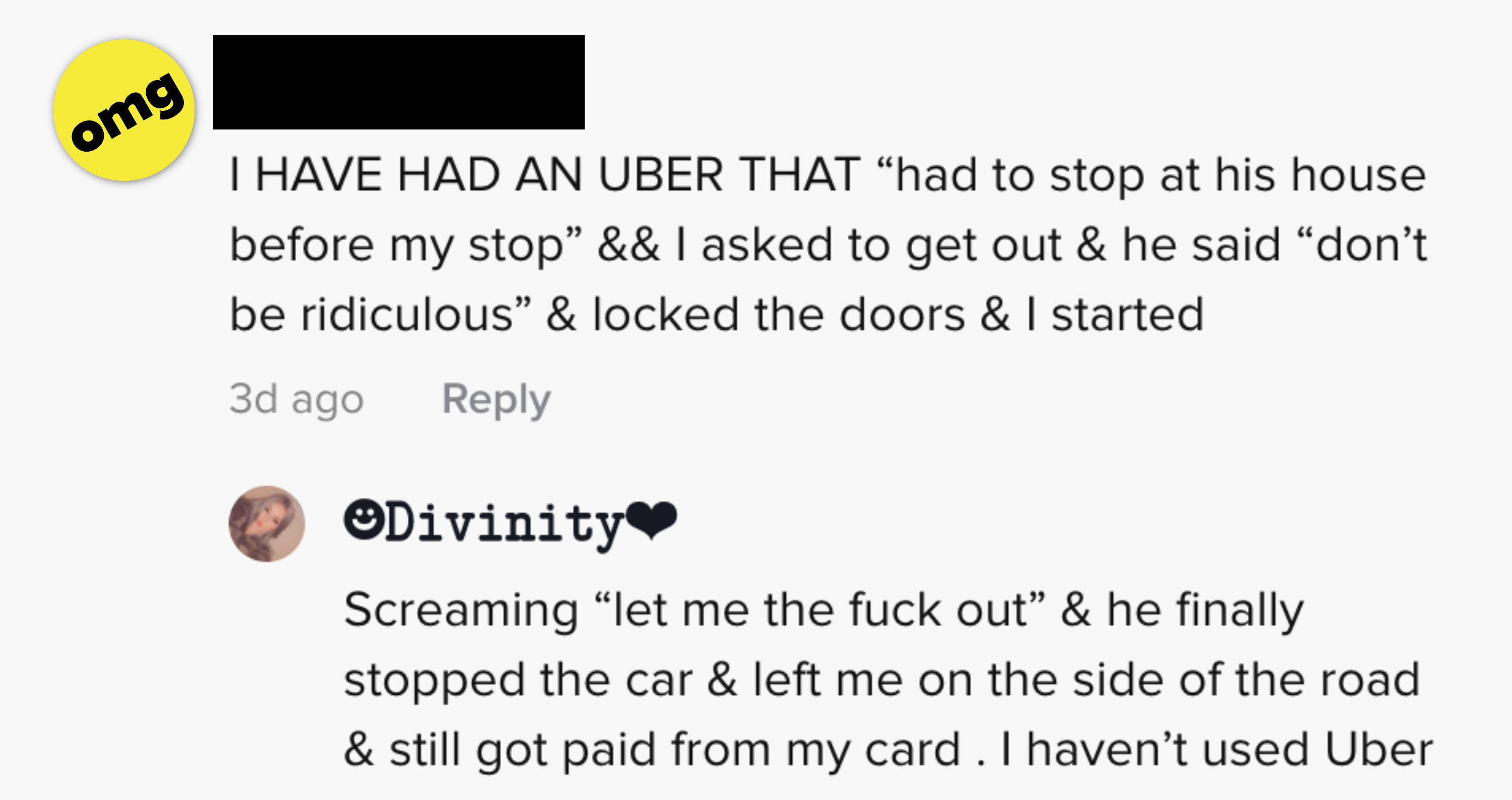 When asked what she thinks should be done to help riders feel safer in the future, Taylor responded, "Perhaps a safety measure within the app that inhibits the driver from canceling to gain the up charge on the ride. ... Every person is important and should be protected within their ride."
"I also believe there should be a feature where you can request a female driver. It was 4 a.m. when I ordered the Uber, and I would have felt more comfortable riding with a female."
BuzzFeed reached out to Uber for comment on this story, and a spokesperson gave this statement as a response:
We expect all users to treat each other with respect. Taylor's experience is concerning and we have connected with her to help make this right. We have also been in contact with the driver and will take the appropriate action.
What are your thoughts on ride-shares and safety? Share them in the comments below.