Two weeks ago, Nick Holterman was simply living his life in Los Angeles when he shaved his face using a razor he found in his bathroom. "I'm still not sure if it was mine or my roommate's, but I didn't think about it at the time because my roommates and I share pretty much everything and I was in a hurry. I remember my skin immediately feeling irritated because I had been a little rough on my chin and jawline, but that was normal because I get impatient when I shave and don't mind a few nicks here and there."
Fast-forward to a few days ago, and he was scrolling on TikTok when he saw a woman sharing the time her friend had shaved her ~area~ with a random razor she found in a frat house. Considering what he'd just been through, he just couldn't pass up the opportunity to stitch it:
"I was literally just sitting in my car, Band-Aid on my chin and all, and I happened upon this video. It was too much of a coincidence to pass up on, so I just stitched the video and shared my experience with a dirty razor. It had 2 million views within 24 hours because nothing brings people together like disease, apparently," Nick told BuzzFeed.
Four days into using Bactrim, Nick's sores finally started to improve and clear up, leaving a scab that looked like a "beehive of dead skin cells." After confirming with a fourth doctor that the antibiotics were indeed working, he scrubbed off the scabs and can now go about his days without a giant bandage on his chin.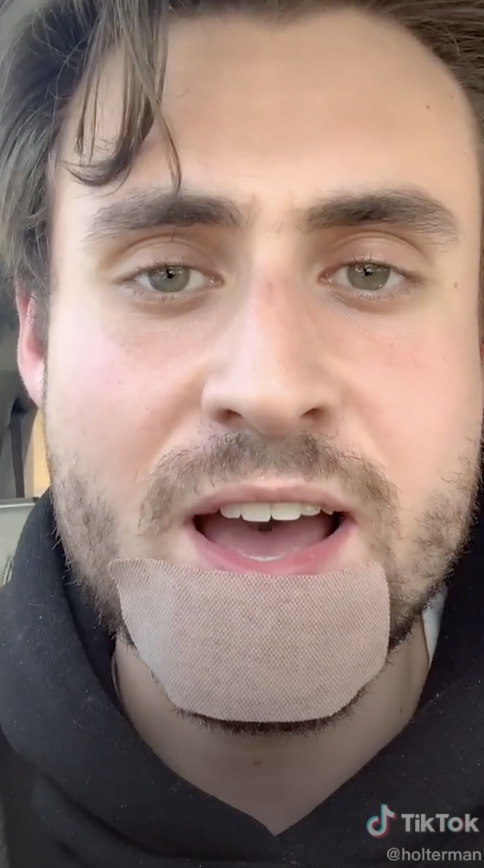 "Ultimately, I never actually found out exactly what type of bacteria it was, but from a visual inspection, my doctor diagnosed me with Impetigo caused by an unspecified staphylococcus or streptococcus bacteria (Impetigo is one of the many ways a bacterial skin infection can manifest)."
Since I'm now the official "staph writer" here at BuzzFeed — Nick's words, not mine — I decided to reach out to Dr. Britt Craiglow, MD, a double board-certified dermatologist, to get a bit more info. Dr. Britt told BuzzFeed that although Nick's infection is probably not all that common, it's definitely not worth the risk of sharing razors. "Think of it this way: By tolerating a little stubble for a day or two, you could potentially save yourself a trip to a doctor's office — or worse, the emergency room — waiting in line at the pharmacy, and walking around for several days with a highly contagious rash on your face, legs, etc."
"Your razor belongs to you, and you alone! In the same way that you (hopefully!) wouldn't use someone else's toothbrush, you shouldn't use another person's razor. We all have bacteria that lives on our skin, and that can be fairly easily transferred via a razor, particularly if it nicks the skin. Other things, like warts, which are caused by a virus, can also be spread in this manner."
But if you suspect you've contracted something from using someone else's razor, Dr. Britt recommends seeing your primary care physician or a board-certified dermatologist for confirmation. "With proper treatment — either topical or oral antibiotics, depending on the extent of the infection — Impetigo should start to improve within a few days, and generally resolves within 7–10 days."
For his part, when asked if he'd ever feel comfortable using someone else's razor again, Nick responded, "Take a wild guess."