People Are Sharing Their "Nice Celebrity" Moments, And The Stories Will Warm Your Cold, Dead Heart
Robin Williams sounds like an angel, as always.
*Note: While we obviously can't 100% verify these stories, these are allegedly true — and very nice — encounters people actually had with celebrities.
She shared that when she was in college, she and her friends were live studio audience members on The Tonight Show with Jimmy Fallon. During a commercial break, Fallon went up to her and her friends and had a full conversation with them, giving genuine advice and talking to them about their majors.
Not too long after, other TikTok users began sharing their own nice celebrity moments, like @zakryhaden's experience with Robert Downey Jr.
He said that he met Robert Downey Jr. while working at an upscale clothing store. When @zakryhaden complimented his jacket, Downey Jr. gave him the jacket — even though it was his first time wearing it out — as a thank-you for helping him Christmas shop.
@dylanislucky had a totally surreal and heartwarming experience meeting Dave Grohl — his idol — at a Crab Shack restaurant in Maryland.
When Grohl noticed @dylanislucky crying at the table from being overwhelmed at seeing his idol in public, he sat down with him and his family and chatted with them for 20 minutes. Then, after the meal, he made a point to say goodbye and told Dylan, "It was nice to meet you...keep playing that guitar."
@joshflitter worked closely with Robin Williams on the film License to Wed and only had amazing things to say.
Apparently, at the end of filming, Robin came to Josh's trailer and gifted him a signed copy of The Groucho Letters by comedy legend Groucho Marx. He said the book was originally given to him because he reminded someone of Groucho, and now, he was giving it to Josh because Josh reminded him of himself.
@joyluckk said that the legendary Tupac Shakur made good on his promise that "all the fine girls get in for free" at the club.
The night before, Tupac said on the radio that "all the fine girls get in for free" at a club he'd be at. The next night, as the bouncer tried to charge @joyluckk and her friends at the venue, Tupac drove up. She told Tupac about what the bouncer had said, and Tupac escorted the women into the club free of charge.
And @samcarr got to meet Victoria Justice after talking to her for months on Twitter, and it was better than he ever expected.
According to Sam, Victoria Justice personally added him to the VIP guest list of an event she was doing so she could finally meet him in person. Then, when he and his family were vacationing in LA, she reached out to him again and invited them to the set of Victorious.
And if you had any doubts about these encounters at all, Victoria Justice commented on Sam's TikTok!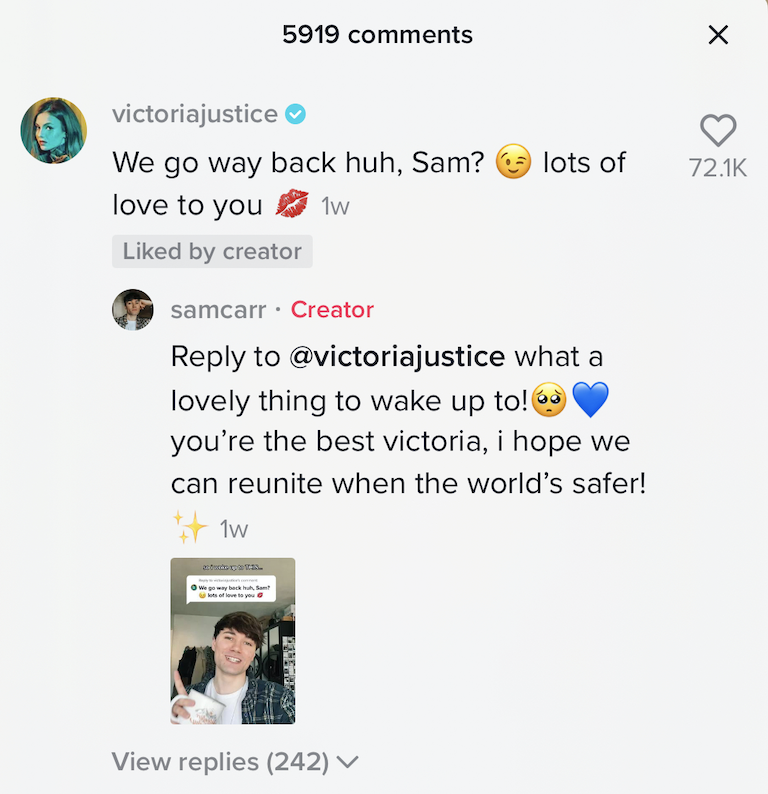 Did you ever have a nice experience with a celebrity? Share it in the comments below!
TikTok videos not playing for you? You might need to change the settings on your device — here's how.