For the last eight days Fatima Ahmet has not sent her children to school. The mother of four said that school officials have called her daily and pleaded with her to at least come by the small private school in the heart of Riyadh and see the security precautions they have taken,
"I refused," Ahmet said by telephone. "I do not trust them, or what the government is saying. Nobody seems to know exactly what this MERS virus is or how it spreads, so why should I trust them to know how to keep my children safe?"
"I will not send my children back to school," she said, "Not for the foreseeable future."
As the number of new cases of Middle East Respiratory Syndrome, better known as MERS have swelled, so have fears among many in Saudi Arabia that the government is hiding the true scope of the deadly virus. On Tuesday, the country's newly-appointed health minister, Adel M. Fakieh, confirmed for the first time that the virus appears to be linked to camels, an argument that virologists around the world have been making for months.
Fakieh also announced that he had created a MERS task force, and that in the future, MERS cases would be treated at three designated hospitals to avoid the spread of the virus among health care professionals. Fakieh's ministry has begun updating global health professionals about new cases, and this week allowed the World Health Organization to visit Saudi Arabia and review research on the MERS virus.
"What's important is what we do to protect ourselves," said Fakieh, during a publicized visit to one hospital.
Still, many in Saudi Arabia deny the link, including agricultural officials who stand to lose billions from the camel market.
"There are strict regulations that are implemented on livestock in the Kingdom. These include health and vet checkups. The animals undergo checkups in countries where they are imported from, and they are checked again at local ports. The Ministry of Agriculture also provides the needed vaccines," Sulaiman Al-Jabri, the head of the livestock committee at the Jeddah Chamber of Commerce and Industry (JCCI), told the Saudi Gazette. He added that that no infections or deaths from Middle East Respiratory Syndrome (MERS) caused by the coronavirus have been documented among people working closely with camels.
But one doctor, reached by BuzzFeed by telephone, said that there had been dozens of such documented cases in Saudi hospitals. The doctor, who asked to remain anonymous as they are working on a government contract and not allowed to speak to the press said, "we have had clear evidence of the link to camels for some time. I would say maybe months. The agricultural sector might not want to admit it, but I believe the Health minister did the right thing in his statement today by announcing this link. People should know there is a connection."
The doctor added that cases were still being documented at a rate of 8-12 new infections each day, and that approximately half of those infected died from the respiratory illness.
"We now have a team of people who are reporting back to the health ministry, but that team was only formed a few week ago and there is a still disorganization about how we are receiving data and research," said the doctor. "We need to move quickly to make sure this is contained."
Over the last few days, pamphlets such as the ones posted below on Twitter have appeared in public places offering some explanation of the virus and how the public can protect themselves.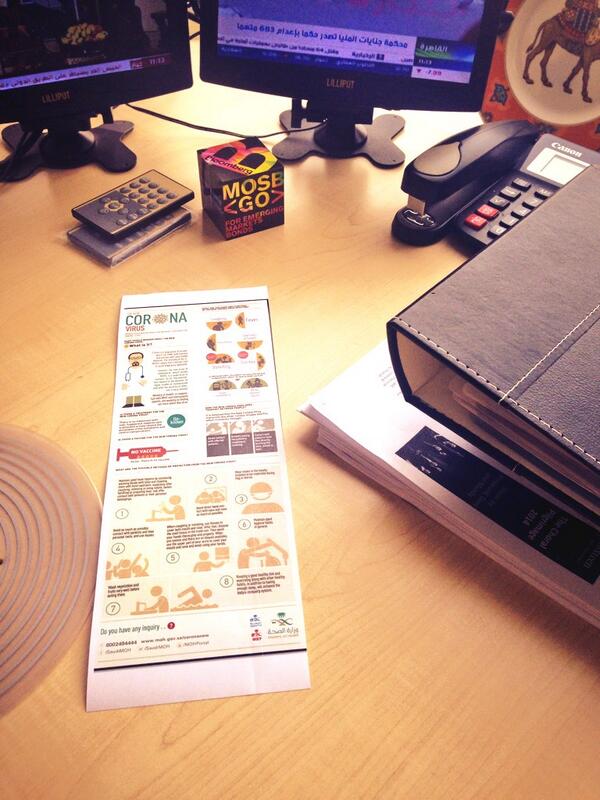 Residents reached in Jeddah and Riyadh told BuzzFeed that people were increasingly wearing surgical masks in order to protect themselves, and that rumors had sprung up suggesting that wiping hands and surfaces with bleach or burning candles at home could help prevent the virus.
"I don't know what to believe," said Ahmet. "So I am trying it all."
Virologists say that the MERS virus may have mutated in recent months to enable faster human-to-human transfer, and new cases are being reported daily in countries across the region. Over the last 30 days, MERS cases in Saudi Arabia have swelled from one to three daily to more than 10 reported cases each day, according to Ian MacKay, an associate professor at the Australia Infectious Diseases Research Centre at The University of Queensland. He said there is strong reason to believe that the virus has mutated to become more easily transmitted between humans, but that so little was known about the virus, it was difficult to access exactly how it was behaving.
"There is too little virological information," said MacKay. "Right now the MERS-CoV's natural host seems to be the camel and then it makes forays into humans when conditions are right. Each and every time it does that there is a chance for the virus to evolve to become better at replicating in and transmitting from humans instead of camels."
Concerns voiced by global health professionals have been mounting as Saudi Arabia approaches the Hajj the first week of October. More than one million Muslims travel to Saudi Arabia each year to visit Mecca during the holy pilgrimage, in past years they have come from 188 countries. Virologists fear that unless Saudi Arabia takes great steps to ensure that they have contained and studied the MERS by October, it could be risking spreading the virus globally.
Sheera Frenkel is a cybersecurity correspondent for BuzzFeed News based in San Francisco. She has reported from Israel, Egypt, Jordan and across the Middle East. Her secure PGP fingerprint is 4A53 A35C 06BE 5339 E9B6 D54E 73A6 0F6A E252 A50F
Contact Sheera Frenkel at sheera.frenkel@buzzfeed.com.
Got a confidential tip? Submit it here.