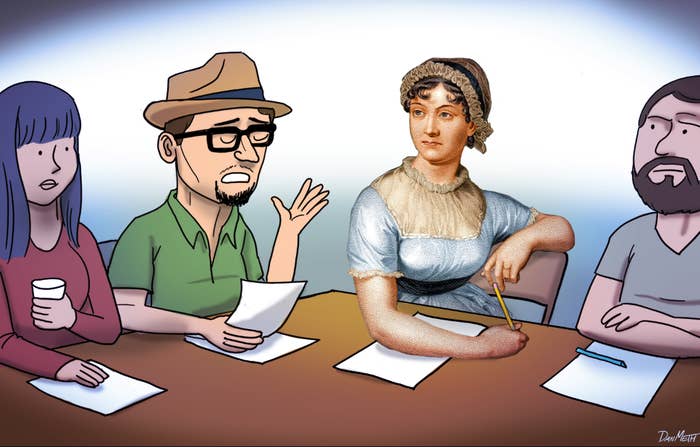 Dear Jane,
I don't usually read chick lit, but I didn't hate reading this draft of your novel, which you're calling Pride and Prejudice. I really liked the part where Elizabeth and her aunt and uncle went on a road trip, which reminded me of Chaucer's Canterbury Tales (also about a road trip — check it out!). Anyway, good job. I do have a couple of notes to share, in the spirit of constructive criticism.
So, a big question I have is "Why?" Why does Elizabeth do the things she does? Why does Mr. Darcy do the things he does? Why does Mrs. Bennet do the things she does? Have you read Hamlet? I feel like you could really learn something from how Shakespeare (the author) has Hamlet tell readers why he's doing the things he does.
Another problem I noticed: Mr. Wickham (great name, by the way, evoking both a strong but flexible plant, and an earthly, bestial pig) is in the army, but you don't make use of that. What if Mr. Wickham, instead of just being sort of a scoundrel (Again: why?), is a scoundrel because he's suffering from his experiences in the war? (Which war, btw?) That way he could tell Elizabeth about it, and we would be able to see that she's not just an independent young woman, but also a really good listener. He could tell some jokes, too, to liven up the mood, and show that Elizabeth has a good sense of humor. This could be the middle section of the book, like five or six chapters in there.
Also, why five sisters? How about just two? Combine Jane and Kitty. Or, better, make one of the sisters a brother (named "Jim," maybe?), and then he could be the narrator who mentions his sisters from time to time! Like Hamlet!
While I'm on the sisters, is it just me, or does everyone treat Kitty really badly? Personally, I want to say "Huzzah!" to Kitty, and it's annoying that everyone else — literally everyone else — wants to hold her back. Even you, I think— and, sorry, don't mean to hit too close to home here, but… I'm just saying that I would totally court Kitty. She's got a great sense of humor. But anyway, if you change her to Jim, problem solved!
A few other concerns: Mrs. Bennett is annoying, and you don't have any people of color. Also, there aren't a lot of men in this book. Only about the same number as there are women. I was thinking that what you could do is have Mrs. Bennett be dying, but give her a black best friend. Like Othello? (Have you read it? It's also by Shakespeare, fwiw.) The Othello character could be her butler, maybe? There you go: three problems solved. You're welcome!
I don't know if you noticed this, but there's a lot about hair ribbons here. Did you mean to do that? Maybe you could develop them into a kind of motif throughout, the way Shakespeare uses a skull in Hamlet? Maybe, when Mrs. Bennet is dying, she could ask to hold a hair ribbon? And Othello the butler could bring it to her, and tell her a story, or, better yet, get Wickham in there to tell her about the war. Oh! Perfect: just have Wickham, Jim and Othello talk about the war, while Mrs. Bennet lies unconscious in the background, holding a ribbon.
What do you think about Jim, Othello, and Wickham: Brothers in Arms as a title instead of Pride and Prejudice?
Anyway, while this isn't something I would pick up on my own to read, I still enjoyed it more than I thought I would. Thanks for letting me take a look, and let me know if you need any more help with it.
Keep writing!
Tim