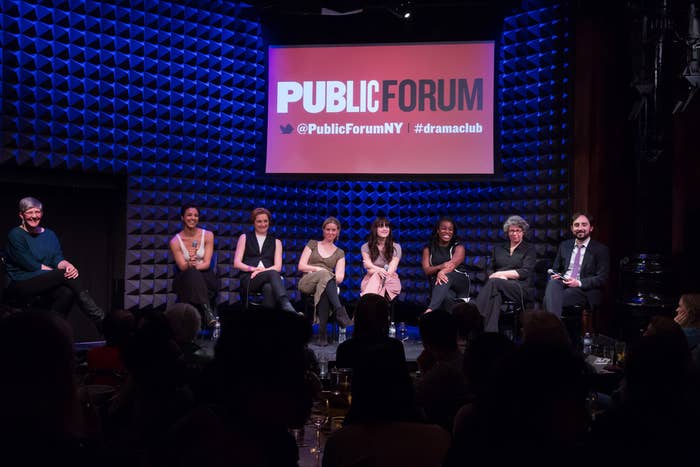 Some 400 years after Shakespeare conceived a character who kills his wife for believing she's been unfaithful — all over a misplaced handkerchief, mind you — the brutality of intimate partner violence detailed in Othello feels disturbingly contemporary. A 2014 study from a Northwestern Medicine review of research noted that anywhere from 25% to 75% of queer people experience physical, sexual, or psychological harm in their relationships. It was difficult not to think of this statistic while watching an all-female cast perform the play — a tragedy culminating in the murder of not one, but two wives at the hands of their partners.
As part of The Public Theater's Public Forum Drama Club Series, "An Evening With Desdemona and Emilia" brought together exclusively women — including novelist Meg Wolitzer and the actors Cynthia Nixon and Uzo Aduba — to perform certain Othello scenes this past Monday, March 16, for one night only.
Othello's wife, Desdemona, "is the most famous victim of domestic violence in literary history," the show's director, Jeremy McCarter, told BuzzFeed News. He went on to say that Emilia, the wife of Othello's tormentor Iago, is a victim of the same fate. "Their stories got even more timely — horrifically so — last week when the U.N. released a report saying that 1 in 3 women globally have suffered domestic physical violence. That's more than a billion women facing the kind of abuse that Desdemona and Emilia sustained."
To place the play's currents of jealousy and rage into a contemporary context, the performance's stage directions were read by Liz Roberts, chief program officer for Safe Horizon, the largest domestic violence service agency in the U.S. "Of the 100,000 calls a year Safe Horizon receives from the New York," Roberts said. "Many of them sound like Desdemona." Victims of abuse are often accused of being sluts and whores ("strumpet" is Othello's own accusation of choice), and women subjected to those verbal assaults internalize the blame, said Roberts. "They think, If only I loved him better."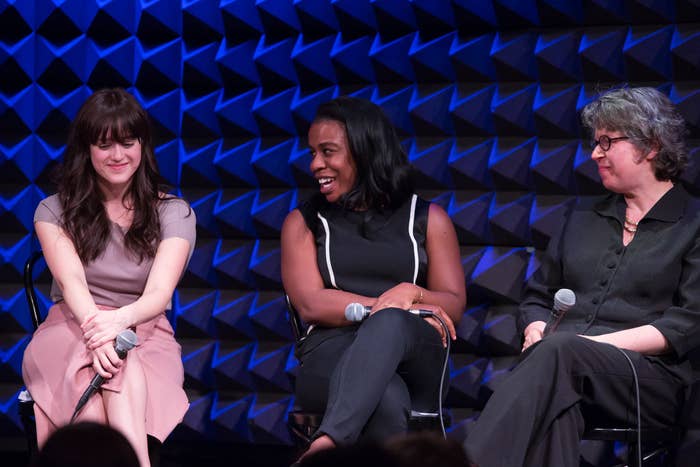 The few selected scenes for the show, which was staged simply with a line of performers standing before music stands, focused on the dynamics between the sweet and submissive Desdemona, read by Heather Lind, and her quietly defiant attendant, Emilia, read by Cynthia Nixon. Francesca Faridany as Iago, Uzo Aduba as Othello, and Tiffany Rachelle Stewart as Cassio gave nuance to characters infamous for their distinctly male bravado. The women delivered their lines with damning humor and poise as their characters barreled ever closer toward calamity.
The tragedy of Desdemona and Emilia's deaths, spurred by the rage of viciously jealous and controlling husbands, was the primary driver for discussion after the reading's applause-inducing end. As the actors settled down in their chairs with glasses of wine, McCarter, moderating the conversation, dove in: "Did we just hear a feminist play?" he asked.
Nixon had performed the play's most arguably feminist lines ("as a modern woman, we all want speeches like Emilia's," Lind commented). During the reading, Nixon's Emilia referred to men — among many other things — as "all but stomachs, and we [women] all but food. [They] eat us hungrily, and when they are full, they belch us."
Yet, after conceding that there were ways in which the reading could be interpreted through a feminist lens, Roberts ultimately answered McCarter in the negative. "If this was a feminist play, the tragedy wouldn't be that [Othello] killed [Desdemona] because she wasn't true," Roberts said. "The tragedy would be that he killed her."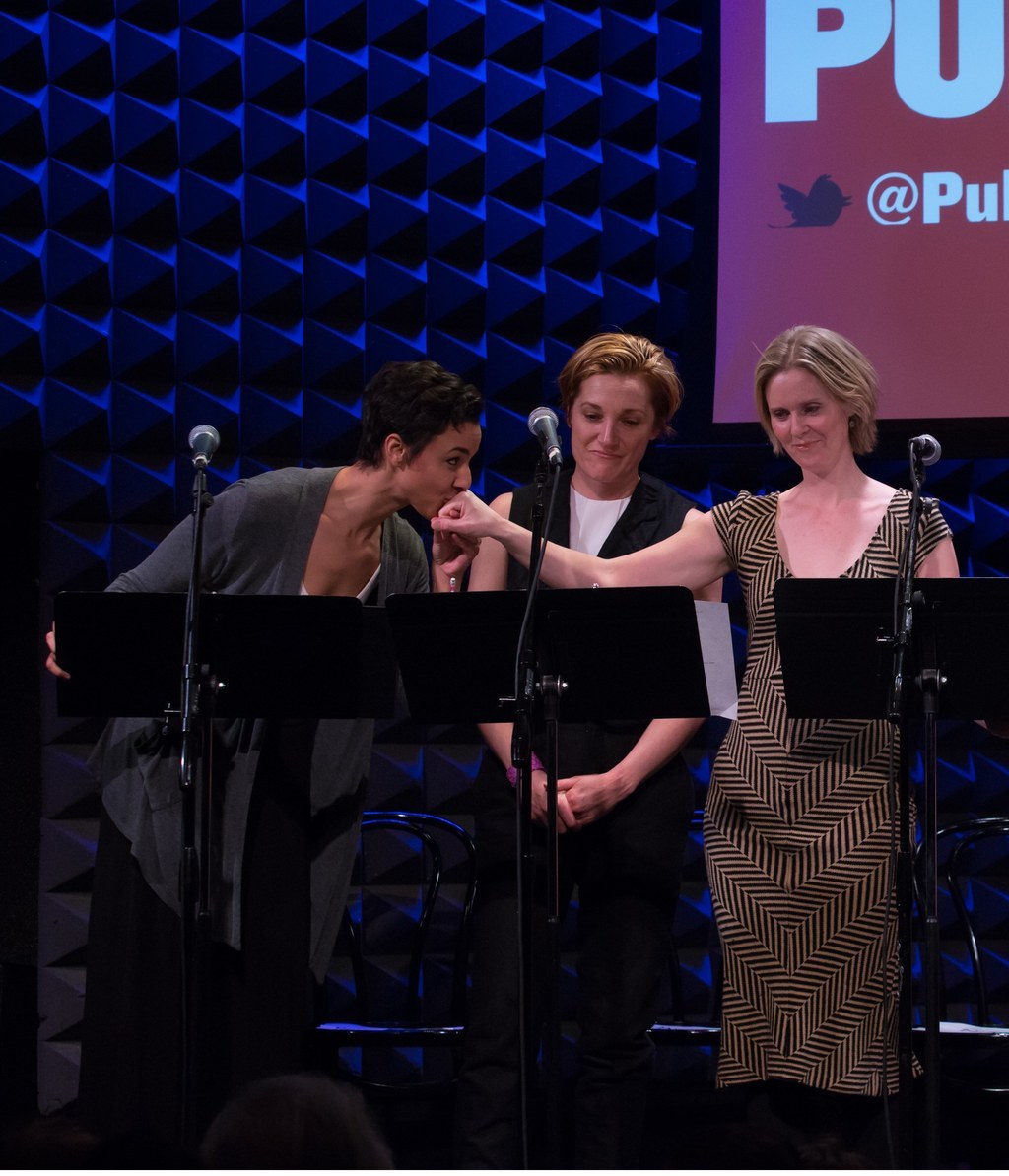 Faridany, having read for Iago — the central villain who, out of vengefulness, spurs Othello to kill his wife — remarked that it had been difficult to embody such a character. "He's so driven by jealousy," she said. "It's a disease for him." Considering jealousy, more so than gender, she said, was central to her preparation for the role.
So, too, did Uzo Aduba, the night's Othello, de-emphasize the maleness of her character. "There is nothing I can do to make you not see me as Uzo," she said, gesturing down the length of her body. What she focused on instead was Othello's crippling sense of honor and duty. "He doesn't necessarily want to kill [Desdemona]," she posited, "but he feels as though he must do it. He has to do it."
And Desdemona, who doesn't share that it was Othello who set out to kill her even in the moments immediately before her death, seems to believe she simply must accept her undeserved, and fatal, punishment. Lind's Desdemona, timid and terror-stricken, premeditated both her death and her unwillingness to place blame upon her murderer: "[Othello's] kindness may defeat my life," she told Emilia, "but never taint my love."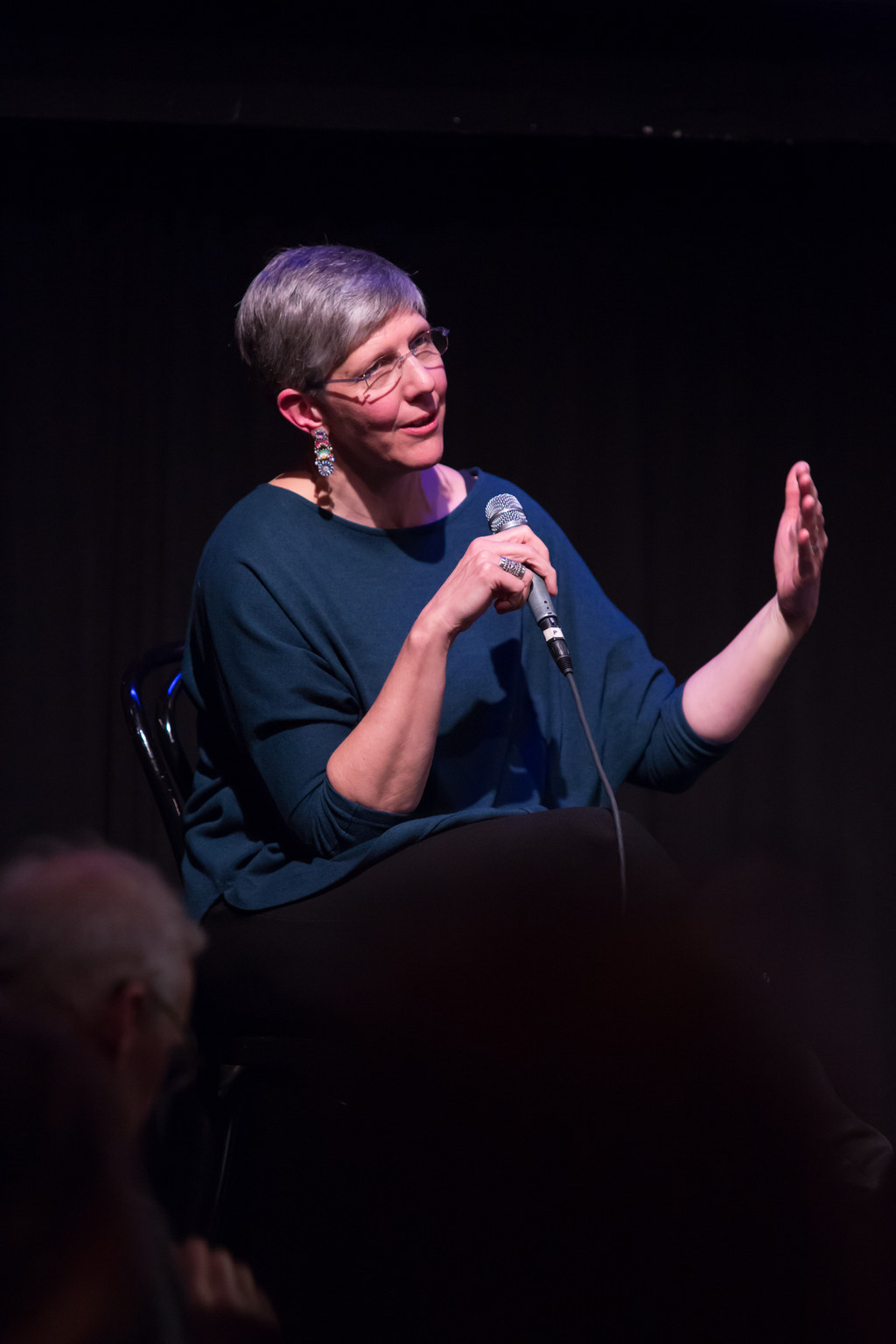 When McCarter asked the stage if anyone thought that Othello and Desdemona's relationship might have worked out, were it not for Iago's terrible interferences, Roberts offered some chilling insight. "I think Shakespeare thought it would all work out great," she said. So do many women who become fixated on their own "beautiful beginnings." They remember times in their relationships that were sweet, and loving, and good. What Roberts has discovered in her decades of working with domestic violence survivors is that "as commitment in relationships deepen, abuse begins." Whether it's moving in together, getting married, or — terrifyingly — having children, when the seriousness of a relationship intensifies, abusers develop heightened senses of "entitlement and ownership."
An audience member, in the brief Q&A following the discussion, asked those on stage about the "multiple layers of victim blaming" in Othello, prompting the conversation to turn back to the excessive textual uses of words like "strumpet" and "whore."
"We [as a society] want to blame victims of domestic violence for the abuse they suffer," said Roberts.
Liz Roberts said, "If this was a feminist play, the tragedy wouldn't be that [Othello] killed [Desdemona] because she wasn't true. The tragedy would be that he killed her." An earlier version of this story misattributed her quote.