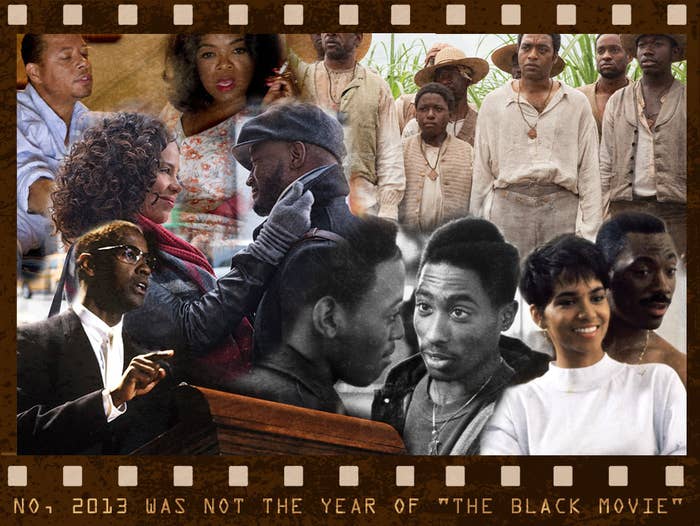 It's simple enough to recite the names of many of this year's "black movies" — that is, films directed by black directors and starring black actors. After all, the stories that have declared 2013 the breakout year for black filmmakers always list them.
Fruitvale Station (critical darling). 12 Years a Slave (critical darling). The Butler (huge hit). 42 (huge hit). Oldboy (flop). Tyler Perry's A Madea Christmas (money in the bank for Perry). Baggage Claim (widely panned). Tyler Perry Presents Peeples (flop).
But honoring the achievements of black filmmakers by declaring it "their" year does them a disservice. Lumping together heavy dramas with lighthearted romcoms simply because of the skin color of the actors or director prevents these films from being measured against the whiter counterparts that actually share their genre — inadvertently ghettoizing the former and protecting the latter from scrutiny. It's difficult to imagine pulling, say, Blue Is the Warmest Colour, The Great Gatsby, The Hangover Part III, and The Fifth Estate into a story declaring 2013 the year of the "white movie."
Take The Best Man Holiday, which is this year's "surprise" hit. Declared an over-performer by trade papers and mainstream outlets alike, the film made $30 million on its November opening weekend — even beating Thor on Friday night.
But Holiday writer and director Malcolm D. Lee scoffed at the "over-performance" label. "I certainly thought we could do somewhere north of mid-20s, north of 25," he told BuzzFeed.
"It's not that [Holiday] over-performed, it's that folks weren't tracking this audience," said John Ridley, the screenwriter of 12 Years a Slave, the unflinching American real-life story that itself is likely to see a slow burn of success as awards season approaches. Ridley sees Holiday's success as inevitable, considering its main elements: "Likable stars — a grip of likable stars, eight or nine together — in a romantic comedy reunion that's very funny, playing at a time when all the serious films are coming out." (Its A+ grade from Cinemascore means a "regionally balanced and statistically robust sample of opening night moviegoers" loved it.)
And yes, the cast and director are black, as was 87% of the audience. But calling it a black film limits how seriously the industry takes a hit like The Best Man Holiday and privileges features that weren't produced by black filmmakers. And after a number of conversations with directors and writers and filmmakers who all happen to be black, one thing quickly becomes apparent: There is no such thing as a black movie.
"'Black movies,'" Lee said bitingly. "What does that mean? That's not a genre." Yet Variety declared, immediately after the success of Holiday, "The box office performance also sends a message to Hollywood: Make more black movies."
"Studios are going around looking for their own Best Man Holiday right now," said Ridley.
But when studios fail to recapture the box office magic with the formula of a previous hit, it casts doubt on all films by black directors. "Jennifer Aniston, Justin Timberlake, Vince Vaughn, they can make a flop — make five flops — and they'll still get hired and execs will say, 'That particular movie doesn't work,'" Lee said.
That kind of nuanced analysis doesn't often extend to movies by black filmmakers, largely because of the limited vocabulary we use to describe those films; in the language of the industry, race (and gender) of the audience and cast typically trump genre. But using "black movie" or "chick flick" as a lens through which we view bona fide hits like The Butler or Bridesmaids — rather than "sweeping historical drama" or "hilarious ensemble comedy" — leads to largely anemic and cynical attempts at improving diverse representation.
"There's a greater magnifying glass on the films that we as African-American filmmakers make," Lee said. "You can't just say, 'Hey, make a bunch of black movies.' There are so many things that go into how a movie becomes successful — timing, tone — that goes for any movie."
The thing that makes any "black movie" good is exactly the same thing that unmakes the "black movie" as a useful construct: A good "black movie" is a film that recognizes black people as humans — not symbols or vehicles for white enlightenment or redemption — and reminds us that it's the mainstream movie industry that doesn't get it, not audiences.
Which is why stepping outside of the studio system seems to be one important path for black filmmakers who want to avoid the "make black movies" directive.
"I don't measure representation by what the studios are doing or thinking," said Neil Drumming, a critic and filmmaker who released his own first feature, the independent film Big Words, this year. "Waiting on them means waiting on a whim. A change in representation is happening right now as a result of African-American independent filmmakers making bold, unfettered choices about what stories to tell."
Some of the success behind this year's projects made by black filmmakers has been due to studios picking up distribution deals for films that they wouldn't actually make. "With film in particular, there is the long lead. Much of what we're seeing now is in reaction to 2007," Ridley said. "Studios typically make maybe 14 to 18 films in a good year, when there's money flowing." With the recession, he said, some studios reduced their projects down to as few as 12 films. "That's a big deal — five or six major [studios] and mini majors each dropping their slates by two or three films."
Ridley and 12 Years a Slave director Steve McQueen worked on the script in a "spec space," he said. Though it was later distributed by Fox Searchlight after Brad Pitt's production company Plan B picked up the film, "12 Years wasn't going to come out of a studio."
"For me, all I'm doing is telling my stories as I see them," said Patrick Victor Monroe, a London-based African-American filmmaker whose 20-minute film Little Favour garnered worldwide attention thanks to one of its stars: internet (and critic) favorite Benedict Cumberbatch.
If 2013 is notable for black filmmakers in any way, it's that the models for distribution are more diverse than ever. Monroe's smart script led Cumberbatch and his SunnyMarch production company partners to jump on board. The team launched a crowdfunding campaign, leaning on the actor's name in an attempt to raise about $40,000 on IndieGogo — and ended up with nearly $140,000. (Monroe noted, "I wasn't sure about using Benedict's name to raise money — it just didn't feel right to me — but Benedict was totally in to do it and to be involved.")
Now Monroe is developing the direct-to-iTunes film into a feature. He told BuzzFeed, "I don't want to get a job because I'm black. I want to direct because people find something really, really fresh and absolutely professional about what I do."
Independent filmmakers like Drumming have insisted that waiting for major studios to increase diversity is self-limiting. "If Hollywood follows suit [and produces more films by black directors], it will only be until it stops being a profitable avenue for them a few years down the line," Drumming said.
Big Words, Drumming's film, was distributed by AFFRM, the African-American Film Festival Releasing Movement, a company founded by director Ava DuVernay. AFFRM has released six independent black films in the last three years, including DuVernay's I Will Follow, which the late, legendary critic Roger Ebert gave 3.5 stars, noting at the very end of his review, "Amanda's family is African-American. The neighbor and some of the visitors are white. Why do I mention race? I wasn't going to. This is a universal story about universal emotions. Maybe I mention it because this is the kind of film black filmmakers are rarely able to get made these days, offering roles for actors who remind us here of their gifts."
The independent black film wave adds a layer of richness to an experience familiar to many black Americans. "Back in the late '80s and '90s, it was, 'Spike Lee has a movie and we have to go see it — gotta go support it,'" said Malcolm D. Lee. "Now there's a bunch of movies and talented filmmakers out there, and they're getting their movies funded and they're going to festivals — and that's a beautiful thing for filmgoers, the popcorn filmgoer, and the search-out-the-arthouse-theater filmgoer."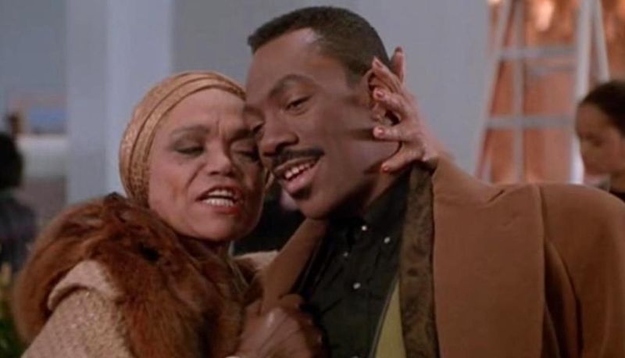 In any case, 2013 is not the first "breakout" year for black filmmakers. There have been several years that featured a multitude of successful, acclaimed films starring and/or created by black people — Boomerang and Malcolm X and Juice in 1992; Hitch and Hustle & Flow and Are We There Yet in 2005.
And before that, 1984. And 1985.
"I remember waaaay back, when A Soldier's Story came out," said Ridley, who's been in the business for a couple of decades and has observed its ebbs and flows for longer than that. "The Color Purple came out. Every once in a while these films would hit, and hit in a big way — Glory — and nothing really changed."
One thing that certainly hasn't changed is the replication of gender disparity in discussions of acclaimed black directors. The Academy Award for Best Director has only been awarded to a woman once — and even in this year's conversation about black filmmakers, we're still mostly talking about men. But much like the black directors who are spearheading projects even when they're not in the mainstream spotlight, black women in film are doing the same.
"They're there," said DuVernay in a recent interview with BuzzFeed, pointing to several films directed by black women recently: Tina Gordon Chism's Peeples, Kasi Lemmons' Black Nativity (out this month), and Chika Anadu's B for Boy, which just won a BFI award for directorial debut. "There should be more black people, more women making things, but we're not not doing it. It's definitely happening and hopefully these filmmakers and many others that I know of that are doing things will spur more."
The Best Man Holiday is, perhaps, the perfect example of industry observers' ignorance — since anyone who's spent more than 30 seconds thinking about the patterns in films directed at black audiences could have guessed it would do well. The Best Man may have come out 14 years ago, but it's still a much-loved movie, partly because it debuted just as features about upwardly mobile (and dare I say bourgie) blacks were slipping away. The Best Man and Love and Basketball and Brown Sugar were soon replaced by Tyler Perry films that soundly rejected narratives about economic aspiration in favor of plotlines that placed humility and blue-collar labor and religious piety on a pedestal. In short, it's been nearly a decade since black audiences were able to see a film that spoke to a familiar, but underrepresented aspect of black life — what life is like when you have the degrees, and the car, and the job, and the nice house.
Perhaps 2013 is a remarkable year for black filmmakers simply because we are still remarking on the limited opportunities available through the major and mini-major studios. The New York Times noted it in June. USA Today reiterated it (to much derision, followed by a quickly revised story) in November.
In an attempt to describe this cinematic moment, we've seen writers succumb to the temptation to use any number of euphemisms that are by turns imprecise, clumsy, or weakly diplomatic: "race-themed," "African-American-themed," "black-themed," "ethnically diverse" (a movie with mostly black actors is not "ethnically diverse" unto itself).
But the familiar breakthrough story, Ridley said, "should have been written and canonized in the days of Juice and Boomerang." It's time to move on, he says, from that narrative. "The audience is definitely there, the talent is there, and there are heaps and piles of money to be made from recognizing this audience."
"It's a romantic comedy, it's history, it's a drama — period," he added. "When we get to this next phase of just looking at these films as films, that's when the breakout happens."