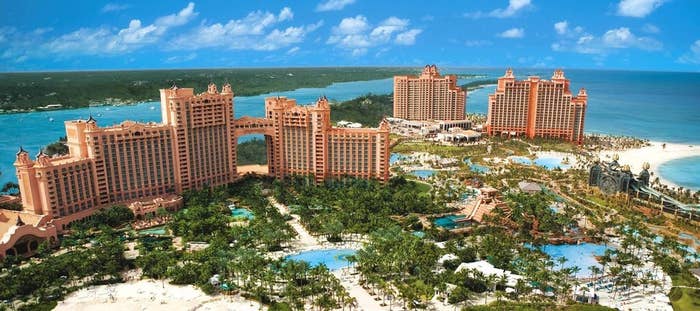 Every spring privileged high school seniors from NYC hop on a plane and head to Paradise Island, Bahamas better known amongst the teens as "PI". The trip includes booze cruises, wild nightclubs, sex on the beach (both meanings of the phrase) and a probable first taste of the independence they will experience in college. Months before, the anticipation that surges through the upper east and west sides of Manhattan is tangible.
But unfortunately for the girls attending the trip, the months leading up to it are frankly opposite of paradise. And it all comes back to one thing the "Piet"-no this is not a diet consisting of only pie- it means:
PI + Diet = Piet.
This is a real term used by hundreds of girls in all forms of the word "the piet" "to piet" "pieting" "pieted". Even if the term isn't used- the majority of the girls attending the trip still turn to unhealthy methods of dropping weight in an absurdly short amount of time.
Girls are going to the gym 7 days a week for hours on end and simply not eating anything in order to obtain "the perfect body". Now, don't get me wrong, I am all for getting fit and eating healthy, but setting a deadline for the day you will have the body you want seems to have adverse effects.
If you want to get fit, one should eat full meals of lean protein, leafy greens, and healthy fats; this being very different from one cracker a day. Girls who do not usually exercise this rigorously are putting un- needed stress on their bodies, which can lead to serious injury as well. Losing weight is a process that takes different amounts of time for anyone and usually works best when it is self- motivated rather than motivated by the pressures these girls are undergoing.
We live in a diet culture. There are few women in our society who do not watch what they eat. Adding new diets on top of this mentality can be extremely detrimental. Girls whose bodies cannot afford to lose two or three pounds (for the sake of their heath) are planning on dropping 15 in the span of less than 4 months. Losing such drastic amounts of weight in such a small span of time has serious, often irreversible health risks. It can even become as serious as having hair fall out, a dangerously low heart rate, poor circulation, early osteoporosis, loss of all muscle, and the loss of one's menstrual cycle. Though some may find losing their period as something pleasant, to me it defines the beauty of being a woman.
I truly do not blame the girls either. The pressures they experience are intense and completely consuming. I believe the pressures come from three places:
The first is the superficial and self- destructive, social media. Prior to the thought of even attending this trip young girls are exposed to photo-shopped photos of women who make a living out of exercising and posing in a bikini. Instagram and Snapchat are the drivers of this. Somehow in our society, body types become trends. But they are simply trends- meaning they change with the times. The ideal body type in the 1950s is nowhere near what many young girls find "ideal" today. Girls are conditioned from a young age to subconsciously try to emulate their role models. This in turn forces girls into archetypes of what they see in the media and away from what they see in the mirror. But it is not simply the external pressure but the internal pressures of going on this trip as well. 20 years ago it would only be the 2,000 kids on the trip looking at your beach body but this is no longer the case. It's your combined 500 plus followers on Instagram, 2,000 Facebook friends and 200 Snapchat firneds multiplied by the social media contacts of everyone on the trip. The pressure of your body being broadcast and possibly judged on social media is pressure enough for girls to turn to these desperate measures.
The second is the behavior and influence of their male peers. Most 18-year-old boys that I've been in contact with tend to make what they find attractive in a woman very clear and us girls often hear our male peers discuss what they do and do not like about the bodies of the other girls around us. The pressure to gain male attention and to stand out in front of hundreds of other girls is obviously overwhelming but when did skinny become synonymous with beautiful? If a boy is only interested in you for your body then there are certainly larger problems with the relationship. The worst part of it all is that there is no male "piet". Even if these boys are trying to get fit for this trip, they aren't talking about it and constantly making it clear to other boys that they are participating. Why do girls feel the need to publically share the things they are doing to fit into social norms and boys don't? Why should girls have to starve themselves to feel confident in front of boys who aren't necessarily doing the same?
But I feel the worst pressure is from other girls. Females constantly deal with internal and external pressures in all forms: slut- shaming, appearance shaming, but this to me is an all time insult. Girls are genuinely FOOD SHAMING other girls- shaming their peers for putting the nutrients they need to survive into their bodies. You need food for energy, for nutrients, to make hormones, to build bones, to regulate your heartbeat and for growth and development, just to name a few.
A great friend of mine goes to The Trevor Day School on the Upper East Side of Manhattan. She posted a photo on her instagram of french fries and champagne with the caption "tell me this isn't the best together". Within minutes she was overwhelmed with sarcastic comments from her girlfriends such as "piet strong" and girls telling her what they are eating instead "meanwhile I'm out here eating carrots" "me and my Greek yogurt" and "I ate a shred of kale today ru jealous". I spoke to her about the incident and she immediately opened up about being made fun of for eating. FOR EATING. No one should feel uncomfortable eating or ordering food in front of their friends. This is a form of BULLYING and a new form of peer pressure. In schools it may feel like everyone is doing it and friends may make others feel bad for eating junk food in front of them. There is the fear of being the only girl who isn't fit and many are scared to stand up to the girl who says, "Ew you are eating THAT for lunch". In a time of crisis for young girls we should be banding together and telling each other how beautiful and unique we all are rather than bringing someone down for something as petty as eating french fries. Rather tell her how beautiful she looks while shoving those tasty fries down her throat!!
I quickly want to touch on how this all plays back to eating disorders.
Firstly, talking about how little you are eating on social media in a joking way is extremely painful for people with current and previous eating disorders to see. It could not only become a trigger but you are also glorifying a mental disorder publically. Secondly, although for most girls this is just a phase and it may be their first taste of having absolute control and it may perpetuate into a full-blown disease.
Having lived through a close friends struggle with anorexia I can say that it is in no way a joke.
Saying the term sarcastically is not helpful either. If you post a photo of a cheeseburger with the caption "piet" you are still perpetuating the concept and even validating it.
My goal is not to condemn anyone who is participating or skinny shame anyone who is naturally thin. If you are naturally very thin that is NEVER negative and no one should tell you that. I am rather discussing girls manipulating their bodies in harmful ways and I am trying to promote self- love.
I do not lose respect for any of the girls taking on this extreme diet, but rather I hope they find an internal validation and a self-love that fulfills them to the point in which they do not feel the need to not participate in this. I simply want to bring awareness to the ridiculousness of this "trend". Posting snapchat and instagrams and facebook posts about losing weight in harmful ways is pushing positive body image reform back bounds.
Instead of the countless hours spent at the gym and counting calories spend time in front of a mirror picking out things you like about yourself.
Rather than searching for confidence in a skinny body search for it in the body you have. The external validation you might get from having your version of the "perfect body" will never bring you the same sort of internal light as finding beauty in yourself will.
If a concept as trivial as this could spread through groups of girls like wildfire imagine the greater issues that teenage girls could tackle.