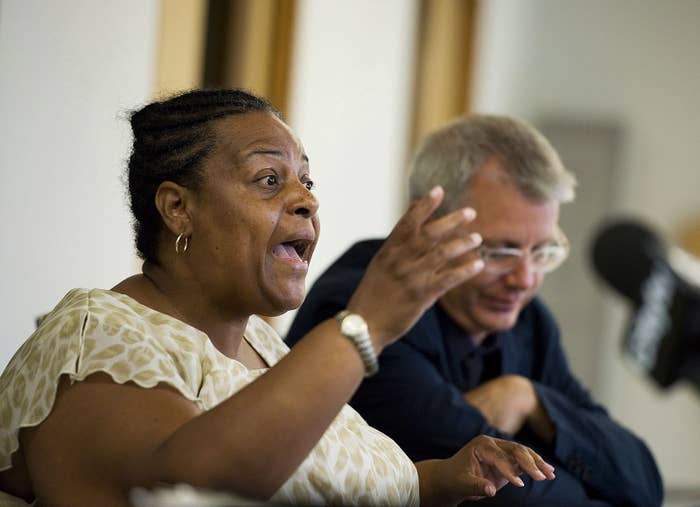 Lawyers at the African Canadian Legal Clinic are hired to argue, in the country's highest courts, for equality on behalf of all black Canadians.
So there's a troubling irony to the fact that the clinic's lawyers, themselves generally black, have been operating under a unique salary freeze for the last seven years and counting.
The story of how things reached this point is complicated. Legal Aid Ontario, the provincial organization that funds the clinic, says it acted by the book when it suspended salary increases there in 2010 as a response to management problems.
Many black Ontarians are also frustrated to see those problems at an organization that often speaks for them. But slowly starving it of cash compared to other clinics creates a painful lose-lose situation, they say, leaving some of the clinic's black professionals underpaid--already a problem in the private sector--while also leaving black leaders unwilling to step in on the clinic's behalf.
"This kind of thing is alarming. It's alarming to hear that this community is underserved," said one person who has worked at the African Canadian Legal Clinic, or the ACLC, and who did not want to be named out of concern about career repercussions.

"It's [also] alarming that the clinic has not positioned itself in the community to be defended. There should be people who are zealous advocates."
The African Canadian clinic is unusual in a few ways. One of just five such legal organizations in Ontario serving ethnic or racial groups, it was founded after a 1992 Toronto riot in the wake of Los Angeles' Rodney King race riots.
It doesn't serve individual clients but takes on big, precedent-setting cases. In recent years, for example, it has tackled police carding and fought to see the deaths of migrant workers on job sites investigated the same way as Canadian workers' deaths.
For media, the clinic is often the go-to source for comment on black Canadians' experience and for reaction to major stories. In the past five years, news outlets have quoted or published editorials by ACLC staff 216 times, according to a news database search.
But things have been rocky between the ACLC and Legal Aid Ontario, its main funder, for a long time.
The earlier battles were dramatic and public, covered in a 2003 series by the Toronto Star. Legal Aid accused the clinic of financial mismanagement, and longtime ACLC director Margaret Parsons accused Legal Aid, or LAO, of racism.
The current conflict, on the other hand, has happened slowly and quietly, though with serious consequences.
In 2010, Legal Aid froze ACLC salaries after concerns about the clinic's management. Over time, the concerns became so grave that the clinic was found to be in "fundamental breach of its obligations," said LAO spokesman Graeme Burk.
Burk wouldn't describe the problems in detail, but according to LAO policy, a fundamental breach can include serious financial mismanagement, professional misconduct, reduction in clinic services, personnel problems, and board governance problems.
The clinic was placed in a "dispute resolution process," where it remains.
Though the clinic's managers were responsible for its problems, entering dispute resolution means that all staff stop getting pay bumps that other clinics get, said Burk.
Some annual salary-related increases are still available for the ACLC, he said —specifically, 1% per year. But since 2010, similar LAO clinics have gotten significant funding hikes, including an extra $86,000 two years ago. The ACLC was uniquely left out.
"LAO has a duty to ensure that public funds are properly used," Burk said. "Where a clinic has been found in 'fundamental breach,' it is appropriate to place conditions on the clinic's funding."
ACLC director Margaret Parsons did not respond to several requests for an interview. However, in one brief conversation about the salary freeze, she said that "it's not a legitimate way to handle things."
Ontario has 76 Legal Aid clinics. Despite the prominence of the ACLC, people close to the clinic say its staff's pay has often dipped below the average.
Young ACLC lawyers in their first few years after passing the bar have often made around $60,000, said one person familiar with the clinic, who didn't want to be identified because the person didn't have permission to speak on behalf of the clinic.
On average, according to LAO documents, young lawyers in their first five years after passing the bar make about $71,500 a year working at public legal clinics. Burk confirmed that ACLC lawyers in their first five years don't make the average salary.

Burk said that ACLC lawyers, as whole, currently make above the norm. The clinic's average pay went up significantly in the last year with the hiring of a new legal services director who makes more than most junior legal staff.
However, unlike most other clinics, the ACLC's staff skews unusually young, and it tends to have high turnover even among its junior lawyers.
For the most part, that's not because of the low pay, and certainly not the "really meaningful" work, but because of a difficult work environment at the ACLC, said the former staff member who spoke to BuzzFeed News.
But the clinic appears to be feeling the effects of the financial squeeze deeply in other ways. One current board member has tried to bring the pay gap to the attention of the province's leaders, saying it is making it harder for the ACLC to function.
In emails leaked to BuzzFeed News, board chair Rawle Elliott accused Legal Aid of forcing the clinic, and the black Canadians it represents, to "acquiesce to a yoke of anarchy…perhaps with the intent to promote biased impressions of ACLC's incompetence in the broader Ontario community."
Elliott sent the 2015 emails to Ontario's Auditor General, its Integrity Commissioner, and leaders of all three provincial parties. Elliott declined to speak to BuzzFeed News.
As an arms-length provincial organization, the LAO has great power to make its own funding decisions. Officially, the clinics are also independent organizations responsible for their own success, even if taxpayer dollars can make or break them.
There appears to have been little outside response to the ACLC's complaints. In response to Elliott's emails in 2015, a member of the Auditor General's office responded that "as yours is a non-profit organization…I would encourage you and your organization to work directly with the LAO to further discuss and resolve your funding dispute."
It's unclear why it has taken nearly eight years to resolve the dispute. The source familiar with the ACLC said clinic managers are continually confused about the LAO's requirements, and that they've "tried to comply," but then "something else comes up."
Another Toronto clinic that was placed in dispute resolution in recent years says the LAO handled the process well.
West Toronto Community Legal Services, a clinic at Bloor St. and Dundas St., had its salaries frozen for about four years, according to the LAO. At one point LAO threatened to defund the clinic entirely, says current director Elisabeth Brückmann.
But once new people took over the clinic, the dispute was resolved quickly, she said.
"We had to demonstrate that we could meet certain conditions, (which) to be completely honest were really reasonable," she said. "There were very, very grave problems at this clinic…I'm just surprised it didn't happen sooner."
The wage freeze was "unquestionably demoralizing," she said. On the other hand, the idea of getting a raise was an incentive to end the dispute.
"The people working here wanted the clinic to function well," she said. "Honestly, nobody is in this work to make a fortune. We get paid very badly. So yeah, it's frustrating to have personnel funding frozen...but that, at least for us, was a relatively small piece."
Being denied raises takes on different meaning, however, for a community already struggling with low compensation across the public and private sectors. A 2010 report for the Law Society of Ontario, looking at median earnings, found that white lawyers in their twenties in the province earned $4,000 more than non-white lawyers the same age. By their early 40s, that gap grew to $40,000 a year.
---
Clarification: An earlier version of this story said that lawyers at the ACLC make less than the LAO's average salary. In fact, the current average legal salary at the ACLC is now above the norm, with the recent addition of a more senior staff member, according to the LAO. The earlier version said that salaries at the clinic don't go above $70,000, but that is not currently accurate.