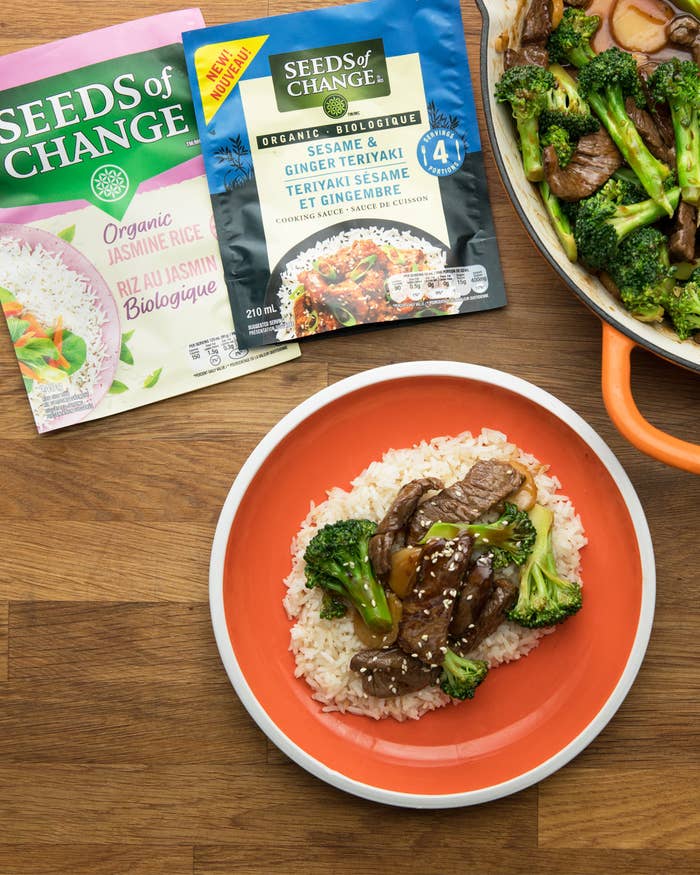 SERVINGS: 6-8
INGREDIENTS
1 lb beef sirloin
1 large (about 1 lb) broccoli crown
¼ cup sliced water chestnuts
1 clove garlic, thinly sliced
1 packet of Seeds of Change Sesame and Ginger Teriyaki Sauce
2 packets of Seeds of Change Jasmine Rice
½ tablespoon vegetable oil
½ teaspoon toasted sesame seeds
PREPARATION:
1. In a wok or skillet heat oil or medium high heat, sauté beef until browned on both sides, making sure to stir it constantly.
2. Add garlic and cook for 1 minute. Add sauce packet and broccoli and cover. Steam for 4-5 minutes over medium heat until broccoli is tender-crisp but not overcooked.
3. Heat rice in a skillet over medium heat, top with beef and broccoli.
4. Garnish with sesame seeds.
5. Serve immediately 6. Enjoy!