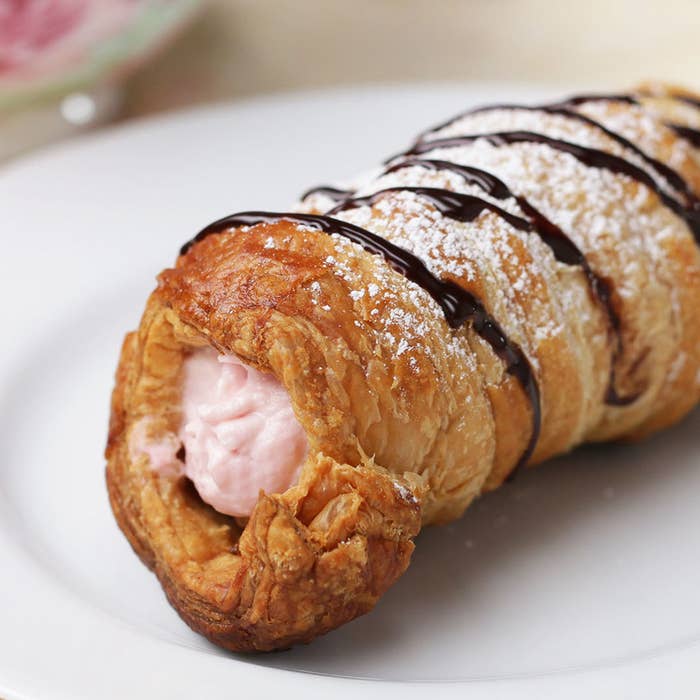 Ingredients
for 8 servings
2 cups (300 g) strawberry, stemmed, quartered
16 oz (455 g) cream cheese
½ cup (70 g) powdered sugar
¼ cup (60 mL) milk
1 large egg
1 tablespoon water
11 oz (310 g) puff pastry, 1 packages, thawed
2 tablespoons powdered sugar, for dusting
chocolate syrup, for serving
Preparation
1. In a food processor or blender, puree the strawberries until smooth.
2. Pour the strawberry puree through a sieve into a medium bowl to remove any seeds and clumps. Chill for 15 minutes, until the puree is cold.
3. In a separate large bowl, beat the cream cheese and ½ cup (80 g) of powdered sugar together with an electric hand mixer. Mix in the milk and strawberry puree. Set aside.
4. In a small bowl, whisk the beaten egg and water together. Set aside.
5. Preheat the oven to 400˚F (200˚C).
6. Roll a foot-long (30 cm) piece of aluminum foil into a tube. Repeat with 3 more pieces of foil to make 4 tubes total.
7. On a cutting board, roll the puff pastry out to 13 inches (33 cm) by 13 inches (33 cm). Slice the puff pastry lengthwise into 1½ inch-wide (4 cm) strips.
8. Wrap 2 of the strips around a foil tube, brushing the edges with egg wash and gently pressing together to adhere. Repeat with the remaining pastry strips and foil tubes.
9. Balance the ends of the foil tubes over the edges of a roasting pan or baking sheet so the pastry isn't touching the surface of the pan. Brush egg wash all over the pastry spirals.
10. Bake for 25 minutes, until golden brown.
11. Let the pastry tubes rest at room temperature for 5 minutes. Gently remove the foil tubes. Transfer the pastry tubes to a baking sheet lined with parchment paper and bake for 5 more minutes. Let cool to room temperature.
12. Fill a piping bag or zip-top bag fitted with a round tip with the cream cheese mixture. Pipe the cream cheese filling into the pastry tubes.
13. Dust with powdered sugar and drizzle with chocolate syrup.
14. Enjoy!