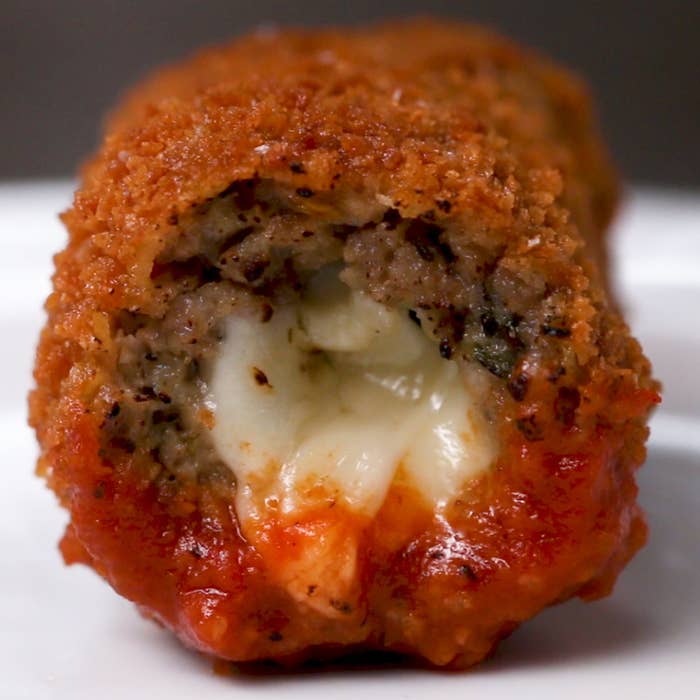 Ingredients:
for 12 servings
1 lb (455 g) ground beef
1 lb (455 g) ground pork
½ onion, minced
4 cloves garlic, minced
2 eggs
1 cup (115 g) bread crumbs
salt, to taste
pepper, to taste
1 tablespoon dried basil
1 tablespoon dried oregano
1 tablespoon dried parsley
12 sticks string cheese
2 cups (250 g) all-purpose flour
4 eggs, beaten
3 cups (345 g) bread crumbs
marinara sauce, to serve
Preparation:
1. In a large bowl, add the beef, pork, onion, garlic, bread crumbs, beaten eggs, salt, pepper, dried basil, dried oregano, and dried parsley, red pepper flakes. Mix together to combine.
2. Pick up 2 ounces (55 g) of meat, press into a flat patty on the palm of your hand.
3. Place a mozzarella stick into the center of the patty and wrap the meatball mixture around it to seal it inside. Repeat with the rest of the mixture.
4. Take the meatball-wrapped stick of cheese and dredge it in the flour, coat it in beaten egg, and then roll it in bread crumbs. Repeat with the rest.
5. Place a batch of the sticks into oil at 325°F (180°C), and cook until the outside is golden brown and the beef is cooked through, 5 minutes. Then remove the mozzarella sticks from the fryer and drain on a wire rack. Season with salt.
6. Serve the meatball mozzarella sticks with marinara sauce.
7. Enjoy!