Shrimp Scampi Stuffed Shells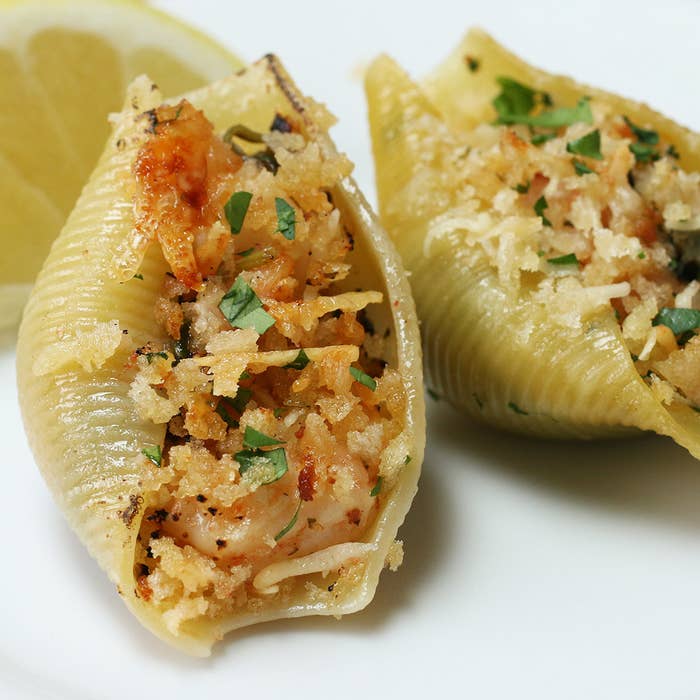 INGREDIENTS
Servings: 4
½ box jumbo pasta shells
1 box SeaPak Shrimp Scampi
2 cups baby spinach
2 ripe roma tomatoes, seeded and diced
1 lemon, divided
Salt and pepper to taste
Non-stick cooking spray
½ cup panko breadcrumbs
½ cup grated parmesan cheese
2-3 tablespoons chopped parsley
PREPARATION
1. Cook the pasta shells in boiling water according to package directions. Drain and set aside. 

2. Preheat the oven to 400℉/200℃.

3. Keep the shrimp frozen until ready to prepare. Preheat a large skillet on high heat for one minute. Arrange the frozen shrimp in a single layer in the hot pan.
4. Sauté shrimp according to package directions. When shrimp are fully cooked, remove pan from heat.

5. Reserve the butter sauce and wipe the pan clean. 

6. Heat the same pan over medium heat and add a splash of reserved butter sauce. Add the baby spinach and cook until wilted. 

7. Toss the prepared shrimp with the spinach, diced tomatoes and the juice of ½ a lemon. Season with salt and pepper. 

8. Stuff the cooked pasta shells with the shrimp scampi filling.

9. In a small bowl, toss together the panko breadcrumbs, parmesan cheese, and 2 tablespoons of the reserved butter sauce. Sprinkle over the top of the shells.
10. Place the filled shells in a 9-inch x 13-inch bake dish sprayed lightly with nonstick cooking spray. Pour the remaining butter sauce over the shells. Squeeze the juice of the other ½ lemon over the shells.

11. Bake until topping browns, 5-10 minutes. Garnish with fresh parsley. 

12. Enjoy!