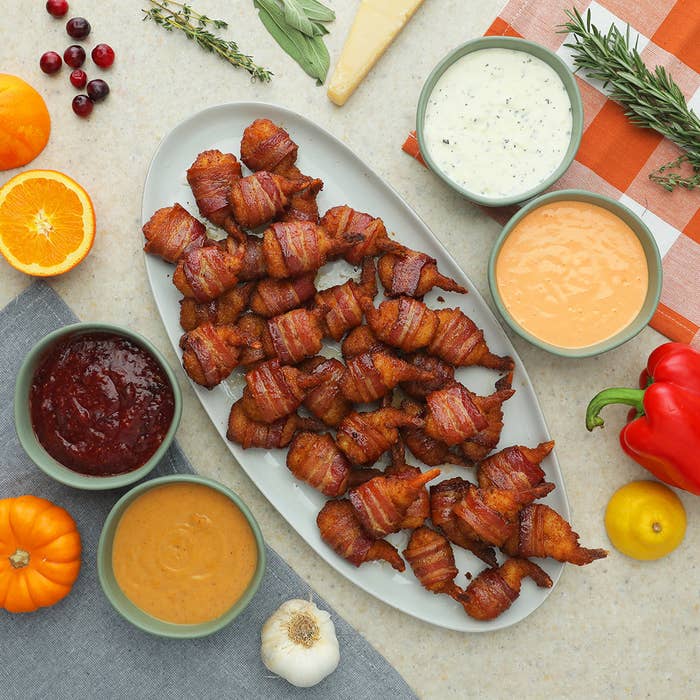 Ingredients
1 cup water
1½ cups brown sugar, loosely packed
¼ teaspoon salt
¼ teaspoon cinnamon
¼ teaspoon ground nutmeg
¼ teaspoon cayenne
1 box Seapak Butterfly Shrimp
9 bacon strips
Preparation
Bacon Wrapped Butterfly Shrimp

In a small pot, combine brown sugar, water, cayenne, nutmeg, cinnamon, and salt, then cook over medium heat.

Stir until the sugar melts, then allow the mixture to come to a simmer. Simmer until liquid is thick and syrupy.

Preheat the oven to 425ºF/220ºC.

Slice bacon strips in half. On a parchment-lined baking sheet, wrap shrimp with bacon, tucking the ends underneath. Bake according to package directions (11–12 minutes).

Remove shrimp from oven and brush with glaze on both sides.
Creamy Red Pepper Dip
¼ cup roasted red peppers
1 cup mayonnaise
Preparation: Blend ingredients in a blender. Serve.
Orange Cranberry Cocktail Sauce
¼ cup ketchup
1 tablespoon prepared horseradish
¾ cup whole cranberry sauce
1 teaspoon orange grated orange rind
Juice from ½ orange
Preparation: Combine all ingredients. Serve.
Garlic Herb Cheese Sauce
4 ounces cream cheese
1 cup heavy cream
¼ cup grated Parmesan
1 clove garlic, minced
2 tablespoons fresh or dried minced herbs (sage, rosemary, thyme, chives)
Preparation:
Heat cream cheese and heavy cream over medium-high heat, whisking until combined.
Add Parmesan and continue whisking until smooth, add herbs and garlic, and simmer for 5 minutes. Serve.
Spiced Pumpkin Alfredo
1 cup alfredo sauce
¼ cup canned pumpkin
¼ teaspoon pumpkin pie spice
¼ teaspoon cayenne
Preparation: Combine all ingredients over med-high heat until combined. Heat through and serve.