There has been outrage online this week after the Graduate Fog website reported the BBC was recruiting "youngsters to compete for cash in a Hunger Games-style reality show".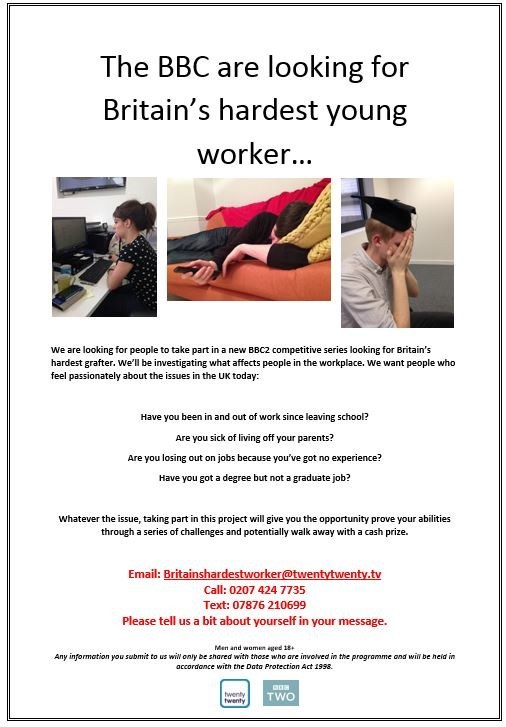 However, the show doesn't seem to be as similar to Hunger Games as it first appeared. The production company behind the show, Twenty Twenty, told BuzzFeed News: "Britain's Hardest Grafter is a current affairs commission and not an entertainment format, and is at the very earliest stages of production. The welfare of those taking part is of paramount importance and it is a misinterpretation of the concept of the series to suggest it is exploitative."
A source close to the production team claimed Graduate Fog misinterpreted the advert, saying the show is a straight current affairs programme for BBC Two and the competition element is intended merely to highlight the jobs people do. The source added that the show will also address issues and challenge myths surrounding low paid sector and the unemployed, and that when it airs, viewers will be satisfied the subject matter was dealt sensitively. Another source close to the show believes that the production company's contestant search was just clumsily written.
However, that was not enough to satisfy Graduate Fog's founder, Tanya de Grunwald.
She told BuzzFeed News: "It's good to hear Britain's Hardest Grafter may not be quite as awful as it sounds – however, we only have the makers' word for that, and I have lost confidence in their judgment."
She added that paying the minimum wage to contestants was not enough, nor was the winner's prize after it has been taxed. And she questioned why the advert seemed to describe one show while the BBC and the producers describe another.
"Clearly, saying the show felt 'distinctly Hunger Games' was not meant to suggest that anyone was fighting to the death. It was about poor people – including the young – being set challenges for the entertainment of other, more fortunate viewers. That felt gross to me – and I'm heartened that the British public had the same strong reaction."
Scott Bryan is a TV editor for BuzzFeed and is based in London. Contact this reporter at: scott.bryan@buzzfeed.com
Contact Scott Bryan at scott.bryan@buzzfeed.com.
Got a confidential tip? Submit it here.