This Is What The Queen Elizabeth Olympic Park Will Look Like When It Opens This Saturday
BuzzFeed was given access to the park three days before it opens to the public. This article also features an unexpected cameo by Tom Daley. Yes. Really.
For the last 18 months, much of the Olympic Park has looked like this: constantly under construction.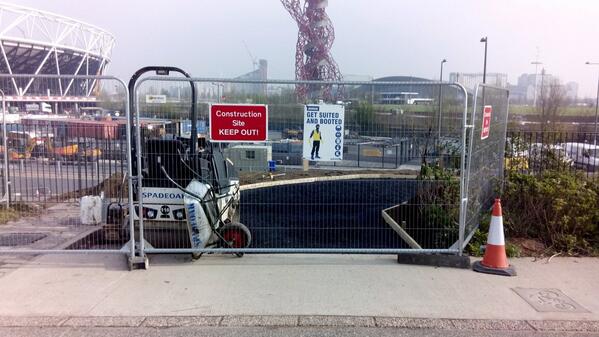 The north of the park opened last July. The swimming pool opened last month. The velodrome opened just a couple of weeks ago, but there's still 27 acres of the park not opened yet to the public.
This changes on Saturday. The park will be open at last... transformed from a nice space to pass time between sporting events events to a park that actually will be enjoyed by tourists and residents alike.
The Aquatics Centre, which is nearest to the as-yet unopened south side of the park, is impressive. THIS IS A WORLD EXCLUSIVE. HERE IS TOM DALEY DIVING INTO THE POOL. OK so it is a bit far away, I bet that if the photo was taken up close, it would have looked like this... You may remember that the Olympic Stadium used to look something like this. Now, as it is transformed into a different type of stadium, you can't help think that it looks like quite a depressing salad bowl. So I drew them all back in, just for you. It even looks more depressing when you view it from the top of the ArcelorMittal Orbit (that giant twirly upside down trumpet next door). You know? This thing. The views are usually amazing, but on the day that BuzzFeed went up there was just a bit of smog :( NOW TO THE NEW SOUTH PARK. Oh btw, the swings passed the BuzzFeed test.
There was an 100-metre promenade right next to the playpark. And what was all the way down the 100-metre promenade? DISCO BALLS. I know right? These look a bit WTF. But apparently these balls have lights in them, making funky patterns all the way down the path at night.
The path is also sprinkled with these funky chairs. And steps that look like this. And this. Remember that absolutely huge McDonald's? It is now a community cafe. There's also this huge fountain area. There's also this funky wall art thing.
AND A MASSIVE WALL THING THAT CONFUSED ME. BUT WAIT... THEY'RE MAKING THIS. This will also be enjoyable to climb up at 4 a.m. There are also bridges with mirrors on them. And little bridges throughout, like this one. Well done park, you've done good.