1.
When Loose Women had its best-ever guest.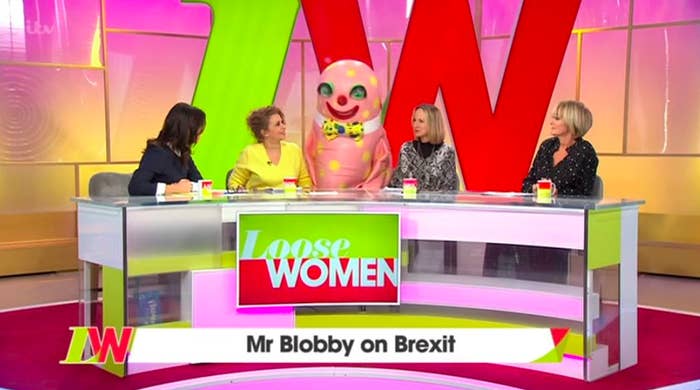 2.
When Love Island decided to tackle Brexit.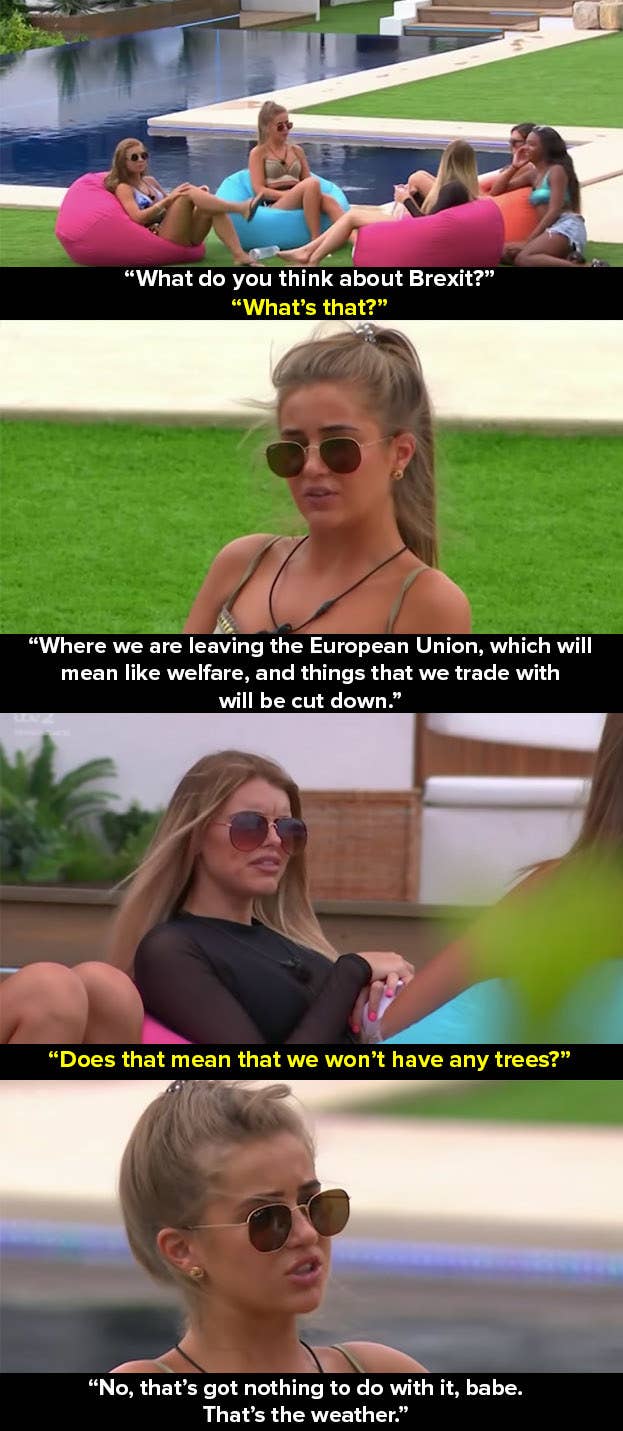 3.
And when Love Island made you realise that British TV is some of the most unique in the entire world.
If you didn't click on the video, here's what happened:
4.
When This Morning interviewed a sexy cow.
5.
When KFC ran out of chicken and that night's ITV News at Ten began with the best interview of all time.
You have to listen to the audio of it.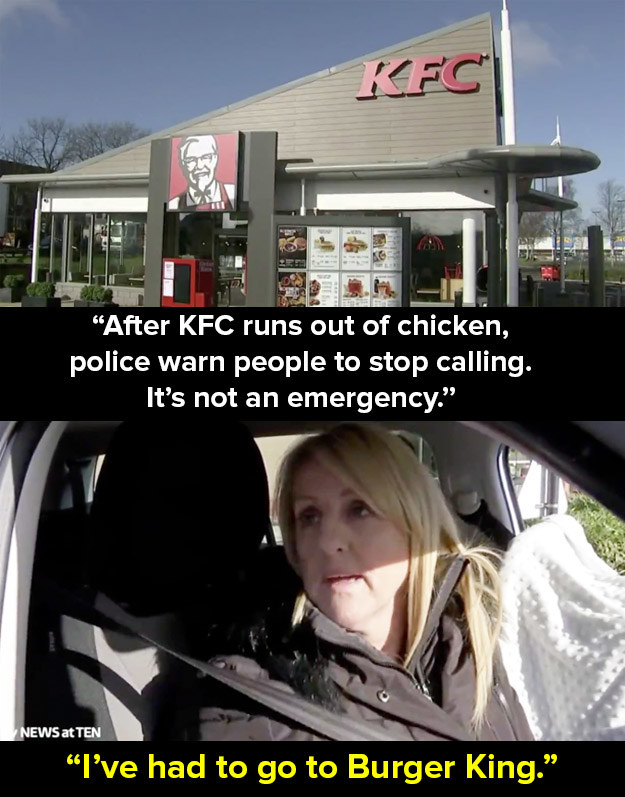 6.
When someone prank-called the talk show The Wright Stuff with a fish and chips order.
My favourite thing was Anne Diamond's reaction.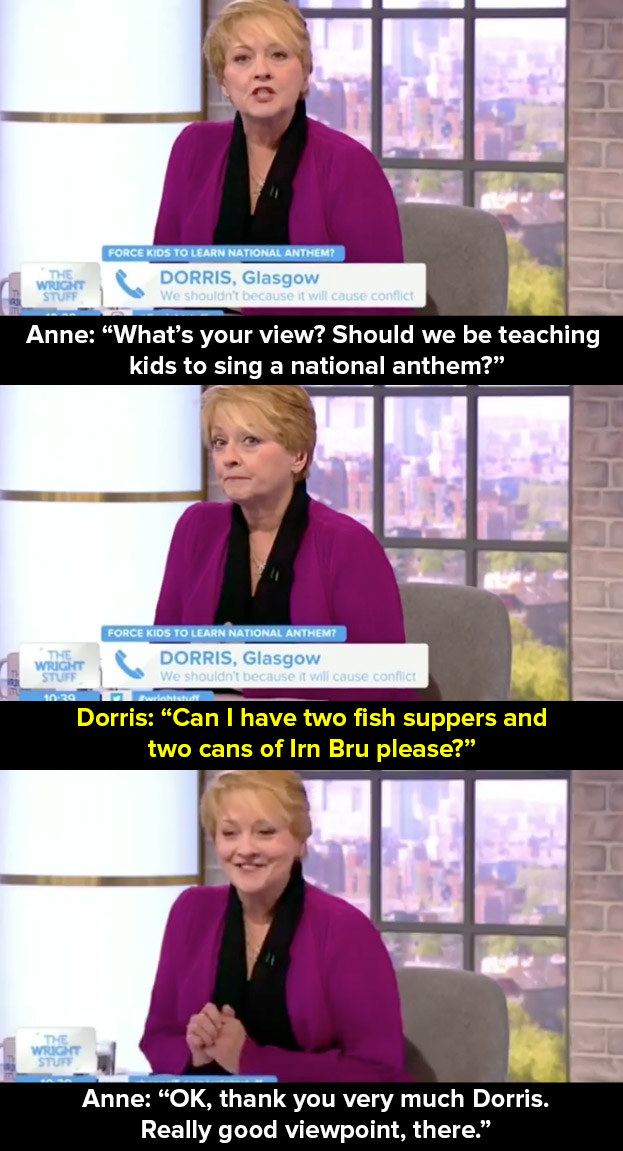 7.
When chef Ainsley Harriot surprised a This Morning competition winner called Jill with the words "WHY HELLO JILL'" when she was already overwhelmed.
"WHY HELLO JILLLLLLLLLLLLLLLLLLL."
8.
And when Alison Hammond decided to do the weather from a giant floating map to celebrate This Morning's 30th birthday...
...but then accidentally pushed someone into a dock.
9.
When Zoe Ball was announced as the new host of the BBC Radio 2 breakfast show and BBC News came up with this rather unfortunate caption.
10.
When BBC subtitles during Princess Eugenie's wedding accidentally came out with "what a beautiful breasts" instead of "what a beautiful dress."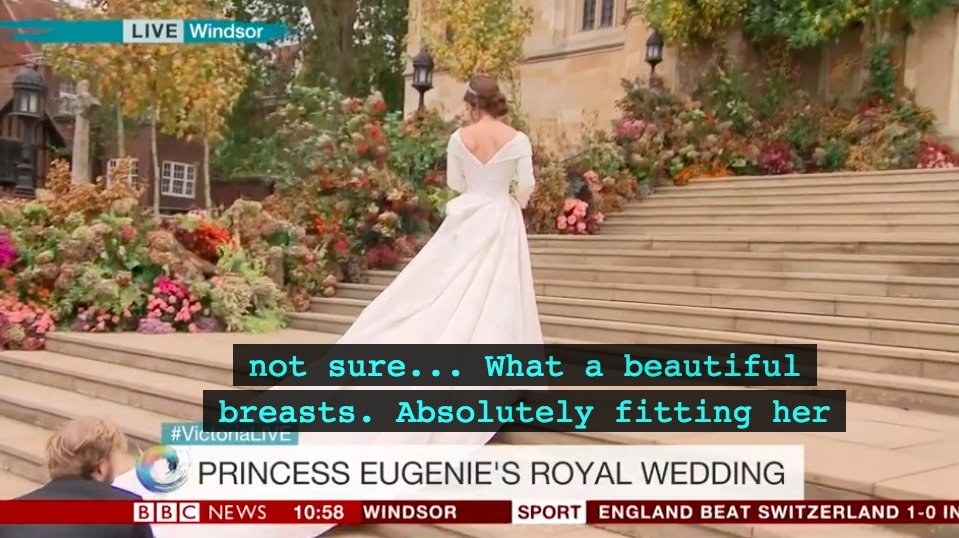 11.
When Boris Johnson resigned from the cabinet and BBC News decided to show us library footage of him holding an iguana for no reason whatsoever.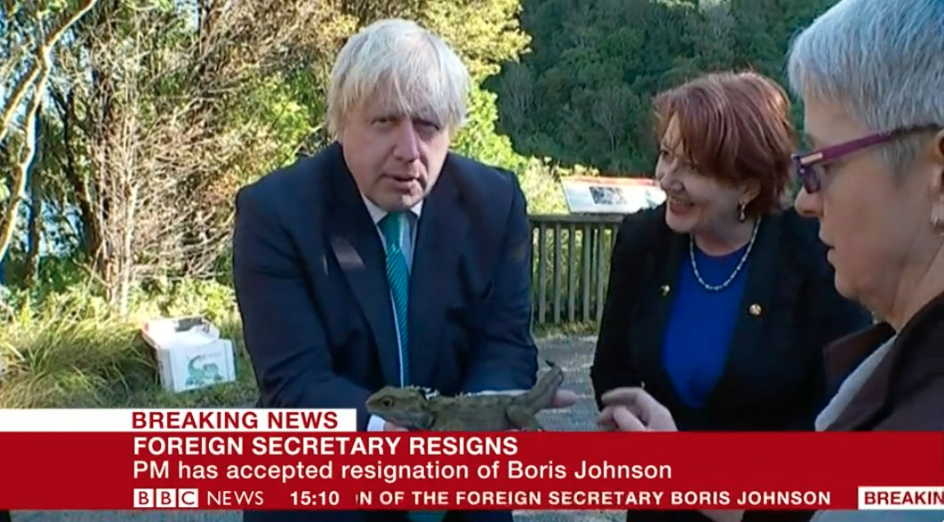 12.
When this perfect alignment took place during a Premier League football game.
13.
When this guy was really enjoying his pint in the background of this rugby game.
14.
When the Black Eyed Peas were made to cook black-eyed peas on This Morning.
15.
When BBC's Newsnight tried to ask someone from the BBC to come and talk about BBC pay but the BBC declined.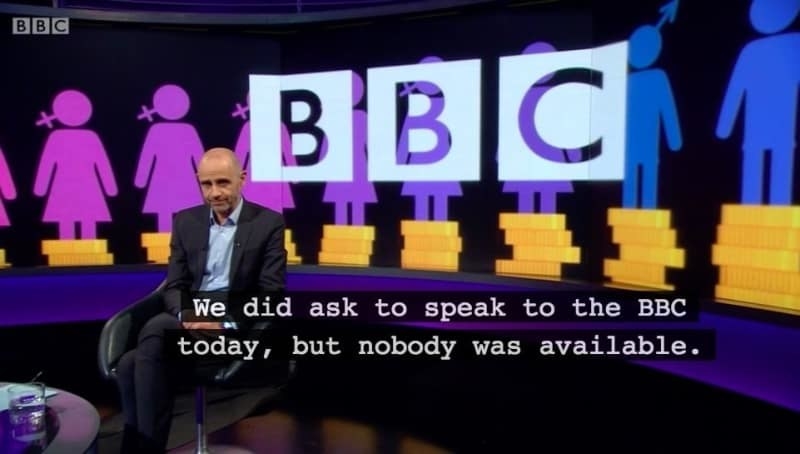 16.
When a live news report about Ant McPartlin's court appearance following a drunk driving car crash was interrupted, by another car crash.
Not awkward. Not awkward at all.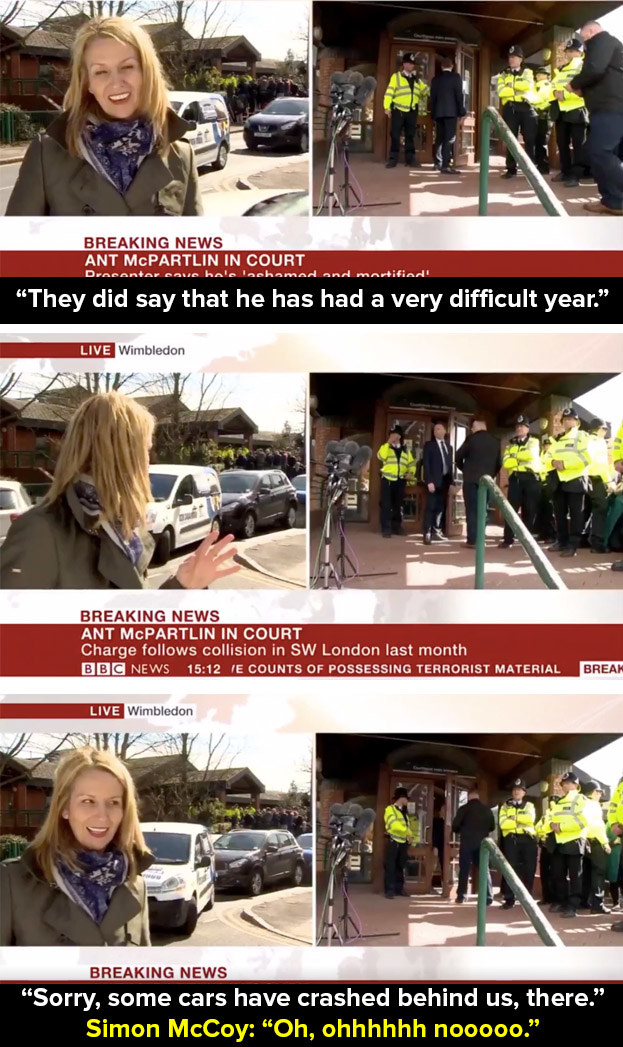 17.
When Jack Whitehall was fucking savage at the Brit Awards, especially when he interviewed Little Mix.
18.
When the BBC News kids' show Newsround announced a spinoff called Newshound, a show presented by dogs. It was an April Fool's but they should do it anyway.
19.
When a contestant on The Chase wasn't really thinking straight when they were giving their answer.
Not awkward. Not awkward at ALL.
20.
When the contestants on Countdown came up with this rather unfortunate answer.
21.
And this one.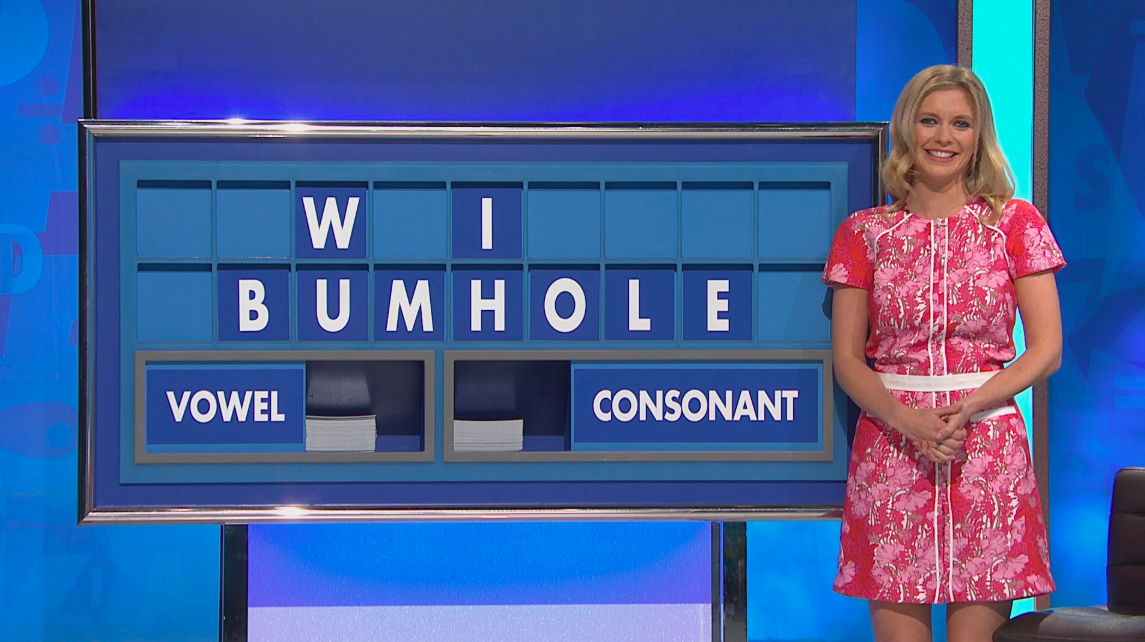 22.
When Jarvis Cocker and Bez from the Happy Mondays were contestants on the daytime show Bargain Hunt...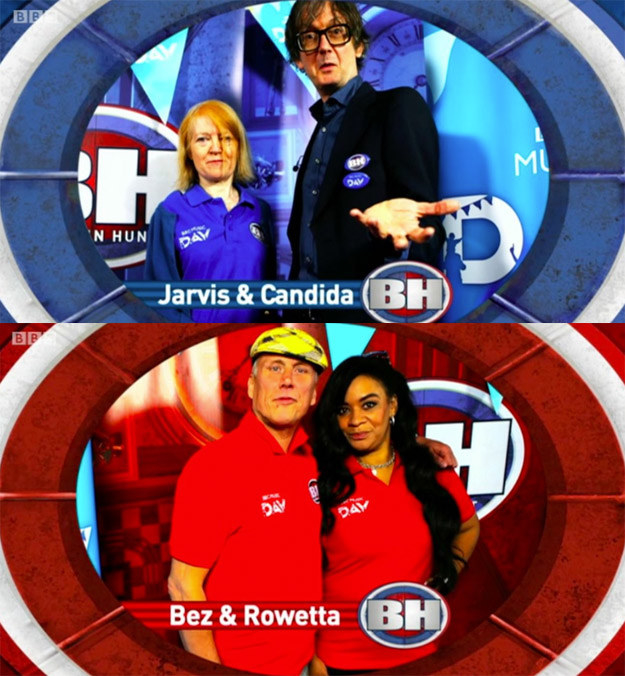 Bez's team cheated (his girlfriend bought all his items at auction) and got disqualified. The BBC then had to re-record the end of the episode to award Jarvis Cocker as the winner, but Jarvis couldn't make it, so he wasn't there.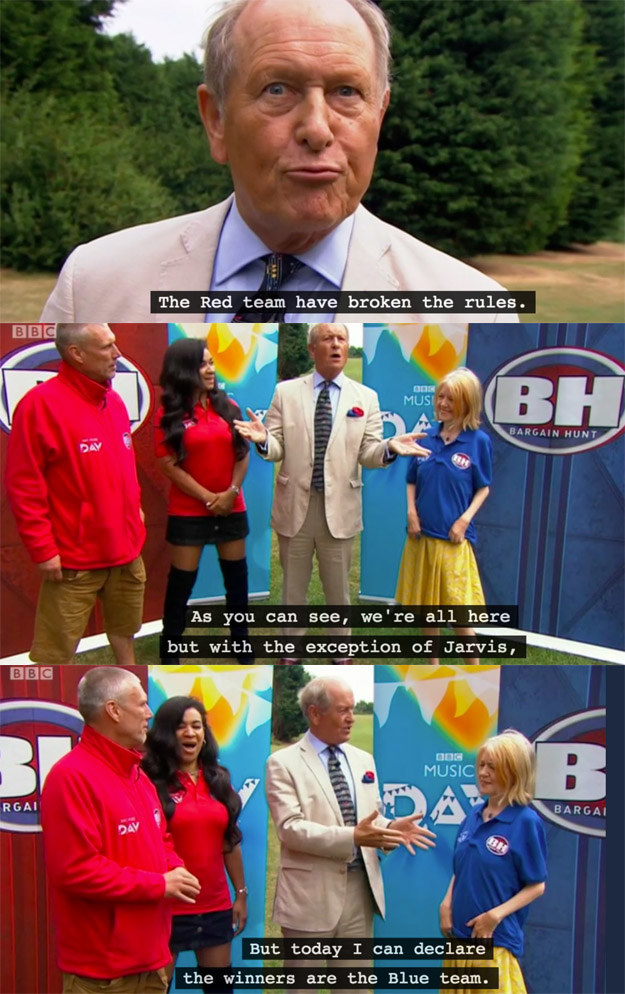 23.
When Paul Hollywood did so many handshakes during The Great British Bake Off that there were concerns that Hollywood Handshake inflation was a real threat.

24.
And when everyone was stressing out during a difficult Signature Challenge but Karen had finished early so was just sat there tucking into a packet of crisps.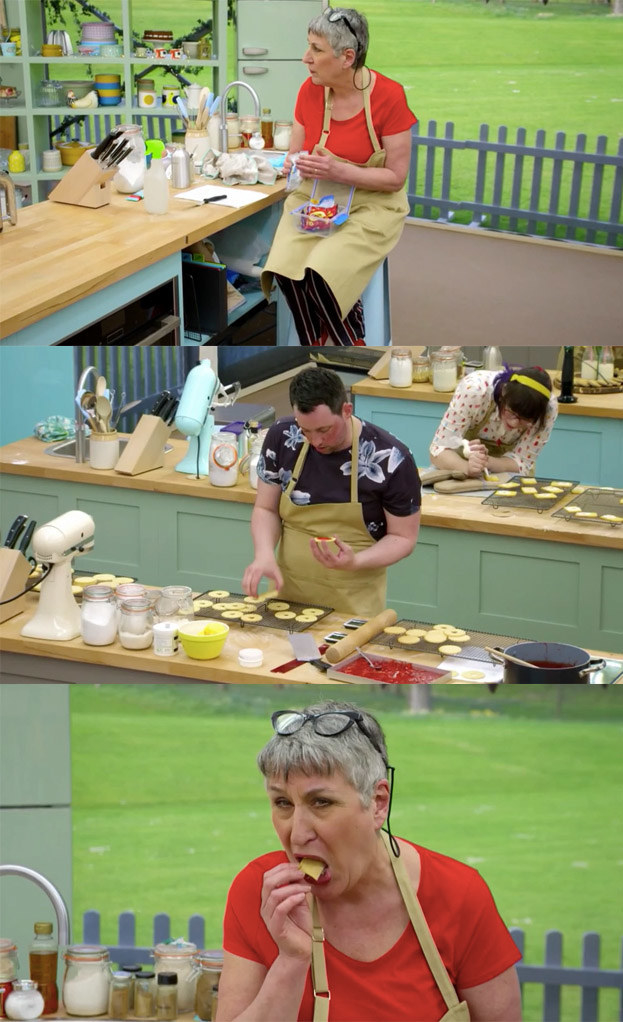 25.
And then when Karen wore this during bread week.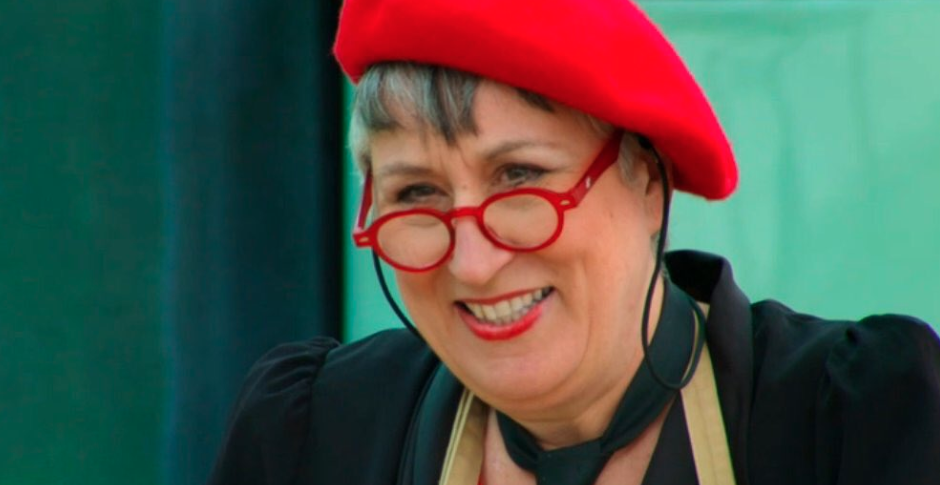 26.
When this question was posed on The One Show.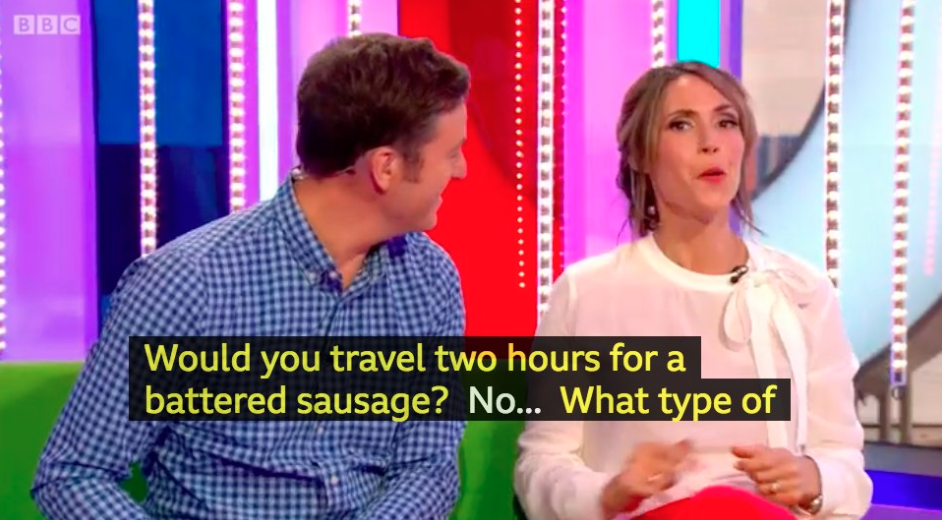 27.
When the Eurovision Song Contest once again came up with lyrics that totally, 100% made absolute sense.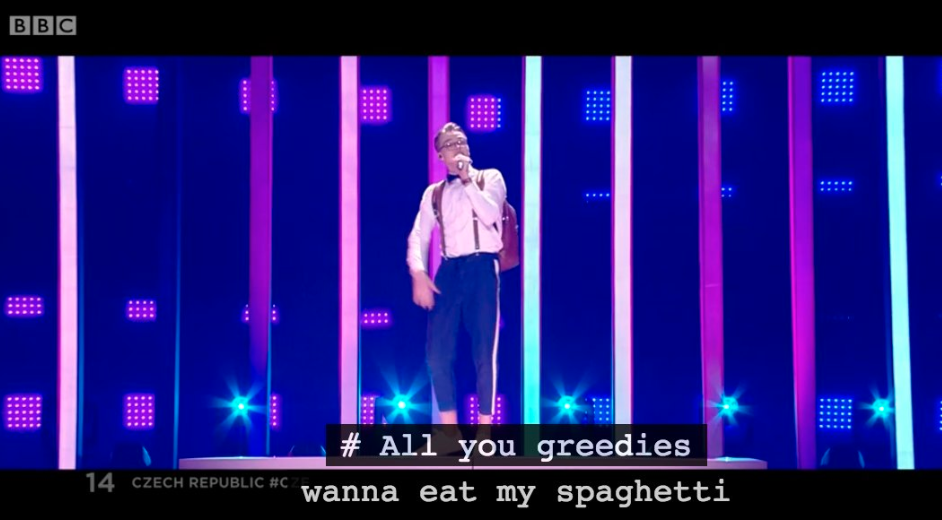 28.
Lyrics that totally made 100% sense.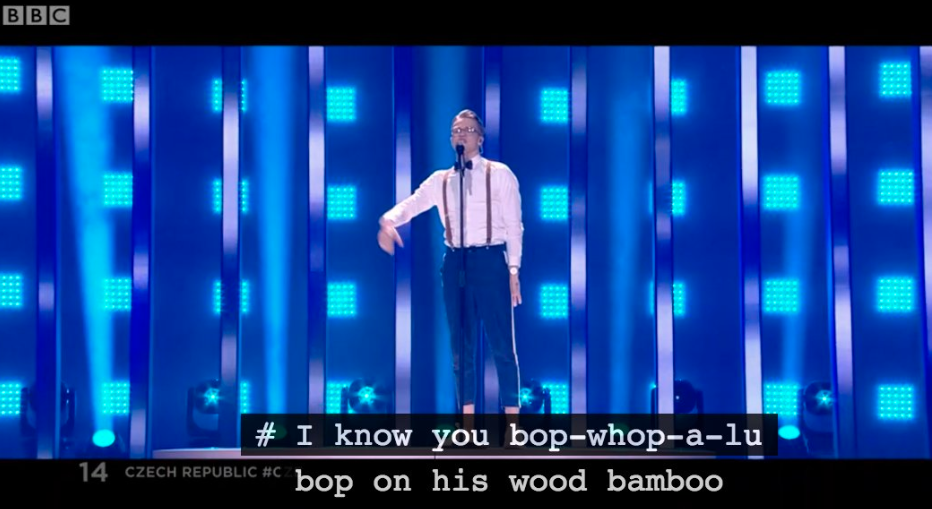 29.
But at least Graham Norton's commentary was sassy.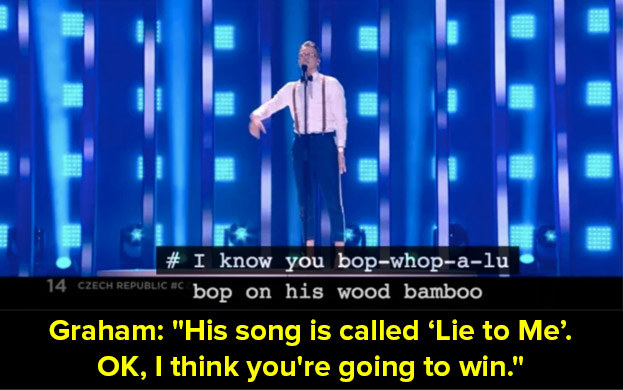 Graham was particularly good during the points bit.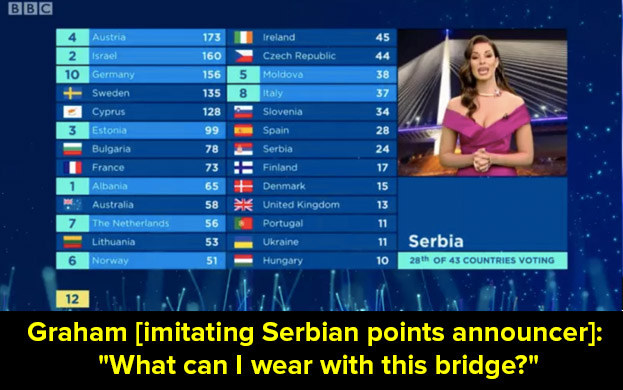 And towards the end he said this.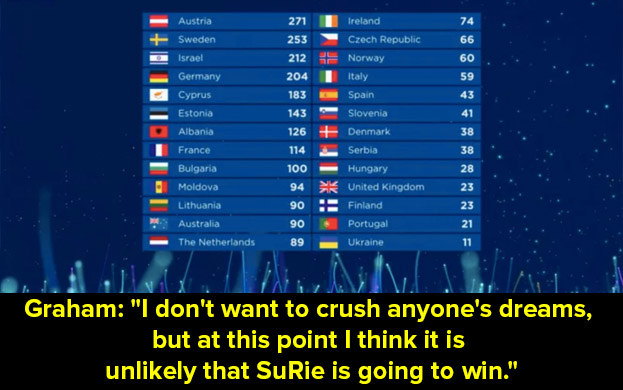 30.
When Bobby Gillespie from Primal Scream was a guest on the BBC's political show This Week and was all of us when Andrew Neil and others decided to dance.
We are all Bobby Gillespie.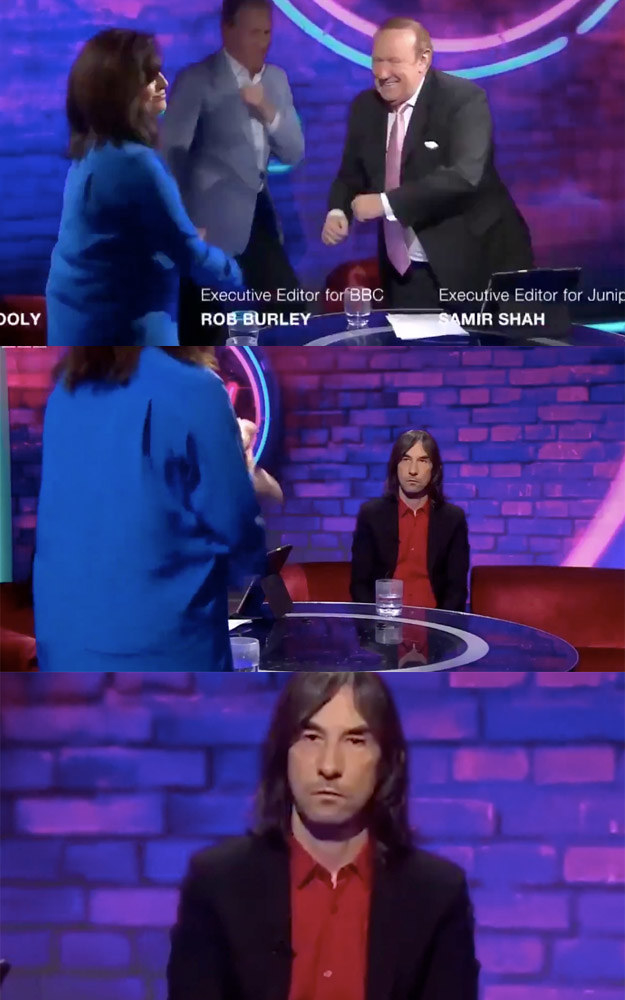 31.
When BBC News' Simon McCoy read the breaking news that Pippa Middleton, Kate's sister, had given birth in the most peak Simon McCoy way possible.
He's basically a British institution by now.
32.
When Channel 5 did a reality show where they locked Anthea Turner and Professor Green in solitary confinement for five days.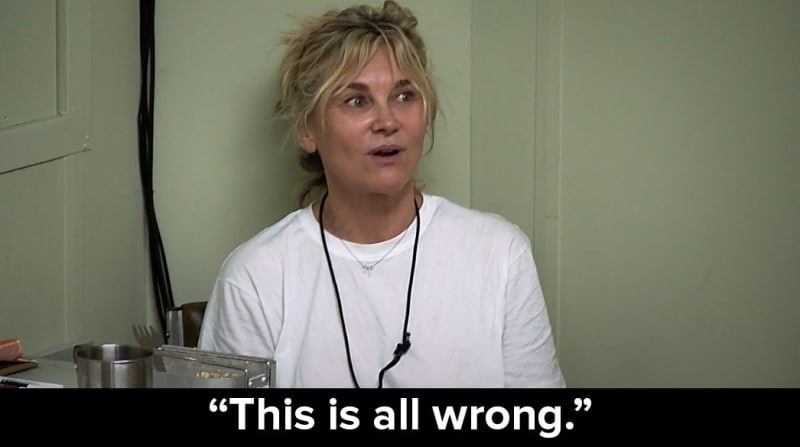 As you can imagine, not much happened in a show where celebrities were in solitary, so a lot of it consisted of Professor Green talking about his reed diffuser.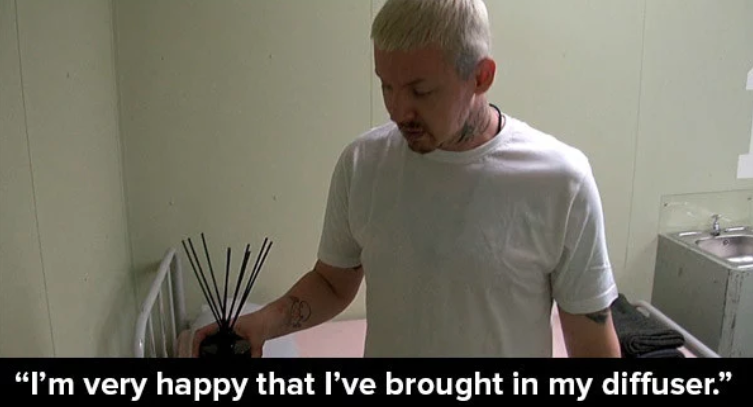 A lot.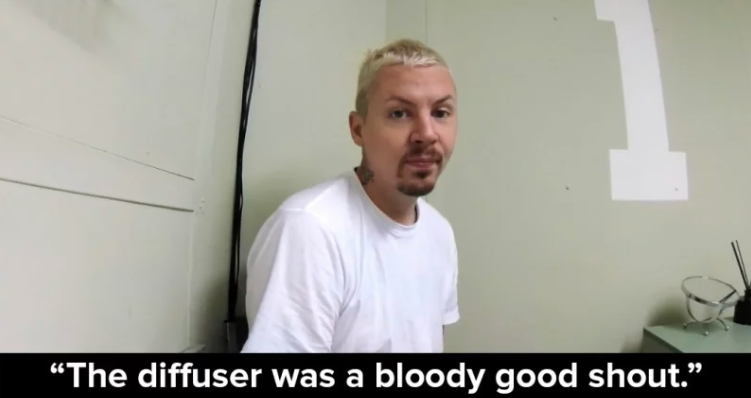 But then, in a dramatic twist, it was announced that Professor Green's reed diffuser was to be taken away.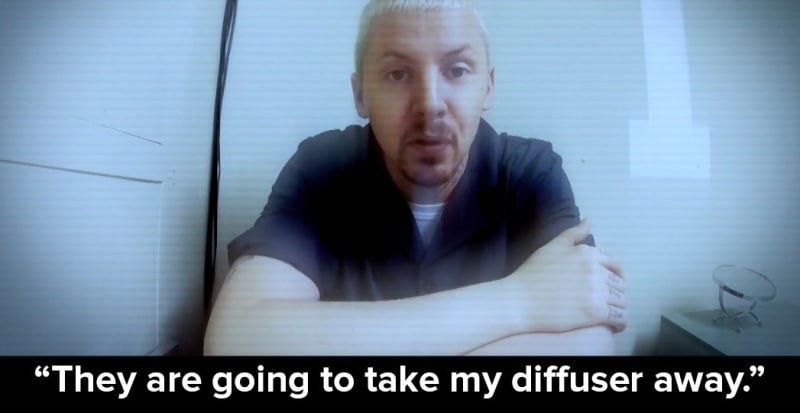 33.
When Blue Peter decided to go through the contents of an old time capsule and one of the people in the studio didn't know what a VHS tape was.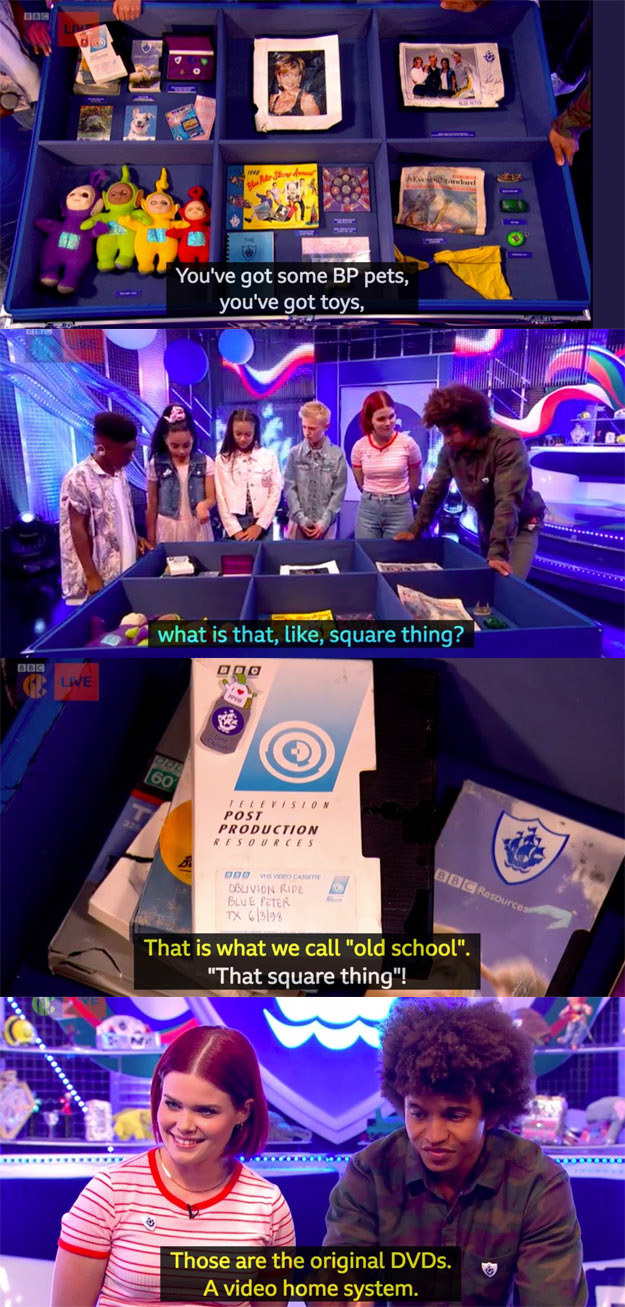 34.
When BBC Breakfast's Mike Bushell said that he was going to be "very careful" while interviewing some swimmers in a pool and then, er, wasn't.
"I'm going to be very careful."
35.
And finally, when Sky News' Adam Boulton didn't realise that his mic was on and told the entire nation that he had already bought porridge.
Still, compared to American television in 2018, it really wasn't that much of an eventful year.