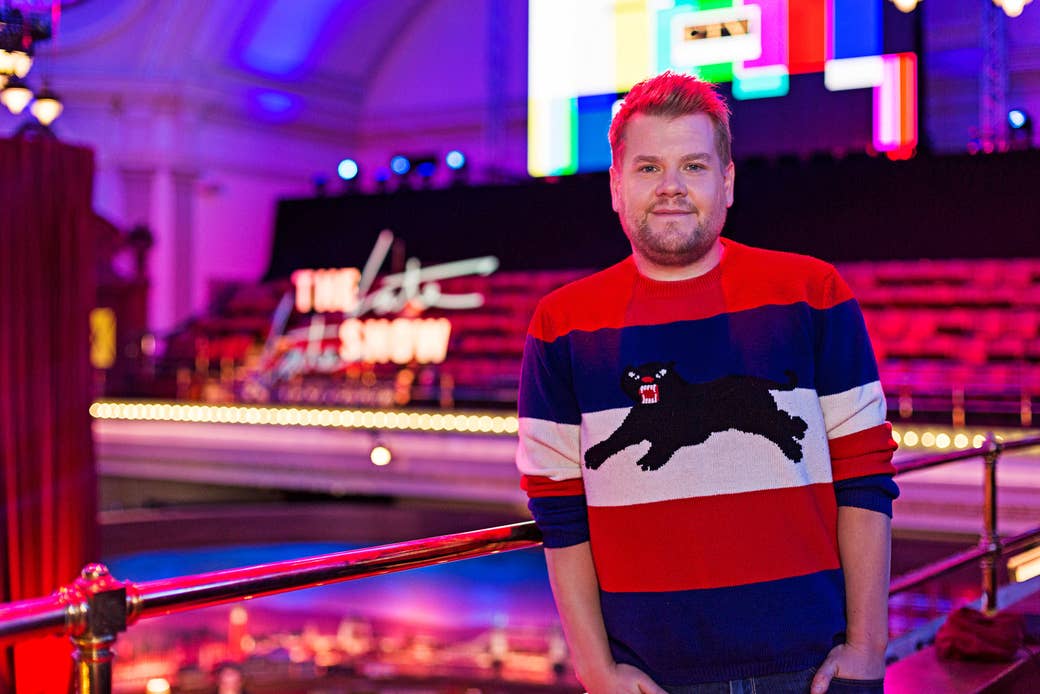 On Saturday night, a terrorist attack took place on the streets of London. This coming Tuesday, James Corden will present the first of three episodes of The Late Late Show to be broadcast from the British capital. How can it be possible to get the tone right, and yet still be entertaining?
"Well I mean, we're still trying to figure that out, is the truth, because Saturday night was such a tragic and hugely upsetting thing," Corden told BuzzFeed News at Central Hall in Westminster, which has been transformed into a temporary studio. "We consider our job to always try and reflect what is happening in the world. So I mean, so we had an opening that we were going to do for the show. I think we sort of shot maybe, like, 70% of that opening, but I think we all agree that we're not going to do that now, so we sort of scrapped that. It just tonally felt wrong."
However, he feels that this, in some respects, is the right week for the show to come to London from its usual home in Los Angeles. "In many respects... actually maybe this is the perfect time to bring a show from America, which plays in 150-odd countries, where we can show the incredible breadth of joy and positivity and diversity in this incredible city."
He's been in London for the last week, while his family has stayed in LA. "I've loved it. I've loved every single second of it," he says. "I've felt like a tourist drinking it all in. It's such a wonderful place to be and we're going to try to celebrate that as much as we can, and provide people with a bit of light and levity throughout everything that has been going on in the news, politically, here right now."
It has been just over two weeks since Corden gave an emotional speech in light of the attack at the Manchester Arena at an Ariana Grande concert. That night's episode had already been recorded when the news reached the studio in LA, so he put a speech together without a studio audience, and his reaction – with a tribute to Manchester and its people – was added at the very start of the show. It's not the first time he's had to do this sort of speech. There have been speeches on the death of George Michael and the attack on Westminster Bridge, a grim but essential task that any late-night TV host will encounter at some point during their career.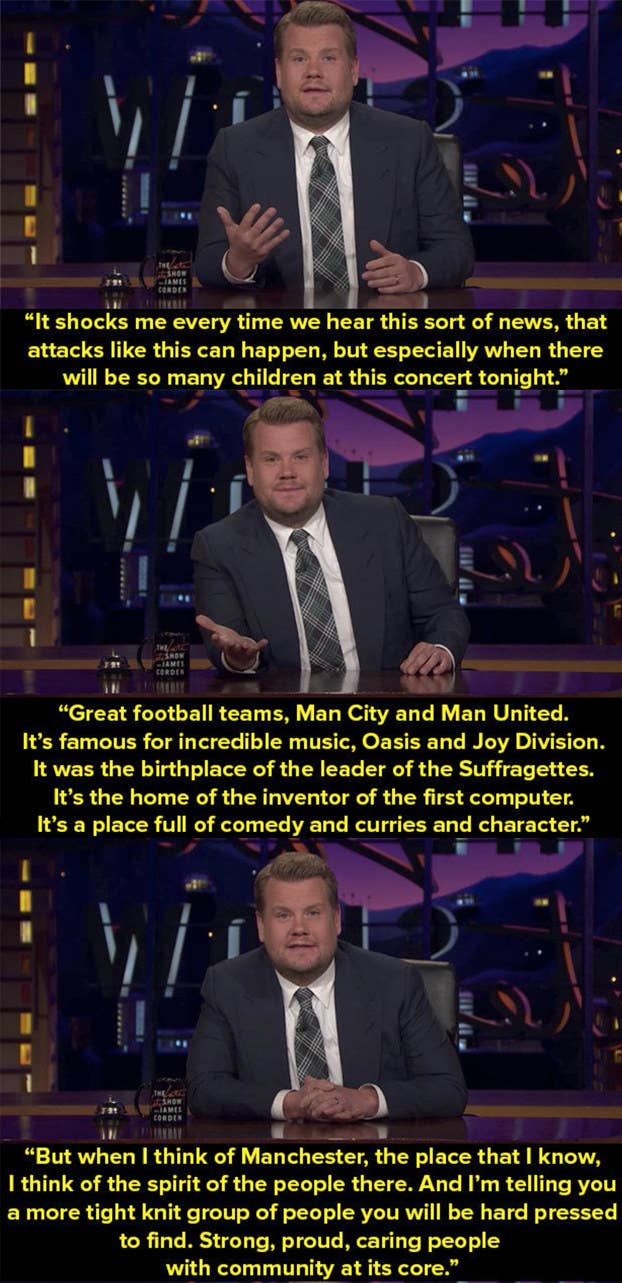 Asked what they are like to record, Corden responds: "They're horrible to do. They're horrible.
"Myself, Ben Winston and Rob Crabbe, who are our two executive producers of the show, will go into a room and go..." he sighs, saddened.

"You've got this weight in your heart, really. And the hardest thing is that you don't ever want to feel like you're just saying the same thing. You don't ever want to feel like it never feels genuine, or in some way it would feel that it isn't truthful or personal to you. And that's what we try and do, you know. It's not a nice part of your day."
When I last spoke to Corden, in Los Angeles several weeks before the first Late Late Show debuted, we didn't talk about whether the show would ever cross the pond to the UK. He said that making the programme work was a "mountain to climb". He warned that it was going to rate badly, at least in the first few months. He said that the reason they decided to put the show in LA in the first place was that they felt they couldn't compete in the same environment as Jimmy Fallon's The Tonight Show or Trevor Noah's The Daily Show, both based in New York. These days, not only does The Late Late Show compete with Fallon et al, it's arguably outperforming them, with many of its segments or stunts being talked about the next day, especially Carpool Karaoke.
I mean, you can't talk about Late Late without mentioning Carpool Karaoke. It's a sensation. Adele's video with Corden has 159 million views on YouTube. This week the segment features one of the biggest music artists in the world, Ed Sheeran. Corden says: "He gets his guitar out, and kind of goes rogue, and does songs that I didn't even know we were going to do in the car, and we had to cut quite a lot where it was getting to a point where it may have been, like, 20 minutes long – but my god, it was amazing."
For Corden, who has more than 3o Carpools under his belt (and more than 100 songs in total), surely it's impossible to memorise all of the tracks; the host agrees, saying that although there are some you just know, others require a bit of practice. "My journeys into work and home will always just be a playlist of whose coming next."

The show's success on US television doesn't make moving it to Britain any easier. Corden says: "There is a real chance that at the end of this week we look back and go, 'Well, that was a really stupid thing to do. That was a mistake, because this was too much to build, this is too much to do, we don't know what it sounds like in here, we don't know what it feels like in here.' We don't know how an audience will respond to it.
"But we always want to be working on a show that is at the peak of our capabilities."
It's also helped spawn an idea in British television to replicate the Late Late Show-type format and feel in other programmes, most notably ITV's The Nightly Show in the UK. Nightly received terrible reviews for its 12-week trial run of guest hosts. ITV's News at Ten had controversially moved because of it, and ratings, which are made public, showed that it did not perform well. When asked about it, Corden reveals that before The Nightly Show was even first broadcast in the UK, the production company Fulwell 73, which is behind The Late Late Show and of which Corden is a partner, approached ITV to make Nightly but got rejected by the channel.
"Three of our partners stayed in America for two months to launch [Late Late], when we did it in America. We sort of contacted ITV about saying 'If you wanna do this, we'd love to have a crack at making The Nightly Show' but I think they made it with someone that got an overall deal with ITV or something." BuzzFeed News contacted ITV about this, but the broadcaster declined to comment.
Corden still thinks a daily late-night chat show could work in Britain, but he lists many reasons why it hasn't worked so far. "The only way you can do it is by reaching out to voices that have done it before. When Ben [Winston] and I arrived in America the first thing we did was find an exec producer who was making a late-night show at that point and we found Rob Crabbe, who left The Tonight Show to come to our show. Our co-exec producer and head booker left David Letterman's show. Our head writer was on Late Night with Jimmy Fallon, our head writer before that worked on Letterman and various iterations of The Late Show.
"It's not something I think you can pick up and be able to do, in the sense that I didn't know how to do it and Ben didn't know how to do it, and you learn from the voices around you.

"So I don't see why it couldn't work, but I understand why it hasn't worked before."

The Late Late Show in London will be shown on CBS at 12.30am ET from Tuesday 6 June and on Sky One and Now TV at 10pm from Wednesday 7 June.