Taco Potatoes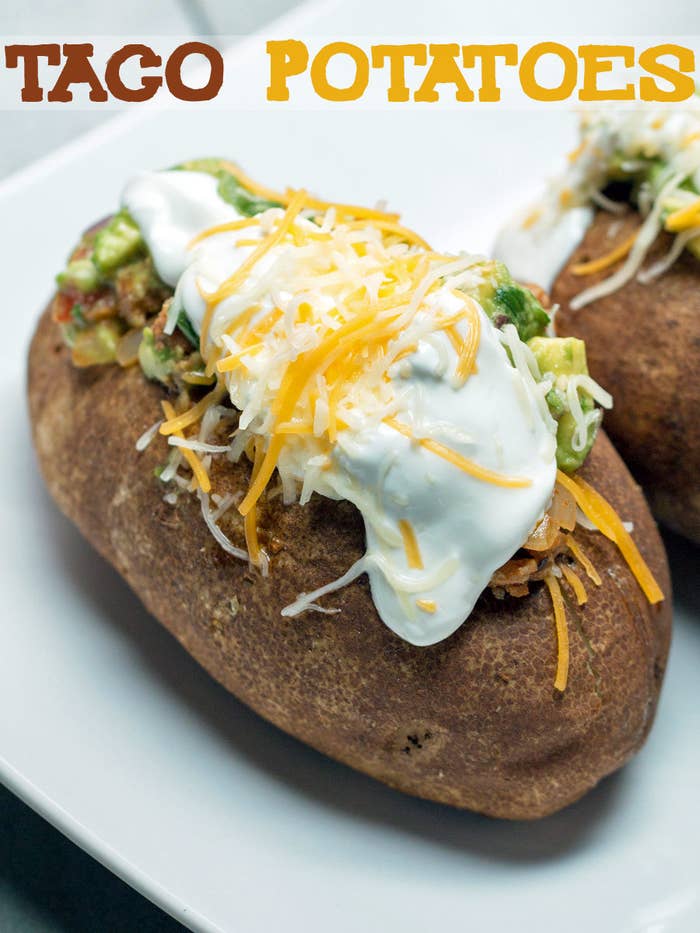 INGREDIENTS
Serves 4-6
4-6 medium/large russet potatoes
Salt
Olive oil
1 onion, diced
1 jalapeño, diced
1 pound ground turkey
1 package taco seasoning mix
3 tomatoes, diced
1/4 cup cilantro, chopped
Juice of 1 lime
Toppings (we used):
Guacamole
Sour cream
Shredded cheddar cheese
PREPARATION
1. Preheat oven to 350˚F (175˚C).
2. Wash and dry potatoes.
3. Using a fork, pierce potatoes all over. Coat with olive oil and salt. Bake directly on the oven rack for one hour.
4. Heat oil in a large skillet over medium/high heat. Add onion and jalapeño – cook until start to soften.
5. Add ground turkey, break apart and season with entire taco seasoning packet. Cook through.
6. Add tomato and allow the mixture to simmer about two to three minutes.
7. Remove from heat. Finish with cilantro and lime juice.
8. Remove potatoes from the oven and allow to cool slightly.
9. Cut a wedge from the center, fill with taco mix and top with cheese, guacamole, and sour cream.
10. Enjoy!
Want BuzzFeed Tasty right in your inbox? Sign up for our newsletter!