Tinga de Pollo From Guisados (Made with Lucky Peach)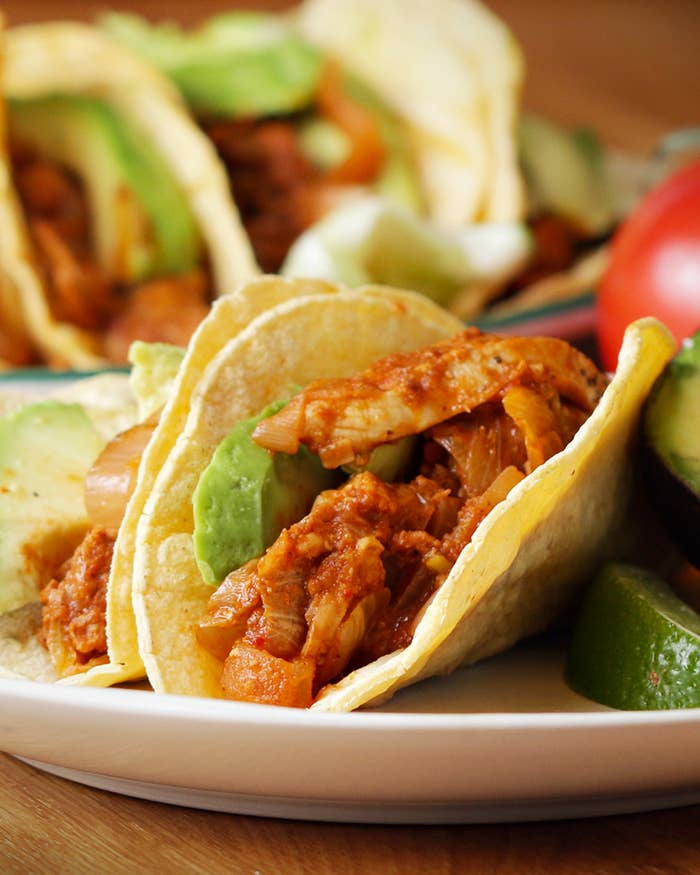 INGREDIENTS
Serves 4-6
2 boneless, skinless, chicken breasts
6 garlic cloves (4 minced, 2 smashed)
2 whole cloves
2 tomatoes
5 chipotle peppers in adobo
½ cup chicken stock
2 teaspoons cumin
½ teaspoon nutmeg
2 tablespoons vegetable oil
2 white onions, halved and sliced
¼ pound chorizo
1 head iceberg lettuce, shredded
Kosher salt
Black pepper, freshly ground
2 avocados, sliced
12 corn tortillas
PREPARATION
1. Place chicken in a saucepan over medium heat with enough water to cover by 1 inch.
2. Add the smashed garlic and cloves. Simmer until the chicken is cooked through, 12-15 minutes.
3. Remove the chicken from the pot, cool slightly, then shred with two forks.
4. Place a cast-iron skillet over medium-high heat, until smoking.
5. Add the tomatoes and roll slowly around until blackened on all sides, about 6 minutes.
6. Add the seared tomatoes to a blender with chipotle peppers, chicken stock, cumin, and nutmeg. Blend until smooth.
7. Heat the vegetable oil in a large pot over medium-high heat. Add the garlic, onions, and chorizo. Cook 2-3 minutes until the onions have softened and the chorizo has rendered a little fat.
8. Add the lettuce and sauté 2-3 additional minutes, until softened.
9. Add the tomato-chili mixture and cook for 3 minutes, stirring constantly to incorporate.
10. Add the shredded chicken and bring mixture to a simmer. Simmer, uncovered, until most of the liquid has cooked off, about 10-15 minutes.
11. Season with salt and pepper to taste.
12. Serve on warm corn tortillas with sliced avocado.
13. Enjoy!
Want BuzzFeed Tasty right in your inbox? Sign up for our newsletter!