Spaghetti And Meatballs As Made By Richard Blais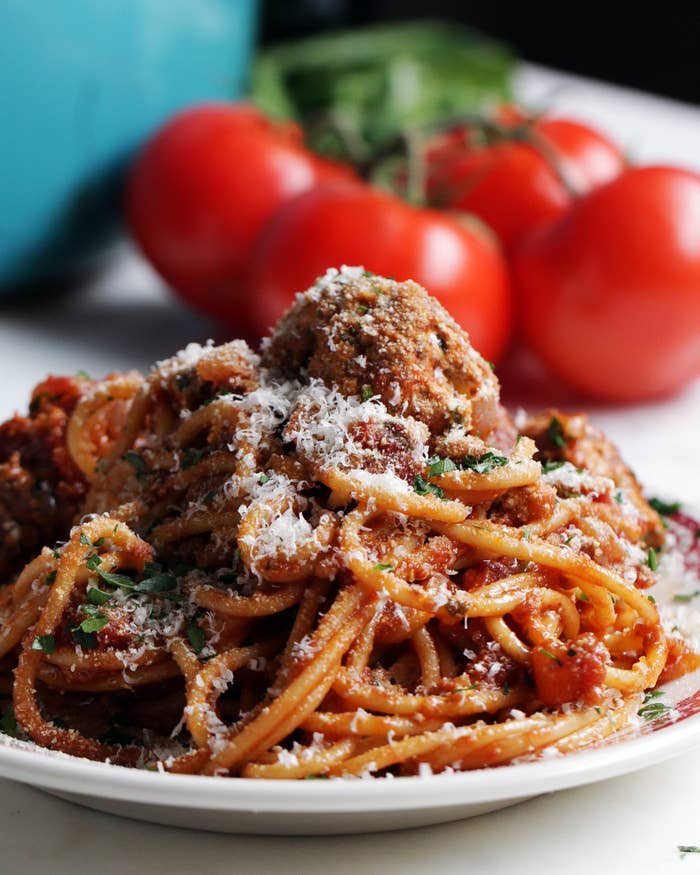 INGREDIENTS
1 yellow onion, diced (about 1 cup)
4 cloves garlic, minced
1 teaspoon crushed red pepper flakes
2 tablespoons tomato paste
1 (28 ounce) can whole tomatoes and their juices
¼ cup red wine
1 cup whole milk ricotta cheese
8 ounces ground pork
8 ounces ground beef
3 tablespoons fresh basil, chopped
2 teaspoons fresh oregano, chopped
2 teaspoons fresh sage, chopped
1 tablespoon fresh rosemary, chopped
1 tablespoon fresh flat-leaf parsley, chopped
3-4 tablespoons extra-virgin olive oil
¼ cup chopped bone marrow
12 ounces cooked spaghetti
1 cup plain bread crumbs, toasted
½ cup grated Parmesan cheese
PREPARATION
1. In a large pot over medium heat, mix the onion, garlic, and red pepper flakes. 2. Cook until the onions start begin to soften, about 3 minutes.
3. Remove half of the onion/garlic mixture and place in a small bowl to cool. Set aside or refrigerate to cool completely.
4. To the pot with the remaining onions/garlic, add the tomato paste. Cook the tomato paste, about 2-3 minutes, stirring frequently, to caramelize the natural sugars in the paste.
5. Add the canned tomatoes and cook, stirring constantly, and scraping the bottom of the pan to make sure nothing burns, until the mixture comes to a low simmer. Break apart the whole tomatoes using a wooden spoon or squeezing with tongs.
6. Add the wine and continue to cook over medium-high heat for about 5 minutes to give the alcohol in the wine a chance to evaporate.
7. Reduce the heat to medium-low and simmer, stirring occasionally, for about 20 minutes longer.
8. In a medium sized mixing bowl, stir the ricotta with the reserved (and cooled) onion-garlic mixture. Add the ground pork, ground beef, basil, oregano, sage, rosemary, parsley, salt, and pepper. Gently mix together first with a spoon then going in with your hands.
9. Shape the meat into ping-pong-sized balls and place on parchment lined baking sheet. Place the meatballs in the fridge if you will not be cooking immediately or if they have warmed from handling (they will keep their shape better if kept cold before cooking!).
10. Heat oil in a large saute pan over medium-high heat. Working in batches, sear the meatballs lightly on all sides until they begin to brown. They will not be fully cooked at this point.
11. Transfer the seared meatballs (and any accumulated juices) to the marinara sauce and add the bone marrow. Cover and let simmer for an additional 20 minutes to finish cooking the meatballs and allow the bone marrow to render its fat.
12. Add cooked spaghetti to the finished sauce and toss to coat.
13. Serve garnished with toasted breadcrumbs and grated Parmesan cheese.
14. Enjoy!