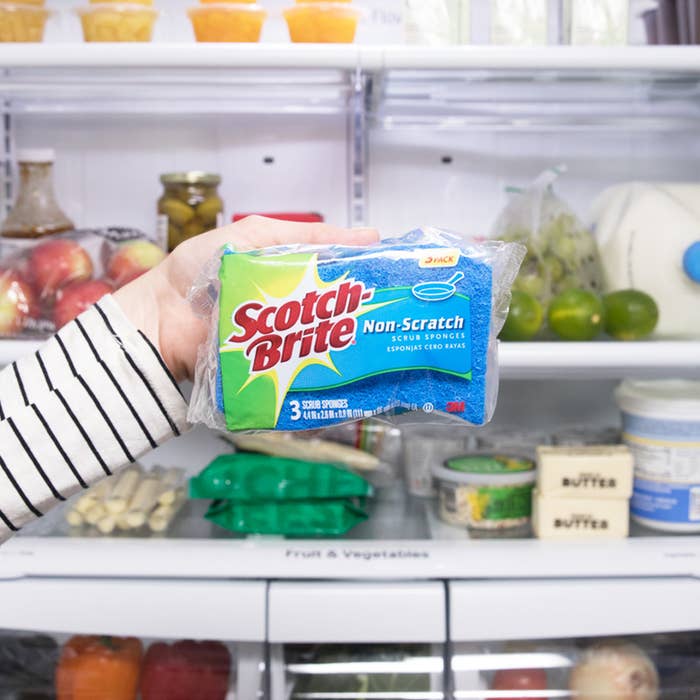 Water + Vinegar + Citrus Essential Oil
Vinegar is a powerful cleaning agent that most people have in their kitchen. Mix with hot water and some essential oil for a powerful and refreshing cleanser. Simply spray on your fridge and freezer shelves and wipe clean with a Scotch-Brite™ Non-Scratch Scrub Sponge.
Water + Baking Soda
Sometimes an all-purpose cleaner won't do the trick for stuck-on messes. In that case, create a paste using baking soda and water. After letting it sit and work its magic, those hard-to-clean spots will wipe clean using a Scotch-Brite™ Non-Scratch Scrub Sponge and a little elbow grease.
Cleaning in Cracks
If you're not looking to remove all the shelves in your fridge, you can get into those tiny hard-to-reach crevices using a butter knife. A simple scrape will release all those crumbs allowing you to wipe away with your Scotch-Brite™ Non-Scratch Scrub Sponge.
DIY Fridge Deodorizer
After cleaning your fridge and freezer, you want to make sure they stay smelling fresh. You can amp up your classic baking-soda deodorizer with the addition of some essential oils. The baking soda helps to hold in odors, and the essential oils add a nice fresh smell. To revitalize, simple give it a stir once in a while.