Chile Verde Lasagna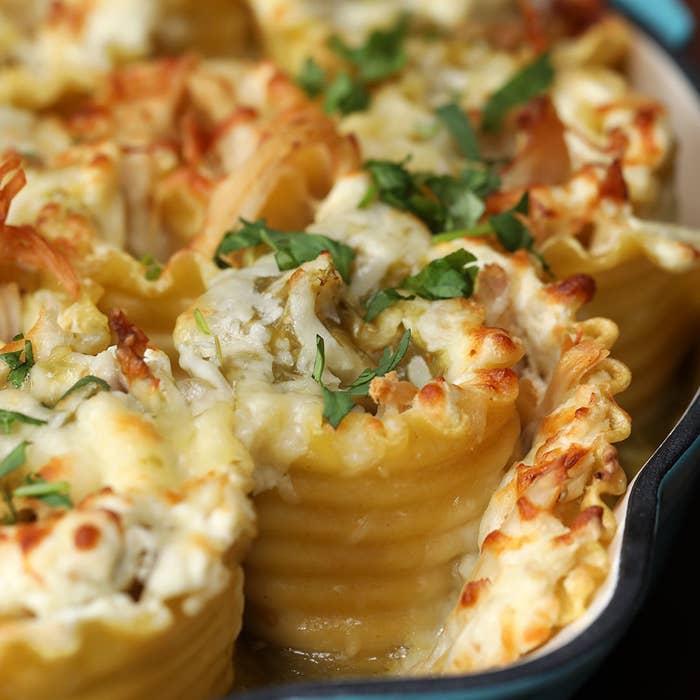 INGREDIENTS
24 ounces cream cheese
4½ cups green enchilada sauce
2 cups shredded chicken
1½ cups shredded mozzarella cheese
15 lasagna noodles
1 tablespoon olive oil
Cilantro
Green onion
PREPARATION
1. Preheat oven to 375ºF/190°C.

2. In a food processor, whip together cream cheese and 1¼ cups enchilada sauce until fully combined. Set aside.

3. Boil lasagna noodles for 2 minutes less than package suggested time. Drain and toss with olive oil.

4. Coat bottom of baking dish with thin layer of enchilada sauce. 

5. Lay out a lasagna noodle. Spread cream cheese mixture along full length of noodle. 

6. Layer shredded chicken on top, then follow with shredded mozzarella.

7. Roll up noodle and place spiral side up in casserole dish. Repeat with the rest of the noodles.

8. Top entire dish with remaining enchilada sauce and shredded cheese.

9. Bake at 375º/190°C for 20-25 minutes.

10. Garnish with cilantro and chopped green onion.